In this feature, we review the Rosson Audio Design MPL-0, which is a set of new open-back circumaural 66mm planar magnet driver headphones. It is priced at $1699.
Disclaimer: This was sent to us as a sample for our honest opinion. Headfonics is an independent website with no affiliate links or services. We thank Rosson Audio Design and Zeppelin & Co. for their support.
You can click here to learn more about the Rosson Audio gear we have previously highlighted on Headfonics.
Note, that this post follows our latest scoring guidelines which you can read here.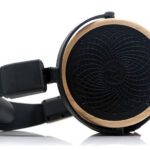 Rosson Audio Design MPL-0
The Rosson Audio Design MPL-0 is a beautifully designed headphone and one which delivers a fulsome, smoother more relaxed sound signature compared to its flagship sibling. 
Pros
Natural smooth sound signature
Beautiful maple finish
Improved ear pad design
Cons
Mids dip loses a bit of energy and presence
Lacks a balanced cable out of the box
It has been almost 4 years now since the launch of the first Rosson Audio Design headphone, the RAD-0. I can distinctly remember just how happy Alex was to show off his creation at CanJam Singapore 2019. He put a lot of his time, money, and soul into that magnificent beast of a headphone.
With some minor variations along the way, the RAD-0 still remains his flagship offering. Heck, his only headphone offering, until now. The launch of the new MPL-0 is the first new model to join the RAD-0 on the Rosson Audio Design shelf.
And what is more, the MPL-0 is significantly cheaper at $1699 whilst still offering the full open-back circumaural planar magnetic headphone experience as the RAD-o. What gives?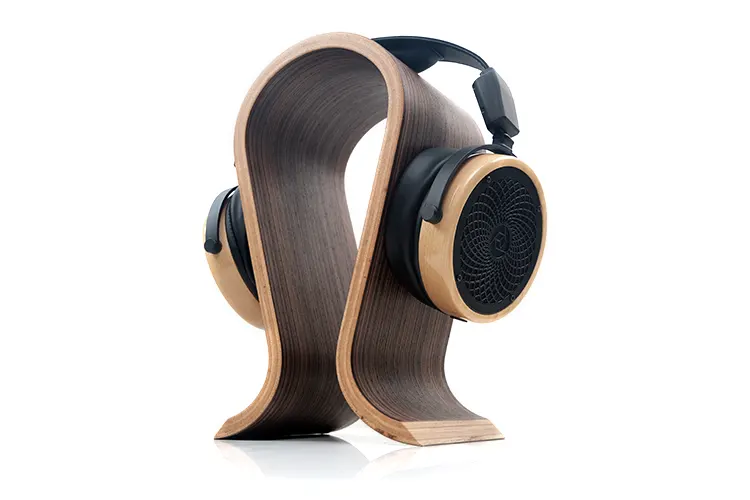 Tech Highlights
The Rosson Audio Design MPL-0 is an open-back planar magnetic headphone. It is circumaural or full-sized using a similar diameter diaphragm from the RAD-0 at 66mm with a proprietary array of 11 N52 magnets in a dual-sided configuration.
The core driver is the same as the RAD-0 just with a different dampening and tensioning technique as well as different materials for the acoustic enclosure. Alex did hint as far back as 2019 that his aim was to create a few more headphone variations on this diaphragm and driver so the MPL-0 would seem to fit into this goal.
To drive home that point the MPL-0 matches the RAD-0 for sensitivity and impedance ratings at 29Ω and 98dB @1kHz which places it on the easier side of things in terms of power requirements to drive it properly.
You should not need a huge amp to get a satisfying performance from the MPL-0 but a good quality system, naturally enough, should allow it to scale and sound optimal.
You can read more about our pairings and power testing in our synergy section on page 2 of this review but if you are used to the likes of the Meze Audio Elite and already own the RAD-0, the MPL-0 should not require an amplifier rethink.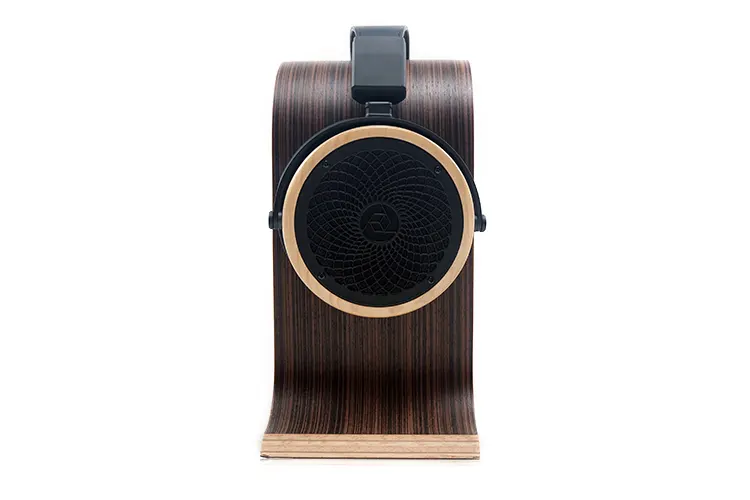 Design
The MPL-0 shares the same elegant design language as the RAD-0. That means a classic round cup with an arched yoke screwed into some beautiful maple-finished cup rings on either side with a mix of vegan leather for the pads and pressure alleviator nestled on the underside of the headband.
Of course, there are some striking aesthetical differences with the maple finish being primary among them. That is what MPL actually stands for, maple. This is a light-grain finish on the outer ring with a lacquered finish to bring up a very nice glossy tone to the wood and amplify that fine grain a little.
The maple finish is on every MPL-0 cup so you will not get the uniqueness of the RAD-0 dyed cup designs but then again the reduced labor involved means you are paying a grand less.
The user-replaceable cup grills have also changed with a black aluminum finish and what seems to be a tighter Fibonacci-type pattern but it could well be a mirage since the wiring surface seems to be a little thinner compared to the silver RAD-0 version.
What is pleasing though is that just about every other aspect of the RAD-0 build has been retained so there is value in there already. That includes a black-finished aluminum yoke, gimbal, and joining block to a matching black protein leather headband with similar dimensions for the protein leather-wrapped memory foam just underneath.
The pads on my MPL-0 sample are the same protein leather and soft fabric inner material but they seem thicker than the original RAD-0 review sample versions. I just wonder if that was part of the tuning revision since relative pad depth can affect what you hear.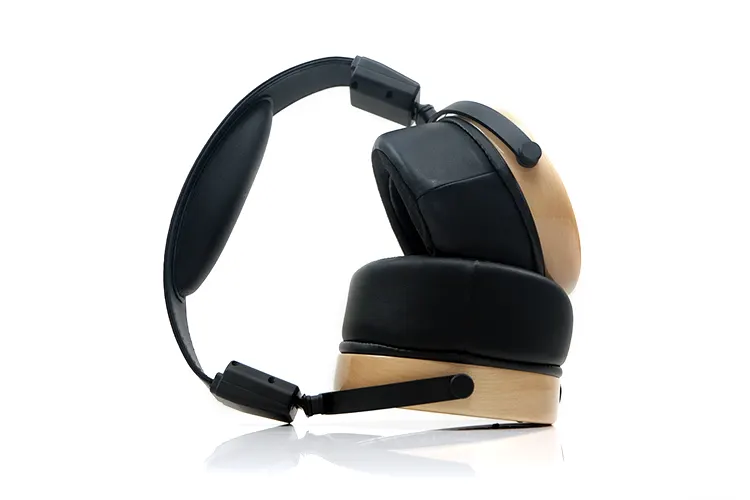 Comfort & Isolation
With a dual-sided magnet array and wood cups, the MPL-0 will not win any awards for being the lightest planar headphone in the market at up to 650g.
I actually did some crude weighing and both came in around 1.2lb or close to the 550g spec on the website. However, like the flagship, it does quite well in terms of providing a secure fit and for me, improves on the comfort of the original despite using a similar headband style.
The difference is due to the new pad designs with respect to the overall depth and the inner cavity size. The MPL-0 has a wider cavity opening compared to the sample RAD-0 version in the office here. It looks more like a square than the RAD-0's oval cavity giving you a little more room for the ear and less material touching your ear.
Combined with the additional depth and pad softness you now have a bit of additional clamping mitigation over the RAD-0. The inner fabric finish should also help prevent unnecessary sweating when in use.
So, whilst the weight is more or less the same, the pressure distribution for my head now has a subtle shift to a lateral bias which I tend to prefer as scalp hotspots from vertical pressure irritate me for longer listening sessions.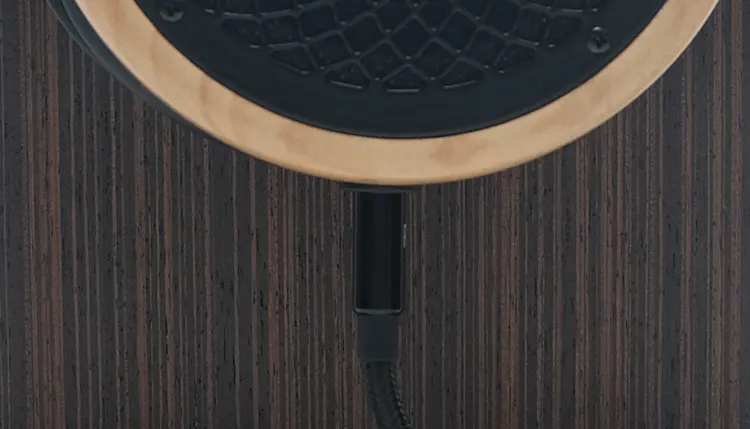 Stock Cable
It looks like the MPL-0 dual-entry stock 22AWG OFC wire and nylon jacket finish on the stock cable is unchanged from the RAD-0 version but this time with new plugs and barrel finishes.
That means a single-ended termination with 3.5mm connectors on one end for plugging into the cups and a 6.35mm or 1/4″ single-ended plug on the other. All barrels and the splitter are finished in black this time as opposed to silver on the original.
I think this is a smarter move than the RAD-0's original stock cable, which came with a 3.5mm SE jack. Not least because it saves having to include a potentially resistive adaptor for desktop amps and positions the MPL-0 more as a home headphone than any sort of portable connotation.
However, I do think a balanced cable or the inclusion of a balanced option would be a stronger option for pairing with quality balanced desktop amps. Some portable devices also have excellent balanced high-power outputs such as the FiiO Q7, M17, and the Shanling H7, and should drive the MPL-0 well.
As for the cable handling, it is dead quiet, with no perceptible microphonics that I can detect as well as being fairly tangle-free. It is also quite light so it should not add much in terms of wearing weight or feel cumbersome when attached.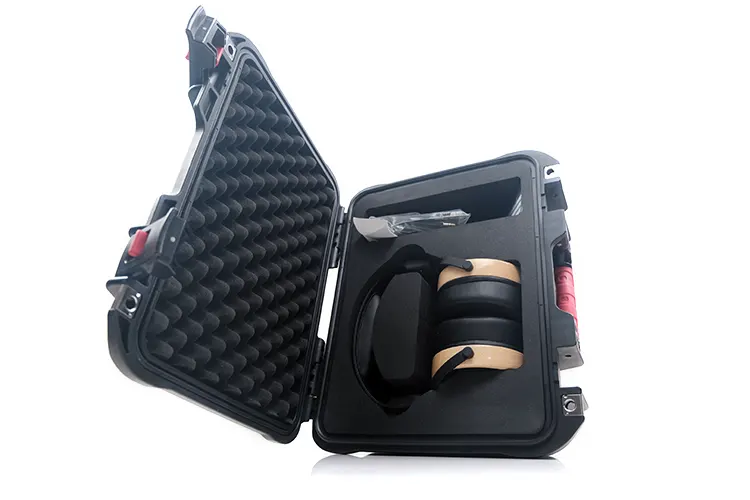 Packaging & Accessories
I love the weather-sealed case Rosson Audio Design uses for the MPL-0. Granted, it is the same one they use for the RAD-0 but that does not change my mind about just how durable it is. You are getting good value here and an excellent case for carrying around your headphones.
These are the types of cases I really appreciate for headphone protection, especially in our tropical and very dusty climate. They make storage and transportation so much more bearable.
The case is rock solid with some nice red accents on the handlebar and locking mechanisms. Inside, there is some excellent internal foam insulation designed for knocks and bumps. There is literally no way the MPL-0 will move with foam shaping keeping it very secure.
Just one change though from the internal layout of the RAD-0 case and that is a single slot to the far right instead of two. Initially, the second slot in the RAD-0 case was for a portable player or amp but this never really took off so it has become a single long slot for storing the cable and some additional stickers and registration card.
You also get a white introduction pamphlet, however, mine was for the RAD-0 and not the MPL-0 which I am presuming is due to it being an early production model. Perhaps it would be better to talk about the MPL-0 in any manual in future runs.
Click on page 2 below for sound impressions and pairings.