Phiaton's is a brand/ operation of the Cresyn Company, Ltd., a South Korean electronics manufacturer specializing in DAP's, microphones, and headphones of all types. The MS 400 is part of Phiaton's Moderna series, which also includes the MS 300 headphones and MS 600 iPod dock.
The Phiaton MS-400 I purchased is the black and red version, which looks exactly like its photos when you see it up close. The build and quality look good but the cord is thin, so for portable use you need to be careful with that cord. I compared the sound of the MS-400 to the Philips Stretch headphone, because that was the closest thing I had access to which also sounds similar. I did my listening tests with an iPod Touch 2011 version, which controls low-impedance headphones quite well.
SPECIFICATIONS:
Studio Grade 40 mm Electrodynamic Drivers
Impedance: 32 Ohm
Frequency Range: 15 Hz ~ 22,000 Hz
Sensitivity: 98 dB
Max input power: 1000 mW
Cord Length: 3.93 ft / 1.2 m
Weight: 6.5 oz / 185 g without cord
WHAT'S IN THE BOX:
6.3mm stereo gold plated plug
Compact carrying case
Owner's Guide (Including 1-year warranty)
Product Registration
The most obvious quality of each headphone was the very strong bass, which was boosted overall from the lower midrange down to the very low frequencies. I decided to use the "Bass Reducer" EQ setting on the iPod, because otherwise the bass was too boomy with these headphones, and I did not want to mix in the use of a headphone amp since this review applies strictly to portable use. What surprised me about the EQ setting was how the actual bass with the MS-400 was still strong and detailed, and flat as far as I could tell down to 30 hz. The bass did seem to drop off 3 or 4 db at 20 hz, so bear in mind that's with the reduced bass setting.
One more thing I need to mention is how the earpad seal affects the bass response. In my case, when I put the MS-400 on the fit was so immediate and comfortable it was like I didn't even have a headphone on. Amazing comfort and a perfect seal. But when my wife put them on there was a gap at the bottom of the earcups that we couldn't figure out how to plug, and so she did not hear the strong bass that I did. Based on her head and ear shape compared to mine, I'd guess that people with very small heads or unusual ear shapes might not get a perfect seal with the MS-400.
Comparing the midrange of the MS-400 to that of the Philips Stretch, the Stretch had a pronounced emphasis in the upper midrange which imparts an "EEEEEEEEE" (in English) effect to the sound. Since the MS-400 midrange sounded so much better, I compared it to the Sennheiser HD-800 as well. Compared to the HD-800, the MS-400 had a slight "AWWWWWW" coloration, but nothing that would offend even with a headphone costing twice as much.
The highs of the MS-400 were comparable to the Stretch and not as sparkly or clear as the HD-800, but still very smooth and detailed. The highs did not exhibit any harshness or sibilance that I could attribute to the headphone. My overall impression of the MS-400 is that it's a very good deal at the original price, and a bargain at some of the lower prices I've seen recently. The overall sound is close enough to the Sennheiser HD-800 that I can (and will) use it for home listening and not feel like I'm being deprived of anything important.
In addition to the pop music tracks listed below, which I used mainly for detecting weaknesses or other problems with the sound, I played a wide variety of genres (Jazz, Diana Krall, Bill Evans Trio; Bach organ, Biggs; Beethoven 9th, Solti CSO; Chopin, Moravec; Reggae, Marley, Tosh; Country, Haggard, Yoakam; Verdi, Domingo; Sinatra and Bennett; Punk, Germs, Fear, Sid Vicious, Social Distortion; Medieval, Madrigali, Medieval Babes; Trance, Mylene Farmer, etc.)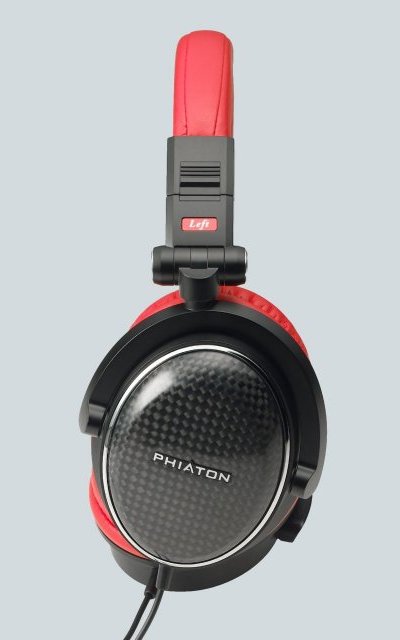 The following are some of the music tracks I tested with, and the main features I listened for with those tracks:
Blues Project – Caress Me Baby (piercing guitar sound, handled very well).
Cocteau Twins – Carolyn's Fingers (guitar string detail and quality, very good).
Commodores – Night Shift (bass detail, very good).
Germs – Forming (raw garage sound, very good).
Lick The Tins – Can't Help Falling In Love (tin whistle, very clear and clean).
Lou Reed – Walk On The Wild Side (bass impact and detail, very good).
REM – Radio Free Europe (drum impact, very good).
Rolling Stones – She's So Cold (bass impact and guitar sound, very good).
U2 – With Or Without You (bass very slightly boomy; high-pitched instruments/sibilants handled very well).
Van Morrison – Into The Mystic (bass, moderate).
Who – Bargain (voice trailing off: "best I ever had", good vocal harmonics).
I've purchased quite a few FLAC tracks from HDTracks, and I've converted those to 320k CBR MP3's for iPod use. When using the iPod with the Phiaton MS-400, I keep the EQ set to Bass Reducer, and in spite of the bass reduction, the response of the MS-400 seems flat down to 30 hz at least.
Some music examples and how they sound with the MS-400:
Pachelbel – various pieces (baroque organ): 1970's recording has some hiss, otherwise good tracker organ sounds, impressive bass on some tracks.
Rolling Stones – Honky Tonk Women, Paint It Black: Good stereo renditions with excellent detail and full spectrum sound.
Dick Hyman – Dooji Wooji: Swing-band recording with excellent brass instrumentals.
John Coltrane – A Love Supreme: Best-ever original master copy – details I've never heard before – percussion, bass, sax – all excellent.
Rolling Stones – Stray Cat Blues (from Beggar's Banquet): Chilling, realistic, blues like no other white band.
Rolling Stones – Satisfaction (from Big Hits): Impressive mono recording with more depth and image than I've heard in mono for a long time.
Electrelane – To The East: Great indie-pop recording with unique sounds (can be sampled).
Elastica – Annie: Hard rock girl-style. This is the kind of track I used to set Dolby levels years ago since the meters would stay constant with the sound level of this track.
Peter Frampton – Baby I Love Your Way (live): This recording sounds flat compared to the studio version, which had better vocal qualities, instrumentation, and 'Nassau'.
Jimmy Smith – The Cat: Excellent recording of jazz organ.
J.S. Bach by Virgil Fox: Impressive bass, but lots of distortion. The recording gear could not handle Fox's dynamics.
Getz/Gilberto: Nice clear recording, about as good as the recent CD release.
Moody Blues – Days of Future Passed: About as good as they could do with a mediocre recorded quality. Listenable.
Rolling Stones – Let It Bleed: Best quality so far. Generally, the late '60's recordings improve with the restorations, but the sound quality of the 1964 stereo recordings is greatly superior to the later 1960's recordings, particularly in the bass detail. The 1964 stereo recordings were done at (where else?) 2120 S. Michigan Avenue, Sweet Home Chicago. Note: You can even hear the tape dropouts in some of the later 1960's recordings.
Derek and the Dominos – Layla: Same quality as the recent CD, in spite of the $35 price at HDTracks.
Cat Stevens – Morning Has Broken: This is the ultimate track IMO for evaluating a headphone. It has the full spectrum (except deepest bass) in excellent proportion for evaluating balance and instrumental and vocal qualities. Highest recommendation.
There is only one portion of one of my tracks that clearly does not reproduce as well on the MS-400 as it does with the Sennheiser HD-800 and the Shure SRH-940, to name two of the best headphones I have. There are undoubtedly other such tracks, but finding only one that stands out after so much listening is a testament to the MS-400's overall quality.
The track is by Jimmy Smith – Basin Street Blues, and the sound is a very loud, massed crescendo of brass that occurs several times in this track. On the HD-800 and SRH-940 it's extremely bright and borderline irritating, but on the MS-400 it's somewhat hollow sounding and much less bright.