Sound Impressions
As a Pure DAC
The CDP-9 retains the hallmarks of a well implemented new generation Sabre DAC (ES9028PRO) in terms of excellent resolution, micro-detail, and very good instrumental separation. However, NuPrime has tweaked the presentation in a way that is slightly different from the generally smooth but very linear tone of the likes of the Sonica DAC or even the Hugo 2.
Punchy
The CDP-9 is a little more energetic and impactful than I expected it to be. I would still call it a neutral and clean sound in terms of delivering a fairly accurate instrumental timbre, however, its low-end is a touch punchier than I expected, not quite flat or dead neutral. Its sub-bass presence with a transparent amp such as the Violectric V281 is just that bit more elevated than what I found with the Sonica.
I would not quantify the extent of the low-end impact to the same level as the Cayin iDAC-6. The iDAC-6 used an older AK4490 chipset and played to its musical strengths so it is the weightier of the two. However, the CDP-9 dynamic range and quicker transient response were actually very satisfying and far more immediate sounding than I presumed it would be. To call this presentation sterile would be wide of the mark.
Energetic
NuPrime has also kept a fairly energetic and more forward upper mids and treble response in the CDP-9. This is not to be confused with bright however it is a cleaner and less neutral sound than the Sonica or even the Hugo 2. You will get a little more odd-harmonic emphasis so I would not describe quite as smooth and natural in higher pitched percussion and string timbre. Instead, you get more emphasis on note leading edges which in turn produces a perceptibly more exciting sound. Percussion has snap and plucked strings are very tightly controlled and well defined with the CDP-9 as a DAC.
I am also impressed with the CDP-9 staging capability. There is definitely a bit more width than the Hugo 2 and more depth than the Sonica. Height is very good also with NuPrime not holding back with any top-end energy and resisting rolling it back.
As a CD Player
The CDP-9 as a CD Player will deliver most if not all of the DAC presentation. It remains a fairly quite neutral sounding source with an expansive soundstage, excellent instrumental separation and plenty of detail. It is actually quite faithful my perception that Sabre ES9028/38 PRO infused component systems tend to be quite coherent, balanced and resolving in their presentation but without sounding harsh.
Certainly, compared to my old flagship Merdian 506 20BIT CD Player presentation it is a little more linear and open sounding, particularly in the mids and treble performance. The 506 adds a touch more low-end weight and warmth, a more intimate midrange with a very natural sounding instrumental timbre and vocal presence as well as a more relaxed treble performance. If anything, the Meridian sounds the more analog of the two, the more musical with that weightier low-end and warmer tone, but not quite as detailed or as accurate sounding as the CDP-9.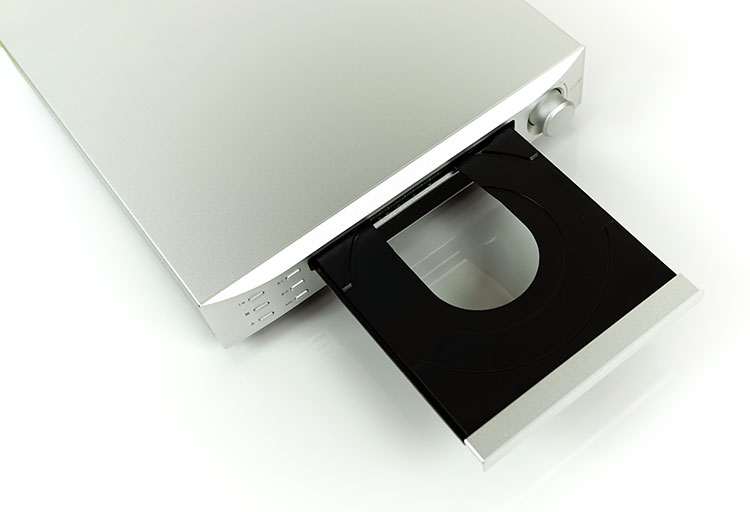 Headphone Amp
At 150mW into 32Ω, the CDP-9 opamp infused headphone output is actually very quiet and impressive sounding for IEMs and easy to drive headphones such as the 1MORE Triple driver over ear or the Meze 99 Classic/Neo range. The hybrid digital/analog volume system was excellent for channel balance on sensitive IEMs and not a lick of noise or background hiss present, a very black background indeed.
We did try it with the MrSpeakers AEON closed back planar to get a sense of the power handling performance. Volume control was actually pretty good at around 40-45 steps. However, I felt the performance was a touch too sharp which is where the AEON tends to go when underpowered. The AEON is rated at just 13Ω and 93dB sensitivity so a quality powerful amp will always provide a more engaging and smoother sound. Switching the CDP-9 to line out with the Violectric V281 headphone amp immediately introduced a smoother sound with better dynamic range.
SRC Performance
DSD
Switching to sample rate converter DSD leads to a minute loss of dynamic range and maybe 0.5 to 1dBdB of volume. It sounds a little smoother with a slightly softer attack (DSD512 upsampling) and vocal presence definitely lacked a bit of presence from the original recording.
If anything, I got the impressions the higher frequency range in the DSD upsampling was just a little more rolled off. You could argue the SRC DSD upsampling is more listenable and even the more natural of the two, particularly if the original recording is bright and aggressive. However, to my ears, it lacks a little pop or contrasting enough to sound as engaging as the original.
My own preference is to leave the SCR option off or use the PCM upsampling option instead.
PCM
PCM upsampling seemed to fare much better for me with a bit more contrast and higher frequency presence. Definitely did not feel any loss in dynamic range. PCM 88 and 96 upsampling seems to gel best with my listening preferences with a slightly fuller sounding low end and a bit more punch and dynamic presence.
Here the upsampling felt finely balanced between a natural sound and one that delivered a bit more space and 3D dimensional positioning to the original non-sampled playback. The further up I went it got a little more digital sounding and less natural sounding for me on a personal level but it was interesting to hear what a 768kHz rate could potentially sound like.
Select DAC Comparisons
Oppo Sonica
$799
Performance
I had a perception that they would sound quite similar. True enough they are not quite as weighted as musical as the iDAC-6, electing instead to plow a more linear path but there are some differences to their tonality. In a nutshell, the CDP-9 aims for articulation, control, and clarity whereas the Sonica is tweaked for a little more of a smoother natural sound.
The CDP-9 is just that bit more dramatic sounding than the Sonica at times. Key areas where it outperforms is the greater level of dynamic range, a bit more sub-bass presence and the cleaner of the two in terms of instrumental separation.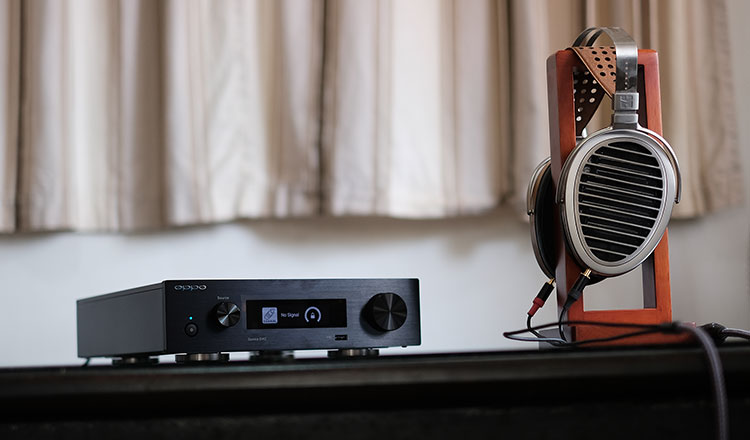 The Oppo pulls back a little with a slightly warmer lilt and a little less treble forwardness to get that smoother sound. The Sonica tends to center any warmth it has in the mid-bass and lower mids where it sounds a little smoother, richer maybe but also more relaxed sounding. The attack on the Sonica is a hair smoother sounding and the timbre also a little richer.
The CDP-9 also has the better staging properties of the two DACs with that greater depth and also a little more treble presence and air. In comparison, the CDP-9 has the more holographic or 3-dimensional presentation with excellent imaging. The CDP-9 also sounds the cleaner of the two in the upper mids and lower treble performance. With acoustical work, the CDP-9 is going to sound a little more precise, sharper sounding but not sharp per se.
Hugo 2
£1,800.00
Performance
A very tough contest here to be honest for the CDP-9 in terms of micro-detail and dynamic range. The Hugo 2 is ahead for me on that score and sounds the more natural of the two also. Given its loftier price, it shouldn't be surprising.
It takes the best traits of the Sonica such as that refined and smooth attack and the dynamic range of the CDP-9 and enhances both to deliver one of the most coherent and balanced sounding presentations you will hear from a DAC in this price range.
The Hugo 2 will sound the punchier of the two, leaving the Sonica sounding rather flat in that respect and edging ahead of the CDP-9's bass performance which I in turn rate as a bit livelier than the Sonica.
The treble performance is more Sonica than CDP-9. It is not quite as lively as the CDP-9 but then it's not as laid back or smooth as the Sonica. I think it gets the balance very right indeed. So right, some might actually think it's a touch boring sounding which could work to the CDP-9's advantage in some respects.
That livelier treble of the CDP-9 does open it up to delivering a perceptibly airier and slightly wider soundstage than the flatter and more linear Hugo 2. Just a little more left/right separation and more bass/treble contrast on the Hugo 2.
Cayin iDAC-6
$699
Performance
The Cayin iDAC-6 has more depth, heft and sub-bass presence. You will hear more low-end physicality and a bit more quantity. It delivers a smooth natural sounding timbre but it is also a tiny bit laid back in the treble and lower mids compared to the CDP-9. The lower treble has that distinctive AK4490 hardness though. It is not quite "Sabre glare" but it can jar and sound a little brittle in comparison to the CDP-09.
The CDP-9 top-end is more energetic and perhaps the cleaner of the two but it also sounds a touch more refined and smoother in its delivery. Good treble as they say.
I also find the midrange performance of the CDP-9 as a DAC a little more balanced. The iDAC-9 is excellent with more vocal presence but the lower mids are toned down a little in favor of more bass presence so it not quite as neutral and coherent sounding. The CDP-9 lower mids presence is just that bit clearer, perhaps even slightly fuller sounding but with better layering and instrumental separation.
Our Verdict
Feature Rich
For just over $1700 the NuPrime CDP-9 delivers extremely competently over a very wide range of feature sets. Primarily, people will see this as a CD Player, and certainly compared to my old flagship Meridian it competes very well indeed with additional detail and a very accurate yet decidedly "not" sterile in sound quality.
However, there is much more to it than that. The big attraction for me is the DAC features with both analog and digital inputs and outputs as well as the bonus feature of being able to drive efficient IEMs and headphones from a headphone amp. The hybrid volume control and opamp design of the CDP-9 will deliver excellent channel balance and very black background with next to no noise.
For those coming from similar modern Sabre DAC infused DACs such as the Sonica from Oppo you will find that the CDP-9 is just that bit livelier and more engaging. This is a clean sound but an energetic and 3-dimensional performance.
The SRC function up to around 96k PCM is actually quite interesting and something I would use. However, the higher up we go the more digital it started to sound. The DSD version also sounded a little more muted for me than the PCM options. A question of preferences though because the DSD lower bitrates did sound quite smooth.
Tweaks
What could be improved? One main feature that springs to mind is the remote control. It is an improvement on the unusual DAC-10H remote and granted it is very robust. However, the mechanical sound and large clicking noises, as well as the awkward battery changing process make it feel archaic in nature. Something slimline, quieter in execution and with a slide-off battery lid would be an improvement.
Overall, the NuPrime CDP-9 is a thoroughly modern and very interesting CD Player, DAC, pre-amp and headphone amp. There is a bit of something for everyone and a level of sound quality that is easily on par with some of our favorite reviewed DAC's to date.
CDP-9 Technical Specifications
USB Sampling Rates: 44.1KHz, 48KHz, 88.2KHz, 96KHz,176.4KHz,192KHz, 352.8KHz, 384KHz, 768KHz and DSD 2.8MHz(64), 5.6MHz(128), 11.3MHz(256), 22.6MHz(512)
Coaxial Sampling Rates: 44.1KHz, 48KHz, 88.2KHz, 96KHz,176.4KHz, 192KHz, 352.8KHZ, 384KHz, 705KHz, 768KHz, Dop64, Dop128, Dop256
Optical Sampling Rates: 44.1KHz, 48KHz, 88.2KHz, 96KHz, 176.4KHz, 192KHz, Dop64
Bit Resolution: 16-32-bits
D/A THD+N: 0.0005%
D/A SNR > 120 dB
Frequency Response: 10Hz to 20KHz ± 0.3dB
CD THD+N: 0.003%
CD SNR > 114 dB
Headphone output power: 150 mW @ 1 kHz and 33 ohm load
Dimensions: 235 mm W x 281 mm D x 55 mm H (including feet)
Weight: 2.3Kg
Worldwide AC voltage: 100VAC~240VAC Adapter
Power Consumption 100V (115V)
Standby consumption: 1.9W
Power On Idle: 7.6W
CD Playback: 10.2W
Standby consumption: 2.7W
Power On Idle: 8.3W
CD Playback: 11.3W