Sound Impressions
Summary
I remember when I reviewed the first hip-dac and mentioned it had an aggressive aspect, some forwardness, and a peppy sound signature. Overall, it was a fun tuning and I also found it to be very engaging.
Well, the hip-dac2 pushed back a little on that forwardness and gives off a more neutral presentation and a more evenly distributed frequency response production. All aspects of recordings seem to be better defined in the sense that there is less of a veil so in essence there's also more micro detail.
The sound signature, in general, seems to be produced in a more effortless manner as well and somehow elements within the recordings seem to occupy larger amounts of space now but at the same time remain even more separated from each other and keep restraint within their own space. The soundstage seems to have also increased in size versus the first hip-dac
Because of this effortless aspect transient response and the overall speediness of notes have also improved some as well but overall it still retains that slightly warm aspect of the iFi OV output stage and the typical iFi house sound characteristic.
The hip-dac2 also gives off a large component impression that can satisfy most desktop users as to not miss their larger components so much because its sound characteristics are wide and tall plus the power ratings seem moderately and more competent than rated.
GTO vs. Cookies and Cream
Both versions of the hip-dac have the same roster far as firmware is concerned and both have readily available their own GTO versions which in a nutshell try to assimilate the ear's natural latency to adjust timing accordingly while the Cookies and Cream versions offer bit-perfect and straightforward decoding.
While I did prefer the GTO filter more so on the first hip-dac I veered more to the non-altered and neutral 7.30 Cookies and Cream version on the hip-dac2 because of the added crispness in the tonality with a better-defined character.
Tonality has a somewhat softer character on the GTO filter and of course, that was the sole intention of the GTO filter but since the hip-dac2 has that 16-core power behind it somehow in listening sessions I kind of appreciated more so the cleaner and more accurate tonality with a more natural temperament of the Cookies and Cream firmware or at least my ears do.
Synergy
Efficiency
Would I pair the hip-dac2 with a set of Hifiman HE6SE or a Fostex T50? Heck no. There is a limited amount of power after all so I would stick to medium to high-efficiency cans. Headphones from a Grado SR80x to the HIFIMAN Sundara plus everything else in between should be just fine to pair it with.
What about IEMs? Any set will do really. My hardest set to drive presently is my pair of TRI I3's with a 3-way driver array and a planar driver that needs a good amount of power to sound optimal and I could take them to ear-splitting levels on the hip-dac2.
Power
Again, I must say that the power rating of both headphone output ports seems conservatively rated to me because I successfully used the hip-dac2 with some full-sized headphones that are somewhat demanding.
Of the three Hifiman headphones I currently own, the Arya is probably the hardest to drive and the hip-dac2 obtained a considerable amount of loudness and performance out of them. I was quite surprised.
Pairings
The hip-dac2 has a warm signature but it settles fine with bright sounding headphones and IEMs alike because if the signature is too bright you just hit the Xbass which compliments well with the higher frequencies and brings back some needed balance and a more defined bottom end on bright headphones.
Even if you do pair the hip-dac2 with a bright headphone and decide the Xbass is not for you, the cleanliness of the high-frequency production assures you'll get clean highs with a minimum amount of fatigue and high-frequency breakup.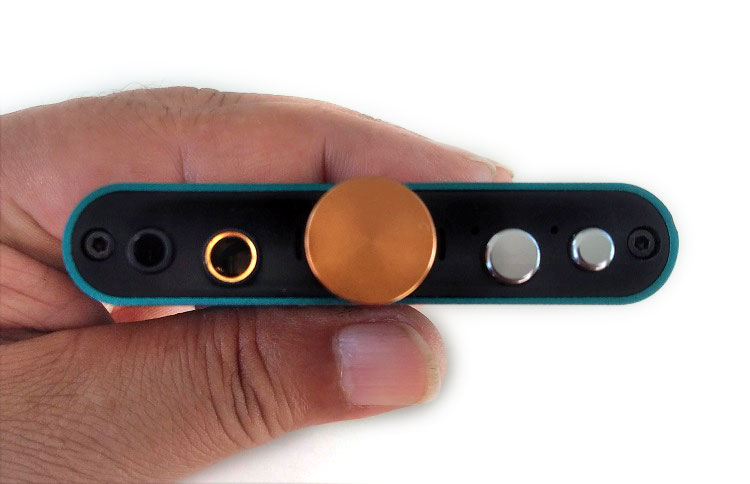 Select Comparisons
iFi Audio hip-dac
Price $159
Technical
There are so many similarities between the hip-dac and the hip-dac2 that if it wasn't for the Sunset Orange color you could not tell the difference even from up close. They seem to be twins and made from the same mold.
Internally they also share most components including the OV series OP amps and the amplifier circuitry design with the exception of the 16 core XMOS processor versus the 8 core variant.
The other aspect that was improved on versus the first hip-dac is within the GMT system which eliminated jitter and made it a thing of the past. So, the hip-dac2 performs better due to the extra processing power with an increase in jitter reduction.
Design
What can I say, the same sunken USB input is used which, to be honest, I understand the concept and do think as iFi does that this plug type, in particular, is strong but I wished it could be reversed and made a female plug for better compatibility with existing wires. Or perhaps a simple USB-C port would do just as well.
The two-volume knobs feel the same but there is a small percentage of that knob on the second version which has less channel imbalance so the knob seems to have been made with better tolerances.
The outer shell is all metal and the finish seems fairly durable but I would baby the unit unless you want a worn and weathered-looking patina. IFi is now offering a suede custom carrying bag for the hip-dac but it's a separate purchase item.
Performance
These two twins are so similar in everything except there is a small amount of increase of detail and nuance production that makes the hip-dac2 sound more musical plus it has a faster transient response and a better overall tonality.
If I can use a similar comparison here, this comparison would be the same as comparing two PC monitors, one a 60Hz model and the other a 120Hz model of the same shape and size, perhaps from the same manufacturer.
Both are the same size and present you with the same picture, with the same amount of vibrancy, colors and everything looks to be the same, only the 120Hz seems smoother and you see better frame rates. It is at times just a subtle difference but most of the time you could tell the difference.
IFi GO blu
Price $199
Technical
Yes, I shall call you, mini-me. In fact, the GO blu reminds me of the hip-dac because again it uses the same OV series OP amps with the same warm-sounding character carried over to most iFi components. The difference is obviously the size of these two units and the Bluetooth section.
Even the same Xbass feature is carried over from the hip-dac2 but the GO blu has the X Space feature as well which is missing on both versions of the HIP-DAC.
Design
Obviously, the body styles are different and yes, the GO blu has Bluetooth receiving capabilities and could pick up an LDAC transmission which brings it close to FLAC quality but reception is not its strong point so I prefer to use it as a portable self-powered dongle DAC or as a replacement desktop or laptop audio soundcard.
Both models have rotary volume knobs but the GO blu has a more elaborate design with a Swiss watch precision construction aspect that can control not only the volume level but can pause and play while the hip-dac2 can only do volume plus the power on and off. The GO blu power on and off is done with a separate push button.
Performance
Surprisingly, performance is similar except in power output and DAC performance although the GO blu could act as a standalone DAC while the hip-dac2 cannot technically. The GO blu has better versatility but the hip-dac2 certainly edges it out far as sound quality.
They both have that similar iFi warm characteristic that is typical of the OV amplifier chips but the hip-dac2 remains the warmest sounding of the two and is definitely more detail-oriented.
Another area the hip-dac2 excels in is in the imaging and staging department which seems to have the largest stage of the three, plus there seems to be better separation with better placement and a generally more interesting and accurate stage presentation.
Our Verdict
Well, all I have to say is that one of the most popular and best portable DAC amplifiers out there just got better and noticeably so. Is the hip-dac2 worth the extra asking price compared to the original HIP-DAC? Of course, it is for sure.
My only quirks here are so minuscule that they're almost a waste of time talking about. The hip-dac2 awkward sunken male USB connector or the lack of a carrying case or pouch are two such examples. However, iFi has a suede pouch available on their website so that personal little quirk could be solved easily.
In summary, we have here a 16 core XMOS and dual OV discrete circuitry, a high-quality volume knob, Power Match, and Xbass with plenty of clean power that is sufficient for I'd say 95% of all the headphones out there.
Plus, a metal chassis fashioned in a unique small flask-like shape and finished off with a stylish Sunset Orange color for less than 200 US bucks. I just have one thing to say at this point. Shut up and take my money.
iFi Audio hip-dac2 Technical Specifications
Formats supported DSD256/128/64, Octa/Quad/Double/Single-Speed DXD (384/352.8kHz), PCM (384/352.8/192/176.4/96/88.2/48/44.1kHz) MQA
Digital Inputs USB 3.0 type 'A' High-Speed Asynchronous USB 2.0, (32bit/384kHz)
Headphone Outputs Balanced 4.4mm S-Bal (SE) 3.5mm
Power Output BAL: [email protected] Ohm; S-BAL(SE): [email protected] Ohm BAL: [email protected] Ohm; S-BAL (SE): 3.2[email protected] Ohm
Battery Lithium-polymer 2200mAh
Power System Charging via USB-C, BC V1.2 compliant up to 1000mA charging current
Power (max) <2W idle, 4W max
Dimensions 102(l) x 70(w) x 14(h) mm
Weight 125g (0.28 lbs)