The HiFiMan TWS800 is a topology diaphragm single dynamic diver TWS featuring IPX4 and up to 35 hours battery life. It is priced at $299.
Disclaimer: The Hifiman TWS800 sent to us is a sample in exchange for our honest opinion in this review. We thank the team at Hifiman for giving us this opportunity.
To read more about Hifiman products we reviewed on Headfonics click here.
Note, this review follows our new scoring guidelines for 2020 which you can read up on here.
Hifiman TWS800
The HiFiMan TWS800 is a topology diaphragm single dynamic diver TWS featuring IPX4 and up to 35 hours battery life. It is priced at $299.
Just when we thought Hifiman would focus on the niche higher-end audiophile items, they announced the TWS800, a TWS (True-wireless) headset upgraded from the debut TWS600.
TWS has been stealing the market and more audiophile brands are releasing their own Audiophile targeted TWS products. So it was no surprise, Hifiman ambitiously puts a more sophisticated structure inside their new iteration, including a discreet amping circuit on each side and a 150ohm high impedance driver with Hifiman's trademark topology diaphragm.
Priced at $299, let's see how much horsepower does the TWS800 packs in!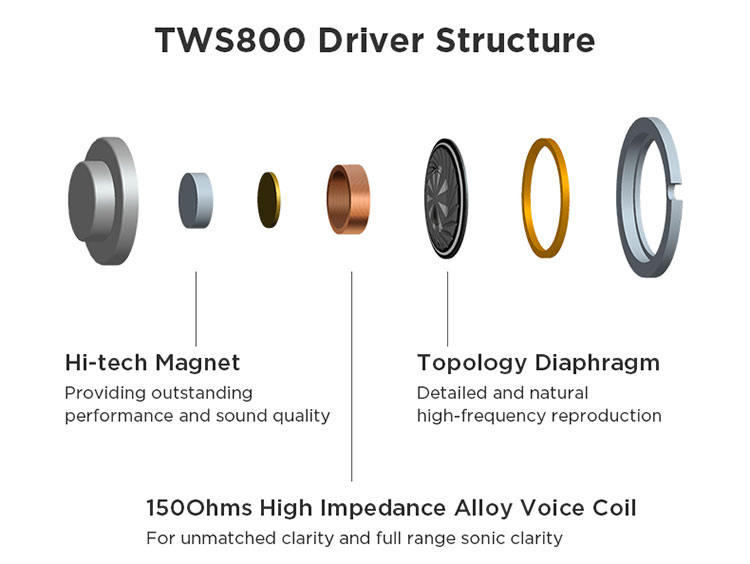 Tech Inside
Single "Topology" driver
The internals of the TWS800 consist of a 150ohm rated driver with super sensitive rare earth magnets, a high-strength nano-particle coating is plated on top which makes the membrane stiffer, further eliminating distortion compared to conventional drivers.
According to Hifiman, they are using the "Topology" Diaphragm that features special geometrical patterns formed by a nano coat layer, and this helps to retrieve more details. Different patterns depositing on top of the base material will change the sound performance in different ways and Hifiman uses this to fine-tune their drivers, achieving a more natural output and higher fidelity.
As a side fact, the tuning mechanism is based on the brand founder Dr. Fang Bian's Ph.D. thesis.
Discrete Amplification
Amplification bottlenecking is a major factor in wireless earphones' performance. In order to provide more playback hours manufacturers have to compromise the amount of current used in amping, therefore most of the TWS earphones turn to sensitive drivers and a rather bass-light tuning that lacks dynamics and punch.
Hifiman sees the problem and added a discrete power supply for the amping circuitry into the TWS800. They also added bigger capacitors to handle fast current draw and provide better bass impact.
This is enabled by a bigger shell size which lets the TWS800 maintain as much playback time as the competition while enjoying solid power for amplification.
BlueTooth 5.0
The TWS800 supports Bluetooth 5.0 but I am quite surprised to learn that it follows the TWS600 to only support AAC (Advanced audio coding the same as what AirPods use) and SBC (Low-complexity subband codec that supports similar kbps to LDAC).
aptX, LDAC, and some other fancy codecs are missing, but a good effort in the tuning and amplification can make up the difference, for example, the Sony WF-1000XM3. You may not be able to feel any difference in user experience after all.
IPX4
The TWS800 is rated for IPX4 which will prevent sweat from damaging it. Technically it is splash-proof and you can use the earphones under light rain. Dropping it in water or spraying water may damage the unit but it could handle most daily scenarios.
Single/ Double-sided connection
The TWS800 supports connection with either side of the earphones only so you can use it for work communication purposes, you can simply connect to one side of the earphones in the Bluetooth pairing menu of your phone.
With plastic faceplates on the earphones, the connection quality is decent only experiencing slight EMI interference twice in a very busy area.
Apart from that the connection never drops unless you go far enough away from the source (see the wireless performance below). With my phone in the living room, I get a good signal in my room some 20ft apart so expect the TWS800 to be quite stable in this respect.
The onboard microphone picks up everything around quite well but you may need to cover it when you are in the crowd, more like a complementary function.
Design
While some TWS are built like bullet-type IEM, the TWS800 is more like a universal-custom IEM in size. This is one of the biggest TWS earphones I have seen up to date but it feels incredibly light in the ears and sits on the cavum well.
I thought the faceplates are made of metal but when the LED indicators beneath lights up they show their plastic credentials. I like how the metallic finish is applied and this will probably enhance the signal strength for the antenna underneath.
It takes me a while to know which side is L and which side is R as they are flipping the earphones around in the docking case to house its huge body. The cradle also gives you plenty of room for the drivers to fit other tips included or seek aftermarket options like the spiral dots for fine-tuning.
The driver nozzles have a chrome finish and stick out quite a bit so they firmly attach to your ears once fitted in.
Controls
The indicators are quite easy to read. Like most Bluetooth devices it flashes when pairing, By tapping the flashing area once/ twice/ 3 times you will be able to control playback and take calls, also activating your device's voice assistant.
The controls are pretty responsive and since the action pushes the earphones inwards evenly it will not mean the earphones will slide out of the ear.
The control actions are as below:
Left/Right-tap once – play/pause
Left/Right-hold ~2 seconds – voice assistant
Left/Right-tap twice: vol – / vol +
Left/Right-tap 3 times: Previous song/next song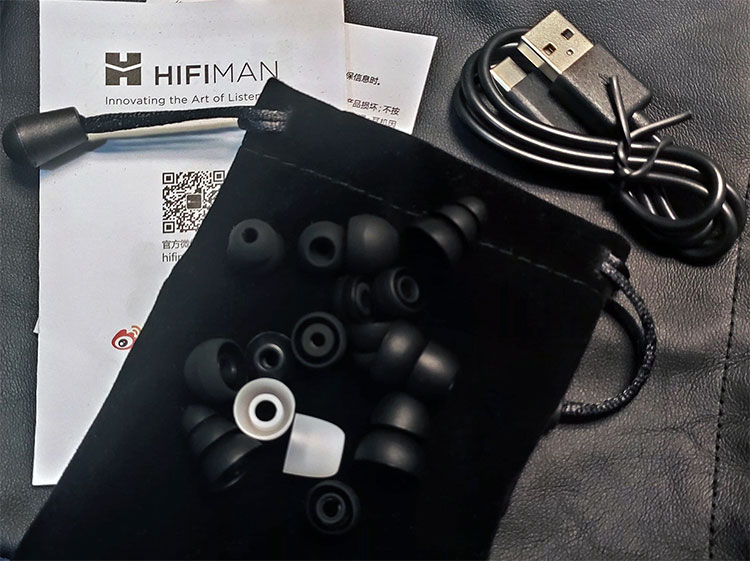 Comfort & Isolation
The form factor, much like some higher-end earphones, is pretty big in size. Despite this fact the TWS800 is very comfortable to wear, there is a lot of contact area with the ears and a relatively deep insertion so it sits very firmly without stressing any part of the outer-ear.
The earphone is also designed to tilt at a small angle and that helps it to stay in place even better. I put them on for around 4 hours and they did not cause any pain, so this works pretty well for long listening sessions.
The nozzle goes in deep enough with the default tips. however, switching to Final E tips the fit gets even more secure. Sealing is average on the default tips so you may want to switch to other tips that help get you a clean background and enhance passive isolation such as Final E.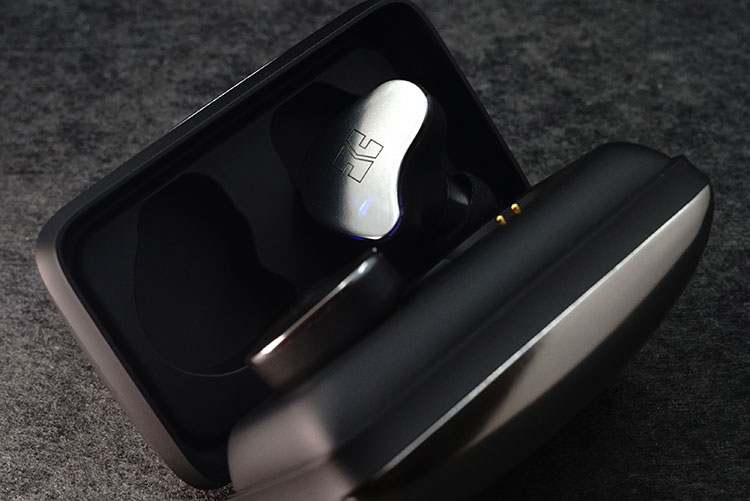 Cradle
The cradle of the TWS800 has the same silver and black color theme, this is similar to the early UE TF10 case's color theme and is surprisingly compact. The actual size is not much bigger than the AirPods case and quite similar to the Sony WF-1000XM3's case size.
The cradle has a smart metallic finish that feels smooth and premium. There are no indicator LEDs on the exterior and no logos. Less is more and this actually looks neat. The case opens only at a certain angle and will shut close if you don't attend to it in around 20 seconds. I am not sure if this is intended but there is less of a chance you will damage the cradle.
There is nothing engraved on top of the case and everything is kept minimal. Opening up the case you will find protruding metal contacts and the earphones are attached to the cradle by a magnetized connection mechanism staying there quite firmly. On the back, you will find a USB-C socket for charging.
Battery Life
The cradle houses an 800mAh battery that will give you around 6 charges. Every charge gives the earphones 4-5 hours playback time so it totals roughly >30 hours playback.
If you listen only when you commute that will last you around 2 weeks. Compared to some other earphones this may seem average but it might not be an issue unless you need to put on the earpieces for a long duration. The higher power in amplification also justifies the relatively shorter playback time.
Packaging & Accessories
The TWS800 is packed professionally. On the back of the packaging, you will find some info on the technologies used, opening it up a wide range of tips and a soft pouch is supplied, also a USB-C cable for charging.
A good selection of tips is offered including double flanges tips and tips with different bore sizes which is less common on TWS. You can use these to fine-tune the sound slightly and add a bit more fun and flexibility to the quality of the final sound signature.
Sound Impressions
Summary
The TWS800 has a very musical but balanced tuning that a typical TWS cannot offer when power is lacking. With better amplification, the TWS800 sounds dynamic, energetic, and airy with an almost SET-like tone.
The articulation is smooth with sufficient detail even with limitations in the potential codecs. There is a surprisingly good weight in the vocal/mid-bass and the bass punch carries good power.
In my experience, some TWS come across as lean or sound overly loose or bloated due to power constraints. The TWS800 is a rarity that packs in dense mid-lows and still sounds very natural and effortless in vocal reproduction.
The bass performance is solid on this one, quite responsive and airy with low-pitching percussion, delivering a deep punch without congestion or bloom. The articulation throughout the bass to the mids are excellent and it feels very natural and spaced in the vocal presentation.
This is a vivid and dynamic sound which is less common in the TWS category offering more textured detail in the bass region than I expected to hear.
The higher mids are well controlled, slightly elevated around 4-5kHz to keep things clean. Lighter voices are smooth and swiftly extended to the higher register with a gentle roll-off that doesn't kill the air.
I listened to Nightwish's Imaginaerum album and TWS800 sounded rich and juicy playing the flute works and the Highland bagpipes, the vocal blends in the music smoothly with good weight.
Staging
With more power under the hood and bigger caps that normally couldn't fit inside smaller TWS alternatives, the TWS800 has a unique staging capability. Better power helps stretch extension at both ends, providing excellent energy when there are fast/sudden bass impacts while keeping good weight in the mids and a very dynamic performance overall.
Instrumental separation is decent and the vocal is carefully weighted, slightly spaced from the listener without being too forwarded while sounding full and authentic. You can feel the good depth in the mix, and drums/acoustics instruments being closer when they hit.
The rich details in the mids and lows highlight the output and make most genres enjoyable and lively, in particular, vocal-centric tracks and acoustics/ string instruments.
Wireless Performance
I mainly stream on Spotify and play Redbook WAV files from onboard memory either on my smartphone or DAP.
Testing from around 10-20 feet apart and turning to different angles there is no sign of dropping signal, disconnection issue nor stuttering, and it can penetrate through a 5" wall.
There is a small latency around 0.1-0.2s detected with media files. This is quite a common issue and some gaming apps support user adjustment, for most other contents it could be negligible.
Select Comparisons
Hifiman TWS600
Technical
Both TWS600 and TWS800 support the same sets of codecs. With 1 extra hour (5.5hours) in playback time per charge, the TWS600 offers slightly more listening time per charge cycle. One other difference is the physical control system on the TWS600. I personally find the touch controls on TWS800 much more responsive and practical.
Performance
Soundwise the TWS800 is from a higher league, simply beating the TWS600 in all aspects in terms of sound performance. If you own both you will sense similarities in the tuning, mainly the weight of the vocal, both sound lush but the dynamics and naturalness on the TWS800 are clearly superior.
Putting them side by side you will hear a lot more mid-bass details and layerings on the TWS800, with the bass being more responsive and punchy while delivering more resolution.
The treble is slightly more extended and controlled on the TWS800 when the TWS600 feels more boxed. The TWS600 could however be more forgiving with genres like R&B that require more smoothness than technicalities.
Sony WF-1000XM3
Technical
Sony's TOTL TWS earphones WF-1000XM3 is possibly the most well known TWS out in the market. It comes with a lot of features including early adoption of BT5.0 when others are still stuck at BT4.2.
The Sony WF-1000XM3 houses a 6mm dynamic driver with CCAW dome-shaped coil and allows 8 hours playback time when noise canceling is turned off, doubling what TWS800 can do but the cradle only extends playback time by within 20 hours.
I used to listen during commuting only so this doesn't really make much difference to me but if you turn on ANC you will probably need to charge the Sony every week.
Performance
The WF-1000XM3 has quite a bump in the upper treble to add extra crispiness especially with high hats and sharper tones. This adds good sparkle to audiophile recordings while everything else in the output is quite uncolored and controlled.
The WF-1000XM3 has its bass extended deep and you can detect fast bass rumble, which lowers the coloration and adds to a more satisfying level of accuracy. There is good control in the slightly forward mids that always sound clean which is ideal for Jpop listeners.
The overall cooler timbre is in stark contrast when switching to TWS800 listening to the same song. While the TWS800 is not leaning to the bass, its mid-bass performance is much fuller and natural, sounding warmer than the XM3.
The TWS800 is fuller sounding with vocals and acoustic instruments/ synths. Any juicy mid-bass content that needs a bit of punch suits the TWS800 sound. The kind of tuning that will make you tap your feet or gets sucked into vocal performance will work better with the TWS800.
Sony, on the other hand, sounds cleaner, cooler, faster-paced, and more accurate, working better with classical music and light voices also relaxing Jazz music as BGM.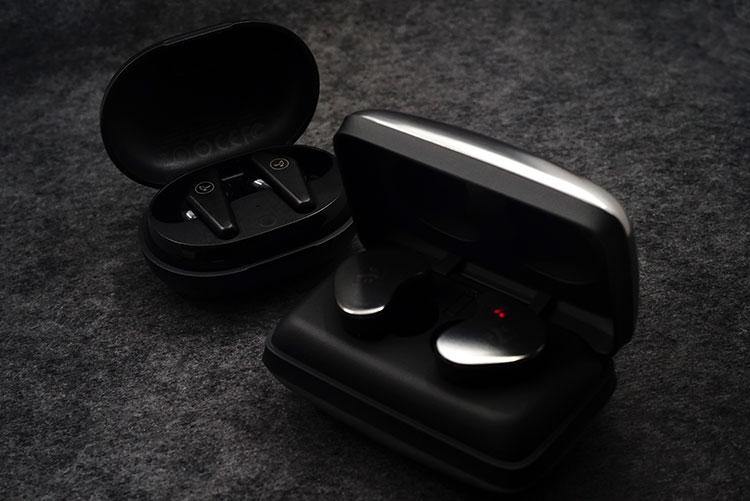 Libratone Track Air
Technical
The Libratone Track Air has a sleeker profile and is very ergonomically designed. Being quite compact does not mean the Track Air lacks bass. It actually sounds quite balanced and full considering its size and the vocal performance is lovely.
They also build an app with an in-app equalizing preset that helps pump out more or less bass depending on your preference/ listening scenario. The mic on Track Air is slightly clearer than the one in the TWS800 and I still need to cover the area/take out one side and talk to the mic to pick up voice clearly in a busy area.
Performance
Doubling the cost of the Track Air and being much more streamlined in functions, I'm expecting the TWS800 to be more impressive in sound.
Head to head the two TWS earphones are both quite balanced and slightly mid-centric. The track air sounds softer and less punchy whereas the TWS800 has a more solid and detailed bass performance. The solidity in punching power makes the Libratone sound quite weak and less resolving.
I also feel that the TWS800 is smoother in articulation and detailed from the lower mids up to the treble. This in turn creates a bit more space and clarity compared to the Libratone. I like how Hifiman takes the analog approach with a euphonic, full-bodied timbre whereas the Track Air packs modern technicalities and design but sounds more digital.
Our Verdict
The TWS800 is no doubt a unique item when it aims at the audiophile community rather than the mass market. I like the idea to provide a choice for better fidelity and Hifiman demonstrates a different set of features to competition such as better amplification and audiophile-quality drivers that make a difference.
It is a shame we don't have the higher end codecs on the TWS800 but the performance in amping makes up for the "lower specs". Except with slightly greater latency, you will find hardly any difference in performance except with video.
The cradle also has plenty of space that allows you to fit different tips on the nozzle of the TWS800 which is a great advantage over other TWS cradles that can often be more restrictive. If you find TWS in the market sounding thin or lacking energy in the punches, this is an excellent alternative.
Hifiman TWS800 Specifications
Bluetooth Version: Bluetooth 5.0
Frequency Response: 20Hz-20kHz
Playback time: 4.5 + 27
Supported Codecs: SBC, AAC
Water Resistance: IPX4
Weight of one earphone: 6.9g
Weight of charging cradle: 57.7g
Charging time for the earpiece: 1 Hour
Standby Time: 140 Hours