The FiiO BTR1K is an upgraded version of the original BTR1 Bluetooth dongle released in early 2018. It replaces the older version and is priced at $49.99.
Disclaimer: The FiiO BTR1K was sent to us a sample in exchange for our honest opinion and does not have to be returned. We thank FiiO for this opportunity.
To learn more about FiiO product reviews on Headfonics you can click here.
Not too long ago, Headfonics reviewed the FiiO BTR1 Bluetooth module with generally positive feedback. Today, I will be looking into an updated model called the BTR1K, which has an MSRP of $49.99.
As far as Bluetooth nodes go, this is one of the smallest I've seen that offered a 3.5mm output. Hurray for FiiO, offering the basics back to the cell phone user world and beyond. I cannot stress how happy I am to use my phone again.
The Box and Build
Not much to rave about here. FiiO's box is basic cardboard and the unit comes neatly packed inside a very small container. Along with some paperwork, you'll get a charging cable and nothing else.
FiiO has made sure to CNC with a very thick, all-aluminum feel. For such a small little thing, it puts out serious weighted vibes. Good deal, FiiO. Thank you so much for not designing this as an all-plastic, trashy feeling object.
It feels fantastic to grip and toss in my pocket. I am also very impressed with the 3.5mm cable output, which is rock solid and has almost no play and wiggle what so ever. I expected far less and received far more quality. You'll also get about 8 hours of usage out of this.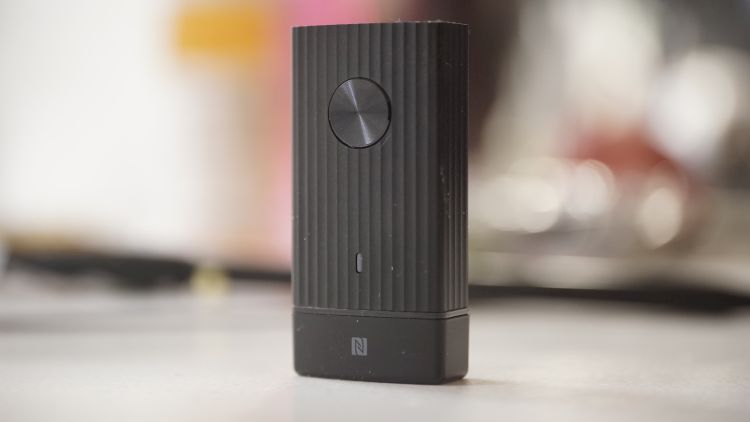 Missing 3.5mm? No Problem
I have a newer generation OnePlus 6T, which is one of the best cell phones on the market, overall. The sad case with my phone is a singular divot, a pea-sized nuisance in my mind's eye, and ear in that it doesn't have a 3.5mm output.
Most of the newer generation phones removed the 3.5mm for headphone usage and opted for the full BT route, or at the very least, offered a very STUPID 3.5mm USB-C conversion dongle along with the purchase which I refuse to use out of spite and absurdity.
True, my phone is awesome in every way, but not having a 3.5mm really is a letdown. Sadly, even more, the audiophile market has yet to really offer a fantastic Bluetooth adapter for use with 3.5mm enabled headphones. For now, we are stuck with a few scraps here and here. As well as a gem or two in the mix which includes the FiiO BTR3 and this new BTR1K. Both of which I have with me here for inspection.
The Bluetooth
As far as BT enabling goes, the BTR1K connects extremely fast and stays connected with a range, for me, of about 20 feet. This is a bit less than advertised but not by too much. I can walk a room or two away and receive a spotty connection with the BTR1K.
You will get a fair bit more distance with the BTR3, which is a more expensive model with better sound quality. I am also able to connect to various MP3 players I own, which makes life much easier when you are on the go and do not want to keep tossing your expensive portable around in public.
Having some basic volume and track skip buttons is also a nice touch. I'd prefer to keep my expensive things in a bag or my zipped jacket pocket and not think twice about it. So, having something like this that links directly to it but also lets me use my portable 3.5mm headphones is a fantastic feeling to play with.
Sound Impressions
Bass Quantity
Believe it or not, I felt the BTR1K to house a bit of a bassy feel on a totally flat EQ. Yay! It does a few of my headphones justice without the need to boost via the hardware or the software that is also in the mix. My Zen2 earbuds have a solid bass experience, but at 150ohm and require extra power.
I do not feel them underpowered with the BTR1K and I also feel a nice sense of bass depth through the BTR1K. For the price, this is a solid amplifier as well as a fantastic wireless function that an entry-level audiophile can use.
No, I do not recommend you use bass enthusiast headphones with this, but you can get by with some of the lower to middle tier bass cannon out there. At least, in the way of the pricing of the BTR1K, feel comfortable that you actually have a slightly boosted bass amp that is BT enabled.
Bass Fidelity
As far as raw quality goes, the BTR1K shells out an impressive window of sound. Dynamic is a word I would like to use, complex even. This is not a one-note bass and you will notice some texture in bassy headphones that I own, such as the ATH-ESW11LTD, or my Flare Audio PRO IEM.
I am also able to use the Empire Ears Nemesis and feel enough purity to be happy when I do need Bluetooth, or when I want it. The BTR1K's AK4376A DAC is nicely implemented for my tastes. I was told by others that it offered a musical appeal on the low end and that seems a correct value to adhere to. My ears agree.
Bass Purity
The purity factor is very good for the price. Although, an A/B comparison with the BTR3 model showcases an audibly superior quality across the board. The BTR1K seems less prone to liquid-like sound and is a bit rough around the edges.
The BTR3 is noticeably more clean and smooth, which has nothing to do with the DAC installed, at least not in my opinion. It has to do with the superior BT chip (QCC3005 in BTR1K and CR8675 in the BTR3).
Midrange
The BTR1K is has a fairly forward vocal presence. I felt the BTR3 to house a bit of recessed tendency at times, but not one that I would call "fully recessed". Slightly relaxed, perhaps. The BTR1K is more forward when normalizing volume levels between the two. However, the BTR3 is a more rounded, solid, and realistic feeling. The BTR1K is excellent for the price, no doubts though.
I cannot name another BT module quite like this and I may have been spoiled by having both the 3 and the 1K model at the same time to compare. If not, I'd still be very happy with the BTR1K all around.
Fidelity
As far as raw dynamic fidelity goes, I notice a little grain. However, compared to other Bluetooth devices, like my AZIO thumb drive BT node, as well as a BT node I have from Noontec, the BTR1K seems like it is worth its weight in gold. This is a device that I've wanted for some time. I am a midrange enthusiast as well and I prefer a more forward midrange on a subjective level.
This device plays well with portables in general. However, I can hear a quality drop off in the upper-mid tier headphone area and max out the potential of my ESW11LTD (which is a headphone known for excellent midrange quality). So having said that, I would personally be investing the extra cash into the upgraded model of the BTR3 over this BTR1K for that reason alone. It is worth the extra.
However, if you don't have a mid-centric on the go setup, don't worry. If you are bass or treble emphasized in your portable rig, don't pay any mind to the other and more expensive model. You will be just fine with this cheaper one. The quality and fidelity offered are fantastic for the price.
Treble
In the way of treble response, the BTR1K is just okay in my book. I find it to be a little artificial at times and if I am using a more expensive headphone in the middle tier. For the budget sets out there, typically, treble is reserved and those IEM's and headphones overall play well with the BTR1K.
The upper end of the BTR1K is a few steps off sparkled and what I would consider on the lean side. Lacking nowhere, but sometimes in need of some EQ on my source to make it a little more interested and lively. I respect them for making sure it was a reserved and not painful experience, but also one that is responsive enough to be altered if you want more out of it.
Thankfully, the quality drop off is not at an issue and you can add in a few extra dB's up top and feel the experience top off and become slightly more engaging. Achieving that without a quality loss is a great reality to enjoy in such a low priced BT module.
Imaging
There is a weak link in the chain and that is certainly in the imaging department. I am not at all saying the experience is lacking, but I notice a more closed in sound through pretty much all of the headphones I am connected with. For $49? I am not going to even remotely complain though, because the positives far outweigh the singular negative I feel about this product.
Of course, I don't expect a $49 DAC/BT device to offer exceptional sound staging properties and there really isn't much in this price tier to even compare to. I have to rely on instinct and memory recall with various other very cheap DACs, like the AudioEngine D3 and similar sub $50 units out there now.
It is possible that the reserved treble experience is getting in the way of a fluffier top end. But, even when I boost a little up there, I don't receive much more of an aired out experience. For what is there, it is just okay, more than passable in sizing and shape, but still noticeably less dynamic and realistically formed than the BTR3 next to it. Expect a relatively flat depth of field without much to it.
As for width and height, I feel more than comfortable in saying that avenue of the imaging of the void were the strongest points. I found the depth of field and separation of instruments to be lacking in comparison to what I know some 3.5mm headphones I am using for testing are generally set up as with other sources.
Our Verdict
Are you kidding? For $49USD this is a steal. The BTR1K has an excellent build quality and will let you connect your 3.5mm headphones to your phone or another Bluetooth source, yet without sacrificing much quality at all. It feels fantastic to drop my phone in a bag or my pocket and connect my Zen2 earbuds to it while I shop, or go about my day. FiiO is offering very nice Bluetooth sound quality and the experience is something I've greatly desired for some time. Finally, technology is moving forward. Thank the audio deities!
I strongly recommend the BTR1K. It is sleek, sexy, and moderately powerful. If you like a musical bottom end, this is a great product for you. But, feel free to EQ as you desire, as the DAC inside of it is good enough to be tailored to respond to a few dB up and down on the top and bottom end. You can alter freely and not lose much quality and at $49? That makes the BTR1K an exceptional value.
FiiO BTR1K Specifications
Qualcomm QCC 3005 Bluetooth chip
Supports Bluetooth 5.0 and aptX / aptX LL / SBC / AAC
High-performance AK4376A DAC brings improved performance
< 2uV noise floor + 120dB SNR + 1.5 times output power
Type-C connector with USB DAC functionality
aluminum alloy body
multi-function button for a quick operation of pair/play/pause.
RGB light to indicate the input Bluetooth audio codecs and working status
8 hours playback and 140 hours standby time
Built-in microphone with Qualcomm cVc noise cancellation technology
Simple one-touch NFC pairing