The Crosszone CZ-1 is a uniquely tuned full-sized closed-back triple-driver headphone that uses crossfeed technology for massive soundstage performance. It retails for $2500.
Disclaimer: This is a sample sent to us in exchange for our honest opinion. We thank Crosszone for this opportunity.
To read more about the headphones we have reviewed on Headfonics click here.
Crosszone CZ-1 Review
The CZ-1 from Crosszone is a truly unique listening experience and well worth a demo if you get a chance in any of the audio shows they attend or a dealer near you.
I saw the Crosszone booth at CanJam in Singapore I believe 2017 and maybe 2018 but I never actually managed to sit down and hear their products.
It was not until the AV Show in Hong Kong in August 2018 that I finally saw their booth and went to try out their CZ-1 headphones. If you have been to the AV Show it is the biggest in Asia as far as I am aware, and it makes CanJam look like a primer.
I am actually very glad I did spend the time with Crosszone reps Carol and Minh speaking about the CZ-1 because what I heard that day was actually very unique. I believe the SRP for the CZ-1 is $2500, and they have been known to run promos for as low as $2000 at some trade shows.
It has been on the market for maybe 2 years now, so it's not exactly a 'hot new' product. However, this is one headphone I think you need to spend time with and hear because if you love closed-back headphones but always ranted about the crappy staging capabilities or a lover of crossfeed, then the CZ-1 is like no other headphone on the market today.
Company Pitch
There are three distinct pitches to what the company believes makes the CZ-1 a unique headphone.
Natural Sound Field
The first is the concept of headphones using technology to create a more natural sound field than that delivered by conventional headphones.
The argument here is that the vast majority of headphones still create an "in your head" sound using parallel driver designs.
The CZ-1 uses a unique configuration of drivers and chamber technology to deliver a more 'realistic experience' by moving the sound out of your head as you would normally hear a concert or a good set of speakers.
The goal is not that different on paper from something like S-Logic from Ultrasone but done in a very different way.
Natural Sound Quality
The second distinct pitch is the quality of the sound delivered. In the same way, the CZ-1 is designed to give a speaker-like experience the selection of driver technology and materials used to build the headphones is also key to delivering what they believe is a life-like and listenable presentation.
That means beryllium-coated dynamic drivers at the tweeter and woofer level combined with a brass frame and an 8-core OFC detachable cable. I am a fan of beryllium driver responses over titanium variants.
I always hear them as a little richer and not as lean or bright sounding as their titanium counterparts thus far. Combine that with an OFC and before I even hear it I have a gut feeling this is pitched for a forgiving listening experience.
Extended listening Comfort Levels
The final pitch is the design and yes, the CZ-1 is one heck of a unique-looking headphone. There is a reason for that structural design because at 480g this is not one light headphone.
The design is supposed to reduce lateral pressure and thereby reduce physical fatigue for longer listening sessions. Let me tell you right now that the design does actually work, it does not 'feel' like a 480g headphone on my head.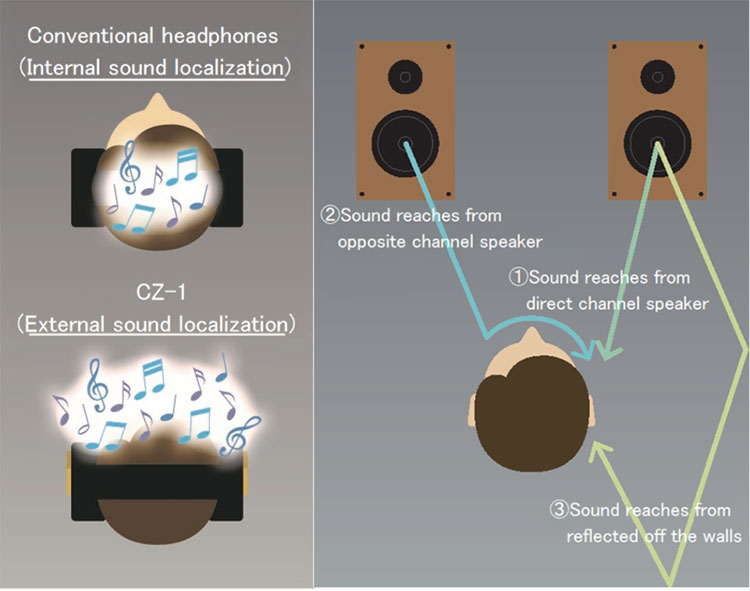 Technology Inside
The CZ-1 is a closed-back dynamic-driver headphone, however, it sounds anything but closed. The reason behind that is in its unique triple driver and acoustic chamber design which is also a major factor in why those cups are so big.
ART & ADC
The CZ-1 uses both Acoustic Resonance Technology (ART) and Acoustic Delay Chambers (ADC) combined with those drivers to create three different pathways for sound to be delivered to your ear.
These pathways are 'staggered' if you will via a series of reflective chambers that replicate how sound typically reflects and travels to the ear whilst listening to a set of speakers in a room.
The first two drivers are direct firing drivers and account for low and high-frequency signals. The low-frequency is delivered through a 40mm woofer and the high-frequency through a 23mm Tweeter.
Crossfeed
The third driver acts in a very different manner and in effect creates a passive crossfeed network by reverse-firing the channel sound in each cup. This 3rd driver's crossfeed functionality is the key difference between the CZ-1 and S-Logics' decentralized driver layout.
Phasing or delayed timing of this signal is executed via the air chambers and mixed with the direct sound to deliver a more spatial and open presentation.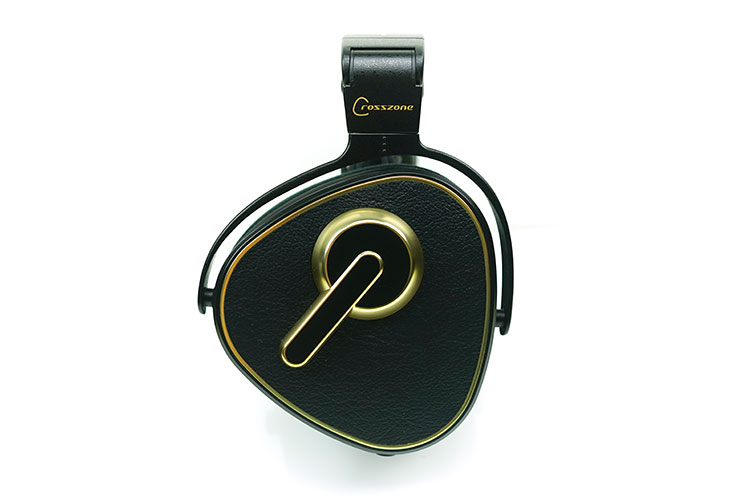 Design
Materials
The CZ-1 form factor is eye-catching, unique, and incredibly well put together. The Japanese craftsmanship on their freshman product lunch is exemplary almost like they have been doing this for years.
The is a beautiful mix of rigid die-cast magnesium for the headband and smoothly finished black hard plastic molding for the gimbal and cups. The faceplate of each cup is topped by an aged faux leather finish.
The black tones of the CZ-1 cups, gimbal, and headband are complemented by striking gold accents on the baffle, pivot, and crossfeed driver external housing edges. Matching gold-colored 'Crosszone" emblems can be found on each side of the CZ-1 just above the main gimbal arch.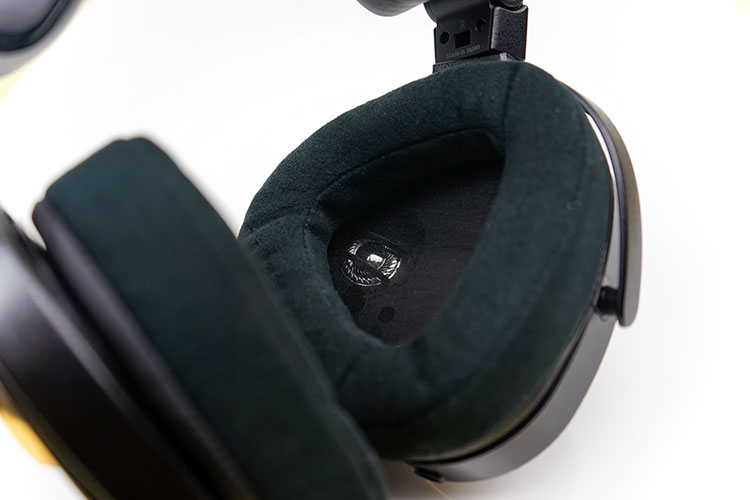 Form Factor
The dominant features are those big triangular earcups. By comparison, the headband looks almost non-existent. You could be forgiven for thinking that there is no way this should fit on your head given that it is such a short headband. You would be dead wrong.
The height and depth create an illusion of the CZ-1 having no reach. However, the inner opening of the pads follows the same triangular shape meaning the opening is just right at ear height.
I actually found at the shortest setting it was just the right height to sit over my ears. My scalp to ear length is fairly short so the headband should have plenty of room for those with longer or wider heads.
The lever-like design on each side of the cup is, in fact, the physical tube that delays the signal into that 3rd 40mm driver which acts to reverse the sound in contrast to the two direct drivers.
If you sneak a peak on the inside of the pads you can make out the driver symmetry and why those cups need to be that size. It also adds significantly to the unique external appearance of the CZ-1.
Comfort & Fit
Vertical Pressure
This is the genius of the Crosszone CZ-1 design for me though it is a bit hard to capture into words. You have to actually have the headphones moving up and down in your hands to see how superb that built-in torsion spring system works.
Each side can move independently of each in a vertical direction meaning the CZ-1 headband design is not rigid like a traditional wrap-design nor it is as center-focused as an AKG-style leather strap tension system.
If you have an uneven head shape it will adjust automatically for that without you having to revert to fine-tuning the headband length constantly.
Focused and distracting vertical pressure itself is vastly reduced also by two very soft and comfortable foam wedges underneath the main headband to the far left and right meaning the central area does not touch your head at all.
Lateral Pressure
The lateral pressure or clamping force of the CZ-1 is quite relaxed though by no means loose. Perhaps this is by design because when you add some lateral pressure by pushing them in with your hands the sound signature changes massively.
You get a heck of a lot more bass depth and quantity but personally, I think this upsets the balance of the CZ-1 presentation and what makes it so unique.
The only area that I felt distinct pressure of any kind was directly behind my ears where the majority of the cup/pad pressure was being applied. If anything, the design may well be too successful for those who like their closed headphones to clamp a little harder.
Ear Pads
The pads are triangular, large, very circumaural in application, and also resolutely plush and forgiving on the ear. Importantly they are detachable and replaceable, (via your dealer). They are made off of a memory foam jacketed in a soft velour and silk material and feel wonderful to the touch.
After 2 months of use, the pads also seem to retain their shape quite well rather than go horribly flat like the old Hifiman or Sennheiser velour pads. They are also quite thick and deep so there is no chance of the drivers touching your ears as well as covering a wide contact area on your neck to reduce pressure.
Sweet Spot
One important thing to note is the sweet spot. Not in terms of comfort but ideally where to position the CZ-1 on your head to achieve the best sound balance. There is a lot of lateral movement inside those large pad openings.
You can technically push them back so they touch the front of your ear or pull them forward so they hit the back of your ear. Each position will affect the sound in a dramatic fashion. Crosszone advise
Isolation
For a closed-back headphone, the isolation is just about average. It is not DT1770 or Ether C Flow closed levels. A couple of reasons for that.
The first are two little air vents at the top and bottom of each cup baffle. These vents act in the same manner as speaker ports (rear or front) with the vent on the base tuning the woofer and the top vent for the 40mm crossfeed driver.
Put your finger over each and the level of bass and air will be affected by changing the sound. It also lowers the level of isolation from background noise.
The second are those silk/velour triangular pads used on the CZ-1. They are fairly porous in nature as are most velour pads in my experience.
They do a good job with high-frequency background isolation but less so with mid to low frequency such as aircon hum. Though not quite as open as the proper open-back design the CZ-1 is still a headphone for indoors and quiet listening sessions.
Cables & Connectors
The CZ-1 uses a slightly forward-positioned dual-entry 3.5mm jack port system with a pressure-based locking system. Although the cups themselves are left-right based the actual cable 3.5mm jacks are not which is pretty cool.
What that means you can connect the CZ-1 any way you like without having to worry about channel orientation.
There are two cables that come with the CZ1. A 1.5m cable and 3m cable though in this sample only came with the shorter 1.5m version. The shorter cable is a 3.5mm terminated 1.5mm OFC 8-core wire (4×2) housed in a flat dual-tubed PVC jacket. This cable is designed for portable use and comes with a 6.35mm jack converter.
The short black cable is pretty light, microphonic, or physically noise-free when moving around, and also fairly tangle-resistant.
Accessories & Packaging
The packaging is big as you would expect for a full-sized headphone. It is also professionally finished with an outer vinyl sleeve over a black box showing a distinctive picture of the CZ-1 front and center. Inside the main black box, the headphones are resting on a satin cloth lining above a contoured foam bed.
To the bottom, you get 2 cables (1.5m and 3m), a 6.35mm converter, and a small warranty leaflet. It is not the most fanciful of displays but it gets the job done.
Click on Page 2 below for Sound Impressions & Comparisons