Internal Hardware
DAC
The Cayin N8 uses the same DAC chipset as the AK Sp1000, a dual AKM AK4497EQ implementation. This is AKM's flagship 2-channel DAC chipset as of right now and in its own right, it can decode up to 768 kHz PCM and 22.4 MHz DSD.
The N8, however, sets its decoding rates a little lower at DSD256 and 32BIT/384kHZ PCM which is on par with the SP1000 and Sony W1Z decoding cap. It has also included SACD-ISO decoding which I find most useful as a lot of recordings are in ISO format. However, the N8 cannot decode DST-encoded DSD including DST-encoded SACD-ISO and DFF.
Instead, Cayin has focused on maximizing how well the chipset performs within its own decoding capability. Key areas such as the N8's SNR performance at 120dB unbalanced and 122dB balanced matches the best specs of competing platforms such as the SP1000.
Implementation
Why not offer higher rates? Well, for one the MCU inside the N8 is not really capable of decoding much higher. The ability to acquire a more powerful MCU at an industrial quantity level does not exist in reality for niche audiophile manufacturers.
Second, developers really gravitate their implementation solutions largely to bulk ordering customers such as the big smartphone manufacturers. To acquire one for the N8 (or the SP1K) would require a very high volume demand which does not exist.
Even a "money is no object" DAP has its procurement limits or else both Cayin and AK would be offering higher decoding rates. That is perhaps one of the benefits of in-house DAC designing such as Chord who can produce lower volume production lines with higher-performing decoding rates specifically for their own products.
Amp
More so than the DAC implementation is the complex amplification process that really sets the N8 apart from the likes of the Sony 1Z. This is the only DAP in the market right now that offers 3 unique output flavors, not including line-out. It is also the only DAP I know that actively controls the voltage flow depending on the status you select and the headphones you use.
At a high level, the Korg Nutube delivers the first amp flavor to a 3.5mm unbalanced output, a distinct solid-state flavor can also be switched on for 3.5mm unbalanced and finally a 4.4mm balances solid-state output. Note, when you do use the tube output there is a 5-second delay for the N8 to heat up the tubes. This process is repeated anytime there is a lengthy pause in playback to save tube and battery life.
The entire output implementation is a 5-stage amplification design with the use of opamps at both the differential selector stage and the final output amplification stage. The key difference is the switch component for the 3.5mm unbalanced which allows the N8 signal to bypass the early stage differential opamp select the Nutube amp stage instead.
Output Power
The output power of the N8 is excellent. Not just on the baseline numbers but in how it applies the power to match the headphone or monitor you are sticking into it. Both the 3.5mm unbalanced and balanced output ratings are further split by a standard and high impedance (High²) power delivery system which adjusts the level of power supplied depending on the load.
Unbalanced Standard
The unbalance standard (STD) is the best match for most sensitive gear friendly ranging from 35mW (per channel) at a 300Ω load up to 230mW (per channel) at a 32Ω load. It not a completely black background but the noise floor is much lower than I expected with the most sensitive IEM such as CA's Andromeda and EE's Phantom.
Unbalanced High²
The unbalanced High² setting will ramp up the voltage and deliver a wider and more powerful range from 50mW (per channel) under a 32Ω load to 400mW (per channel) under a 300Ω load. Here the Sennheiser HD600/650's of this world are going to sound a bit more optimal.
Balanced Standard & High²
The balanced output on the N8 works in much the same manner only with higher numbers. On the STD it is a fairly substantial 480mW into 32Ω and 80mW into 300Ω and for High² it is a very powerful 750mW into 32Ω and 200mW into 300Ω. Solid modern planars with 4.4mm balanced wiring will be the ideal pairing here and the likes of the Sennheiser HD800 shouldn't be a shabby pairing either.
Software
SoC
The Cayin N8 uses a Mips based 1GHz SoC for the main processing heart of the DAP. As to which chipset exactly I do know they have a historical preference for Ingenics solutions and true enough is an Ingenic X1000E. The X1000E uses a 1GHz Xburst core and custom FPGA designed to handle the bitstream and reduce jitter before the signal enters the DAC chip for decoding.
The SoC is not as powerful as many of the Android-based DAPs out there but then it does not need to be given the N8 does not run Android. Instead, Cayin has turned to the ever-evolving non-apps based HiBy Music OS which runs just fine on this SoC.
HiBy Music Platform
Cayin has been a long-time HiBy Music partner when it comes to implementing software on many of their media products. From the original N6, N5 and the desktop iDAP-6 you will find various stages of maturity in terms of how well the OS works. Even the N5II and N5IIs Android platform were heavily skinned by HiBy at the Android level for a clearer music focus.
The N8 does not break with that tradition but this version of the HiBy Music OS does provide a different experience to that of the OS you now see on their Android app and R-series in-house media players. After using it for a month or so I can also say that with V2.0 of the firmware the N8 on a software level is quite stable and relatively bug-free.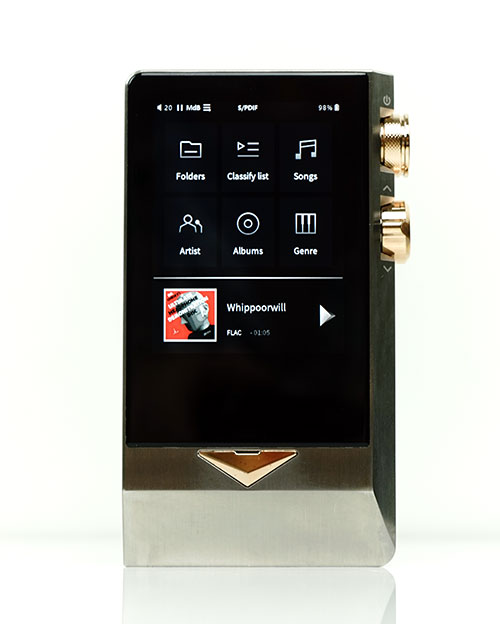 Core Navigation
Whilst you will find little in the way of user-based expansion (apps), nor any WiFi related services other than OTA, I do find this OS the best version yet for delivering all the potential features the N8 has within 1-2 quick clicks, especially the complex amplification amp output options.
One of the key navigational features for opening up that plethora of options is the drop-down quick access menu. You can access it at anytime, anywhere in the OS making it the starting point for plenty of useful features.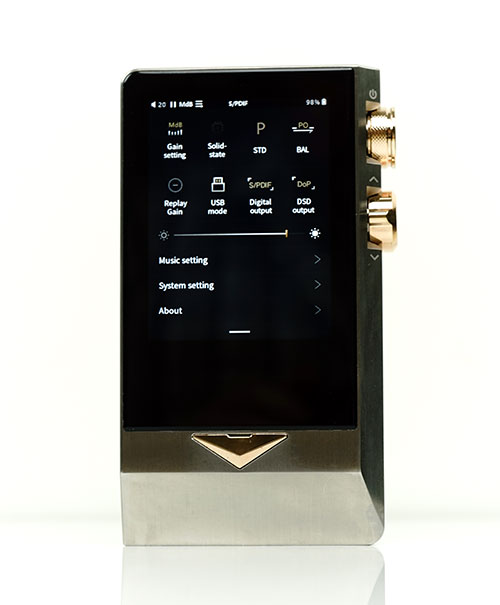 Ease of Access
Whilst clearly taking its cue from the drop-down menus of Android and iOS it also reminds me of the Q (quick menu) system you find on the latest Fujifilm cameras such as the XT-3 or X-Pro2. As any UI analyst will tell you, the less you have to dig into screen-based menus to get something done the higher the user satisfaction. On this point, the N8 drop-down menu may have an advantage.
When you swipe down you not only get what Cayin believes to be the most pressing quick change functions such as tube/solid-state, LO/PO, gain, High², and the default USB mode but also access to the core music and general settings menu. In doing so, Cayin has transformed what was simply a periphery menu from the likes of the HiBy R3 OS version to their actual core navigation of the N8.
Features
The OS is basically broken down into two to three feature driven areas including media management, music & settings management, and wireless connectivity options.
Media Management
Much like the i5 and N5ii Android skin, it is the Media and playback features that are front and center on the home screen and does not require any sub-menu navigation. This I like. After all, it is a music player so messing around trying to get into 'this and that app' tends to frustrate me a bit. Sony and Cayin's approach is much simpler and more direct. Maybe I am a little old-school in that regard.
Media Categories
The tag-focused library is broken down into Song, Artist, Album, and genre. You also have the ability to drill down via the physical folder and create playlists and favorites via the home screen though sadly there is no option to add to these lists via the playback screen.
Tagging accuracy from the scanning will depend on how you tag your own tracks but on 1500 FLAC scan I found the tag scanning to be very accurate. Anything missed was because I have not embedded the correct data or artwork. As a point of reference, I use Mp3Tag software for my metadata with both Artist and Album Artists tags used and cover art embedded.
LR/LQ
Once stored each individual track gets the HR/LQ treatment which basically means Hi-res or Low-Quality to designate your lossless and lossy track formats. You will see this in a small tag below the main song title in the library.
Genre 'Moot'
As with every HiBy OS I have encountered the Genre category is virtually useless if you have a large number of albums and tracks using the same genre tag. This is because HiBy makes no attempt to divide the genre collection into an artist and/or album grouping. It is just one big flat list of songs which feels virtually unusable.
You will find that in most HiBy OS implementations on their own DAPs, Android app, older FiiO DAPs and the list goes on. It is not Cayin's fault but I do wish HiBy would change that for the benefit of ease of use for all clients and customers.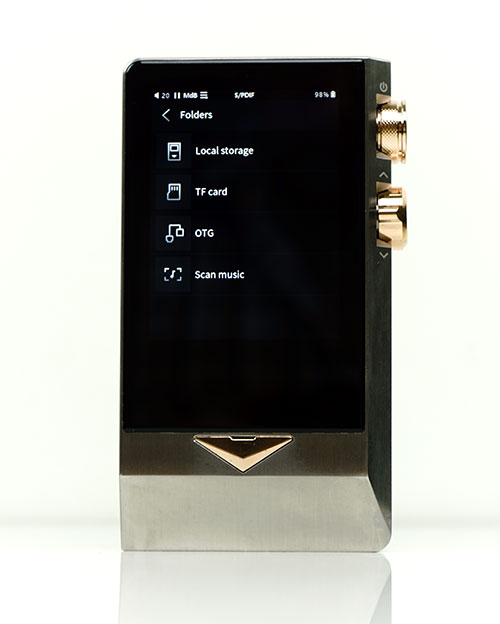 File Management
Physical folder media management is split into the key storage areas including onboard, TF card and OTG. How big the card or OTG library will dictate the speed of the buffer in terms of processing and list generation. You will also find the general media scan function inside the main 'Folder' home page sub-menu.
Media scanning is pretty quick up to 128GB in both TF and onboard memory. My own 128GB TF card, (which is the largest I have), didn't present any issues and you are talking seconds rather than minutes for the media library to generate.
OTG
For OTG, scanning and file detection will slow down a bit more with externally powered larger HDD libraries with 1 or 2TB worth of media.
Our own tests took around 10 seconds for the OTG to connect to a 4TB WD Portable drive and be recognized and then a further 2-3 seconds for all tag-related data plus artwork to show up. Smaller 8-64GB cards via OTG n the N8 were much faster to connect and display its physical contents, especially flash drives.
Playback
The mechanics of the Cayin N8 playback screen works in a very similar fashion to most other HiBy OS platforms though it does seem to be a little more icon based in its options menu than the latest Android and R-Series DAP versions. Personally, I prefer descriptive word listings than icons as they are more intuitive, however, the diminutive screen size of the N8 may have had some influence on the final choice of icons.
There are a total of 3 swipeable screens on the playback screen including cover art, lyrics and track data such as BIT and sample rate, duration and format. Just above the artwork, in the top right-hand corner, you have 3 small dots which will activate the secondary playback screen icon menu.
From there you can access the current playlist, add a song to an existing or new playlist or simply add it to your favorites. You can also elect to delete the track from the N8 from this sub-menu. To return to the main playback screen you can either elect to hit the top left arrow or as I prefer, the bottom physical 24k gold-plated arrow button, much easier!
Track Time Control
You can control the timer also. I do find this timer line quite small to the eye but its touch sensitivity is much better than the like of the frustrating Mango OS slider. I think overall you will prefer using the lower command dial on the right for its accuracy in moving the track forward or reverse. Once you get a handle on the pressure its actually an excellent track time controller.
Bluetooth
LDAC
From my initial impressions posts a few weeks ago I expressed disappointment that a flagship DAP with intentions of being a system component only had BT4.2 aptX capability. Well, thankfully we now have the new firmware V2.0 update with full LDAC codec capability.
It is still BT4.2 based and not BT5 but the key is LDAC because this unlocks a far better data rate and higher levels of BIT-rate and sampling that can be received by any LDAC equipped gear such as the latest Sony BT headphones, FiiO's diminutive BTR3 or even 1MORE's Triple-driver wireless earphones.
Sadly, no aptX-HD on the Cayin N8. I would say this is an unlikely future update as the chipset is not licensed or hardware ready for aptX-HD. Most new DAPs seem to be skipping aptX-HD and going right to LDAC which makes sense given it is cooked right into Android 8.0 at the time of writing and is much cheaper to implement.
HiByLink
You can access the BT options via the System setting menu and it is there also you can activate the HiByLink and pair with a smartphone's HiBy Music App to create the remote control service.
Personally, I do not use HiByLink that much with my other DAPs such as the R6. However, with the Cayin I believe it is far more useful if you end up hooking it up to an amp and speaker system as your main source. Couch potatoes take note, it does work and from the smartphone side you can control the library and playback but core music and system settings you will have to adjust directly from the N8.
One important note for using HiByLink. You need to turn it on both source and N8 as the receiver then turn off and turn on BT functionality once again before you make the link. Once you do the smartphone will pick up your N8 library as a new media library (scan activated).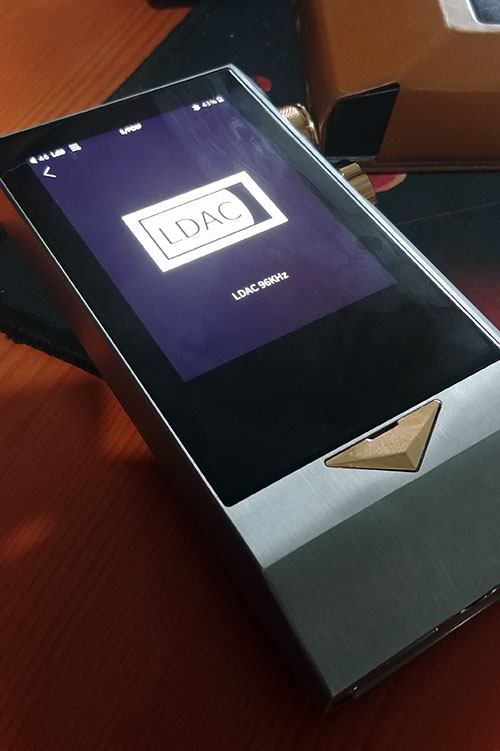 Quality Tweaking
One really welcome feature of the BT software on the N8 is the ability to determine the quality of the Bluetooth signal being received and decoded. You can set it to a preference based, if available, or strict LDAC in two formats, quality priority, and LDAC standard. Highest quality settings may have an impact on the level of stability in your connection to lower options are provided. You can also go a bit lower with aptX and SBC. Sorry iOS guys no ACC seems available on the N8 as of now.
The combination of LDAC in BT RX mode (source to N8) also means you can easily transmit a hi-res signal from the likes of TIDAL, Qobuz or Spotify directly to the N8
WiFi
WiFi on the N8 as of V2.0 is purely for OTA firmware updates which is a step ahead of Sony's WiFi-less 1Z but a few steps behind Astell & Kern, iBasso etc. You can automatically connect or manually enter your SSID. Pairing is pretty simple and quick and the signal strength is on par with most competing DAPs. Both the N8 and my laptop showed the exact same signal strength from the same distance.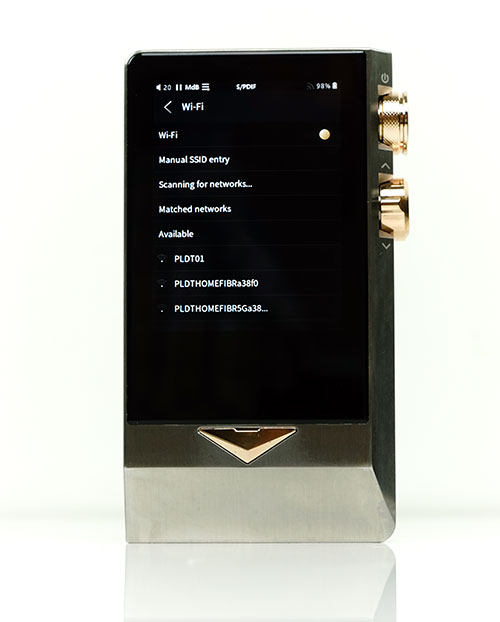 Depending on your needs OTA may be just fine as the firmware file packages are just 50MB and it is pretty fast to download and update. Others may wish for additional options like DLNA or TIDAL as you would find in other HiBy OS platforms. I am not sure if that is going to happen and Cayin has given no indication of that at present so do not go looking for anything more, you will not get it.
Settings
Music
You can access the Music settings of the Cayin N8 via the drop-down menu system, (just at the bottom of the screen). Here you will find plenty of handy features such as gapless, breakpoint resumption memory, volume control, play through folders and channel balance adjustments. Features such as replay gain, gain control and the amplification switching controls are on the main drop-down menu which I think is far more suitable than buried deep in the settings menu.
The N8 does avail of the AK4497EQ digital filter set but just two have been provided instead of 5; slow roll off and fast roll off. My presumption here is that Cayin felt these two provided the best contrast and the others had a negligible effect on the sound presentation.
Personally, I hardly touch digital filters. I have the N8 set to a slow roll off but you will find the 3 amp stages and excellent EQ system to have a much more dramatic and involving effect on the sound signature.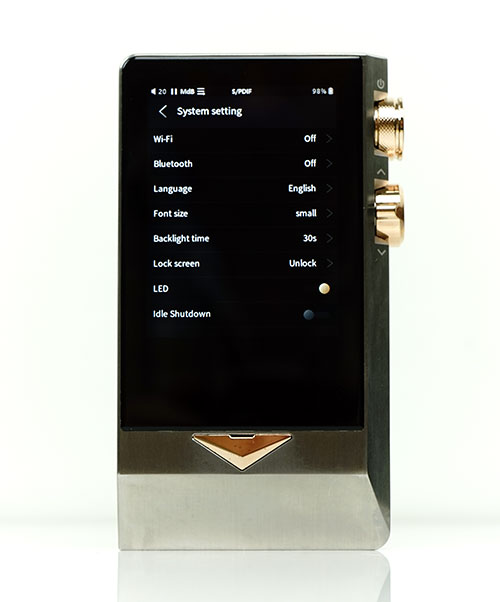 System
System controls are centered on connectivity pairing via WiFi and Bluetooth. You will find all your BT settings under the system umbrella including quality of codec and HiByLink setup. Most all of the environmental controls are here also such as font sizing, languages, and a screen lock.
Screen brightness adjustment is in the main drop-down menu which I find most useful again as I am always adjusting mine depending on the surroundings. There is a small LED option there to turn off the LED light that circles the command button at the base of the main LCD screen. It turns to indicate tube use or off for solid-state. Personally, I have it off to save a little on battery life.
Page 1 for Introduction, Packaging, Build Quality, and Features
Page 3 for Sound Impressions & Matchability
Page 4 for Select Comparisons & Our Verdict