After a battle with immigration control at LAX Alex Rosson was there in the flesh at CanJam Singapore 2019. We are all the better also for his attendance because his new RAD-O planar magnetic headphone is just brilliant.
I believe he has it wired out of a Matrix Audio Element-X DAC/Amp with dual 3-Pin L/R balanced connections which I have not heard before and honestly it is an amp series I would love to spend some time with. In any event, the RAD-O is spectacular and for once a headphone whose pre-show hype is matched in every way by its performance.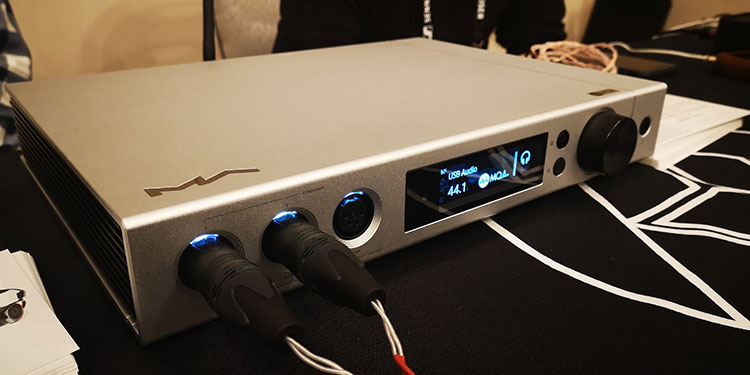 This is a circumaural open-back planar magnetic headphone with a 66mm driver with some beautiful finishing also. The cool aspect is you can customize the blended dye or paint housing style to your own preferences to give you a very unique high performing set of cans.
Impressions
Impedance is set at 29Ω though I am not sure on the SPL. I do know the Matrix amp had no issues driving the RAD-O and it does 1.7W into 32 Ω so take whatever you like from that but I do not foresee any driving issues. A good amp will make this baby sing.
And how it sings! The low-end is just gloriously deep, full-bodied and very punchy. The RAD-O has tons of power yet at the same time I did not find the bass body without definition or slow in delivery.
The other aspect that really impressed me was the treble tuning. It sounded sweet, detailed and very coherent. Not an old school hard-edged or lean treble timbre that plague some planar headphone presentations.
The price of the RAD-O I believe is going to be around $2500 but not dead certain on that. We got locked into a very interesting discussion on 'wrestlers on planes' and what NOT to do with Jude and Alex so the important information is a bit hazy. Jude's story is clear as day but not something you want to read in a show report. Will we be reviewing it? I hope so, it rocks!
Shenzhen Audio is a huge dealership in China with plenty of influence beyond. They headlined or sponsored CanJam Shanghai also on its debut outing late last 2018 and had a fairly large booth at Singapore this year. One thing they are very good at is introducing hitherto lesser known brands to the global market quite successfully.
Now not many would know this but the big boss, Tony Wang and I have been working on various review projects going right back to the start of our site almost 8 years ago. Review projects such as their very popular hybrid tube amps, the Bravo series, popped up on our site back in 2012. The TFZ Galaxy V2 review was also from Tony's team last year so the relationship is ongoing.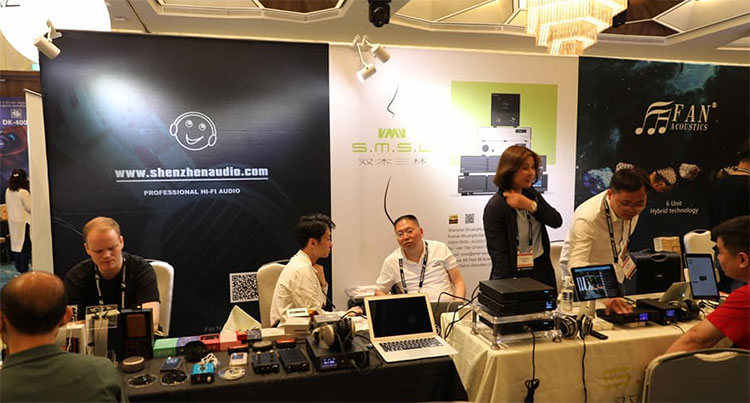 Two brands I spent time with on their booths, Yulong and SMSL and I can tell you now, that two products in particular from each of their companies really impressed me.
CanJam Singapore 2019 was a debut for Yulong Audio and they brought with them a ton of nice toys with them. One, in particular, they wanted me to try was their brand new DA10 fully balanced desktop DAC/Amp.
This is a new product launch and goes for $1200 on the main Shenzhen Audio website. Inside it uses a highly respectable AK4497 DAC that supports up to PCM 768kHz and DSD512 so decoding capability is competitive.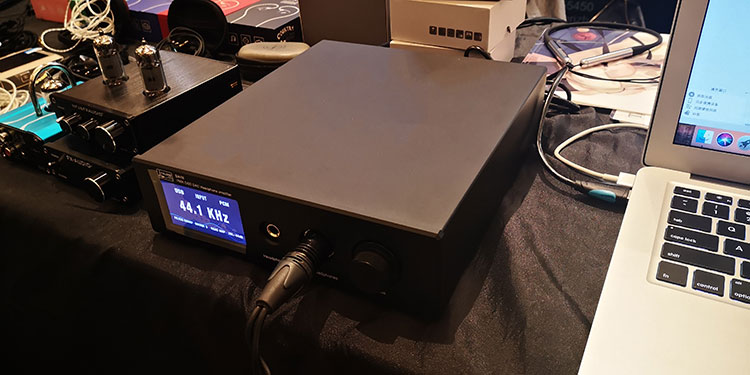 Packed alongside the DAC in its single box design is a fully discrete class A amp with both single-ended and balanced 4-pin XLR outputs. The output power is excellent at 2W single-ended into 32Ω and 3W into 32Ω for its balanced output. No issues on power here for demanding headphones.
At the front, it has a small LCD display for all your critical information such as your source selection, decoding sample rate, volume and filter control.
Impressions
Sadly, the selected headphones for brief impressions are not my preferred headphones, the Beyer T1. I find them a tad on the bright side despite their excellent levels of detail.
Not the fault of Yulong DA10 because the DAC/amp drove the T1 brilliantly with tons of headroom and excellent levels of resolution/dynamic range. What I want to hear is a pairing with a warmer or more naturally toned headphone such as the Verum 1 or the Meze Empyrean. I get a feeling these pairings maybe ideal and a lot of fun with the Yulong DA10.
And yes, we swiped the one in the pic and we will do just that with a full review on Headfonics in due course.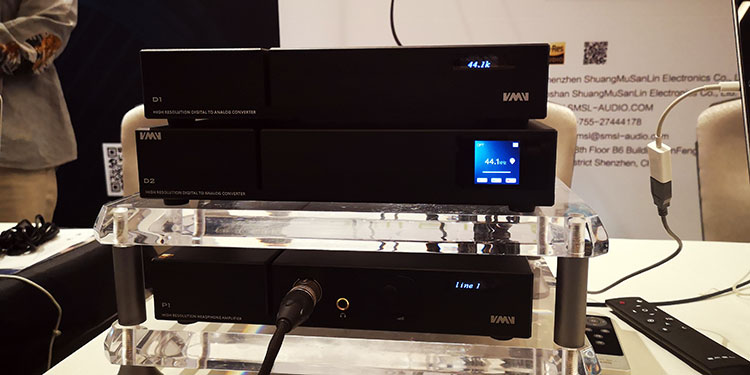 SMSL is not a new brand to Headfonics readers. We have covered them before with their smaller DP3 DAC/Amp and you can read our review from Mike here.
This is, however, the first time I have met the team in person so thank you to Martin of SMSL and Tony from Shenzhen Audio for allowing me some time with what I think is a killer combo they have in their all-new R2R VMV- D2 DAC and matching VMV-P1 balanced headphone amplifier. In case you are wondering in the picture above, the D1 is their existing delta-sigma infused DAC which served as a nice comparison to the D2.
Impressions
In short, the SMSL P1/D2 combo blew me away and I cannot wait for them to get this out to the market with the full specs and hopefully competitive pricing. I was handed an HD800 to test it with and to be honest, I was a bit reserved about what I would hear as I find the HD800 to be a bit lean and peaky. An unforgiving headphone best heard at home without distraction and a good setup.
What I heard with the D2/P1 was nothing short of glorious with the HD800. I never heard the HD800 so full sounding, so smooth and just darn right for listening. Even in a noisy trade show setting the D2/p1 with the HD800 combo really impressed me. Possibly the nicest surprise of the show, and that was 4pm on Day 2 when the legs and possibly my hearing was shot to pieces.
We are definitely going to be chasing this combo for a review and as a final piece of advice in our show report, I really strongly recommend you get a demo of this pairing wherever possible.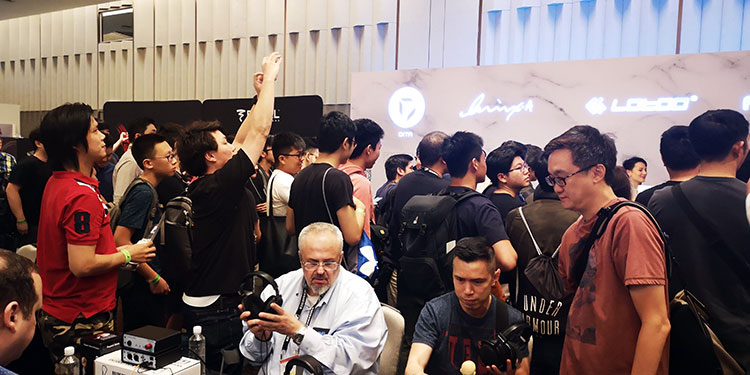 Summary
I was talking to a few manufacturers and dealers in the days after the CanJam Singapore 2019 show and the one thing that struck all of us was just how dynamic and lively the show was this year. Out of the three years attending and reporting on it, I do not believe I have seen as many products being launched as I have seen this year. That bodes well for the show's future.
Gone are the days when the city would get a rehash of what went down at RMAF a few months previously and more and more are skipping CES and going straight to Singapore to test out new gear. Personally, I am very thankful for that small change in emphasis. Singapore is booming when it comes to portable and desktop personal audio.
I didn't get any Polish chocolate this year though, that sucks!