Sound Impressions
Summary
The Xelento wireless has a sound signature tailor-made for modern pop, EDM and RnB as well as female vocals. This is a fairly V-shaped tuning but with a really nice level of clarity, especially with female vocals. That clarity comes from a slow rise from 1-5k and underpinned with some solid weight and power from that dynamic driver.
Treble has a bit more elevation towards 5-6k with a more relaxed profile beyond. You get some good bass/treble contrast on the Xelento wireless but it is not a peaky thin sound. In fact, it sounds more on the liquid or wet side of neutral for me with just enough warmth in the timbre to sound forgiving without any loss of that excellent level of clarity.
You can do v-shaped for fun and still offer plenty of detail. The Xelento is fun and even on the forgiving side, but it has none of that tacky bloom or piercing highs that define cheap-sounding consumer IEM's. This is refined, tight and clear but at the same time powerful, PRaT driven, and geared to that "TIDAL" R'n'B sound.
Staging
The Xelento is more deep than tall than wide. The excellent sub-bass extension and quantity is probably the very first thing you will notice with the Xelento soundstage. I have no issues with just how powerful the Xelento is and how much depth they have created with this tuning.
The Xelento does push the upper mids and lower-treble forward, more so than the upper treble so it is not massively airy or sparkling but it doesn't really sound like it is lacking in headroom either. Just a natural fade up top to keep that forward midrange in check or from sounding hot.
Mids are dipped but clean and clear so it is not the widest or most open sounding midrange out there. What it does well though is to keep everything properly separated, clean and clear. beyerdynamic has done well to maximize the sub-bass response without throwing out a muddy bloom further up.
Bass
The low-end is more of an L-shaped FR with a linear but controlled drop from 40-50Hz down to around 800Hz. I originally felt the sub-bass was relatively controlled on the Xelento but swapping tips makes a huge difference. I find the silicone tips way too leaky. The foam tips rock and keep a beautiful harmonic balance throughout.
With the foam tips, I get a meaty physical distortion-free sub-bass presence with plenty of dynamic driver timbre to boot. However, what satisfies me more is the control over that decay. This is not sluggish bass to the point where it smears, this is way tighter and engaging. The Xelento response feels nimble enough without being anemic as well as offering excellent texture and detail to go with it.
It is the kind of modern 'phat' bass tuning that makes me want to go deep into my TIDAL and Audiomack Hip-Hop or Rn'B collection.
Mids
Lower mids on the Xelento wireless are dipped so some of its instrumental timbre lacks a little presence despite the good bass fundamental.
Lower pitched male vocals slip and slide among the instruments and sound a little distant. Mind you they do not lack clarity and the separation is better than what I was expecting for a V-shape. If your main fare is hard rock or classic indie guitar work where a lot of energy comes from 500Hz to 800hz including male vocals you might find the Xelento is not the most ideal pairing.
However, that 1-5k gentle rise does tease out some cracking higher pitched vocals, especially female vocals such as Winona Oak and Samantha James. This is where I feel the Xelento wireless really excels.
Treble
For wondering if the Xelento treble may not be overly energetic, there is a peak around 5-6k that helps tease out some decent bass/treble contrast. After that, it does seem to gently roll-off with only a minor 8-10k bump for headroom and air.
The resulting treble I find smooth but still quite clean and articulate. It strikes a nice balance between sparkle and body and injects enough odd-harmonic overtone into the Xelento's timbre to tease out some nice instrumental clarity, especially for synth work.
Compared to the RHA CL2 which also has a heavy emphasis on rising upper-mids, the Xelento sounds a lot smoother and the more forgiving of the two. The combination of a gentle more linear rise from 1k and less treble energy contributes to that more liquid sounding top-end compared to the CL2's harder edge.
Matchability
Efficiency
The Xelento Wwireless is rated at 16Ω and 110dB and by all accounts a reasonably easy to drive wired monitor that doesn't require huge amounts of current either. Compared to similar dual-wired and Bt solutions such as RHA's CL2 and Flare Audio Flare's Pro, the Xelento wireless is by far the most sensitive and easiest to drive of the three.
In wireless or Bluetooth mode efficiency is relatively moot as the internal amp and DAC of the Xelento does a really nice job in coordination with any smartphone or DAP software-based volume control.
We found that to be the case with most wireless dongle IEM's with their own in-line volume controls adding a level of refined volume setting that many smartphone volume slides are unable to offer. The Xelento volume control is one of the better ones. Moving up and down it doesn't feel like such a startling jump in volume compared to something like the Cozy TAKT Pro risky rocker.
Noise
In wired and wireless mode, the Xelento is also very quiet. The 110dB is just on the right side for higher noise floors not to show too much hiss if any in wired mode from DAPs like the N6ii and FiiO's M11. The black background using the BT module on the Xelento wireless is superbly quiet.
Wireless Performance
Compatibility
A few interesting observations here. The first is compatibility and this is not beyerdynamic's fault. The Samsung Note 9 does not have aptX-HD. It does have aptX and LDAC but that oversight by Samsung is quite amazing. Of course, I happen to use one…figures.
Luckily, my backup Huawei P20 does have aptX-HD which is where most of my codec comparison work for this review was done. The Note 9 does sound much better with the wired Xelento than the P20. The P20 has no jack and the Note 9 does which is almost laughable. Second, the supplied dongle for the P20 digital audio is pants and should be binned immediately.
DAPs did very well picking up on the Xelento wireless aptX-HD capability with the HiBy R5, Lotoo PAW Gold Touch and the FiiO M11 all pairing seamlessly. You know you have aptX-HD by the way with a sultry British female accent telling you that aptX-HD is activated.
EQ
The second observation is the ability to use EQ over BT with the Xelento wireless which I appreciate a lot. Testing across all 3 DAPs mentioned above I was able to EQ the BT signature quite easily. That included the PMEQ from Lotoo, the M11 graphical EQ and HiBy's MSEB.
EQ is something I appreciate with wireless because we are out of the domain of absolute resolution which wired will give you. With BT I am slightly more into fine-tuning for personal preference so with HiBy's MSEB, for instance, I tamed down the bass a touch and pushed forward vocals with a bit more "intoxication". The Xelento responded really nicely with some nice mids focus though bassheads might cry a little at that type of tweaking.
Stability
The Xelento wireless offered a competitive distance exceeding the likes of the BTR3 by around 1m with one wall in between it and the transmitting source. It was on par with the RHA CL2 and Flare Audio's BT modules in terms of distance and stability also.
The ability for the Xelento to multi-connect did not seem to diminish an otherwise very stable connection. Switching between sources was very simple as in you do absolutely nothing with the Xelento. Simply turn off one source, press play on another and the Xelento wireless will move sources automatically. We tested with the DX220, FiiO M11 and the Samsung Note 9 and no issues moving between all 3.
Select Comparisons
RHA CL2
$899
Technical
For me, the CL2 is the closest competitor to the Xelento wireless in terms of purposing. However, the internals are very different. Both are closed IEMs, however, the CL2 uses a planar coil and a 16-micrometer diaphragm as opposed to the Tesla dynamic driver inside the Xelento wireless.
The two monitors also have very similar aesthetics to each other. Both have that quasi jellybean compact form factor with a reflective smooth finish. The main differences include a darker gunmetal finish for the CL2 and a tougher Zirconium dioxide injection molding shell compared to the Xelento wireless's silvery CNC Aluminum build.
Both have MMCX connectors but the shaping of the port on the CL2 shell is much more awkward to attach and reattach compared to the protruding version on the Xelento wireless.
The CL2 actually comes with a ton of useful tips and 2 excellent wired cables, copper unbalanced and silver balanced, as opposed to one unbalanced with the Xelento. I prefer the lightweight dongle-designed BT cable on the Xelento as opposed to the heavier neck brace styling of the CL2 BT rubber cable.
The CL2 has a longer battery life on BT at 10-12 hours compared to 8-10 but only goes up to aptX decoding whereas the Xelento wireless can do aptX-HD as well as apps integration.
Performance
Oh, no question the CL2 is harder to drive than the Xelento wireless in wired mode. You are talking about 15 digits gaps in low gain unbalanced on the Lotoo PAW Gold and similar on the Cayin N6ii unbalanced.
It is to the advantage of the CL2, however, to have that balanced silver cable to allow it to tap sources with stronger balanced amplification. As a planar driver, it can scale very nicely and shows next to no distortion with higher-powered devices. The Xelento doesn't need the same amount of power and is more efficient and drives better from weaker sources than the CL2.
Both have impeccably low noise floors using their respective BT modules and similar range performance with a stable connection to my Cayin N6ii and Samsung's Note 9. I do prefer the lighter cable solution of the Xelento when sitting or walking around. the neck strap of the CL2 feels heavy. However, the RHA neck solution is slightly better if you intend to do some running or exercise bikes as it doesn't bounce around.
Wired Tuning
Quite different presentations here going wired. With the CL2 you get a classic planar low-end sound and much more of a mids to upper mids bump. Lower-mids instruments are a little more forward sounding and vocals have a bit more presence than the Xelento wireless.
The Xelento wireless has more of a classic V-shaped lower mids to mids dip with a heavier low-end dynamic driver sound and a bit more warmth traveling from the bottom up. It also has a bit more power sub 100Hz with that heavier sub-bass bias.
The Xelento wireless's rise from the lower mids to upper mids is also a bit more linear than the CL2 which explains why those vocals and upper mids on the CL2 seem a lot more in your face. For male vocals, the CL2 is the better performer for me but I prefer the Xelento's smoother timbre and less shouty positioning for female vocals.
Treble is a little more extended on the Xelento but the gap between the two monitors is not huge. Neither have overly aggressive treble. The problem with the CL2 treble tuning is that the upper mids are so elevated that it picks up any treble overtone in its harmonics and amplifies. The CL2, therefore, has a tendency to sound cleaner but sharper than the Xelento.
Bluetooth Tuning
The CL2 actually sounds nicer for my personal preferences when I go wireless. It still retains its core presentational bias with that forward upper mids but the treble is less pervasive and the timbre smoother or warmer overall.
The Xelento wireless also gets a shade more warmth on BT but in terms of dynamic range and detail, its aptX-HD decoding has an edge over the aptX maximum CL2. Putting aside the FR differences you can just hear a shade more refinement and detail in the Xelento vocal and instrumental texture.
The rest will fall on personal preferences; V-Shaped versus planar sounds with upper mids and female vocal front and center. Warmer versus cleaner or stronger bass performance versus balanced to slightly warm.
Flare Audio Flares Pro
£349
Technical
This was more or less my first professional IEM/BT experience a while back in 2017 and it set the standard for me in terms of what to expect from a quality Bluetooth capable IEM.
Now, granted back in 2017 LDAC was not widely used it at all so this is just BT4.1 as opposed to Xelento's BT4.2 with no apps integration. It can only go up to aptX as opposed to Xelento wireless's aptX-HD. It is, however, a fraction of the price of the Xelento HD at a shade under $400.
Like the Xelento wireless, the Flares Pro packs a single dynamic driver but with significantly more rear venting and a classic bullet type titanium form factor. The Flares Pro driver is beryllium as opposed to the Tesla driver of the Xelento wireless.
The Flares Pro does not use a detachable cable system to the driver and that is a weakness for me for rolling but it is detachable at the splitter. No extra cable with the Flares Pro but because of the splitter balanced detachable system it does not need it.
Both use a cable dongle system and here I really like the concept on paper of the balanced Bluetooth used by Flare Audio on the Flares Pro. It is not as sturdy as the cannister system of the Xelento and very plasticky but on the flip side, a lighter dongle and more accessible.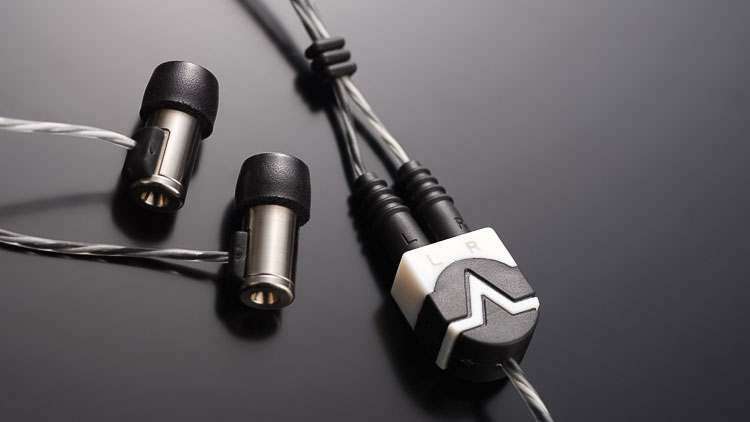 Performance
The Flares Pro rating are not published but I can tell you that it is as inefficient as the RE2000 SE detailed below and certainly less efficient than the Xelento wireless in wired mode.
Our DAP volume matching had around 10-15 step gap between it and the Xelento on an unbalanced low gain using the Lotoo PAW Gold Touch as an example. I always felt the Flares Pro could scale well with power and nothing has changed my mind on that since I first reviewed it.
That does not mean that you need huge current to get to a decent volume but rather the volume range is much higher on the Flares Pro. It is less sensitive to those 0.5dB step adjustments than the Xelento wireless.
Going Bluetooth is a great equalizer with the Flares Pro offering just as much distance and equally steady connection. Both are low noise modules with no detectable hiss and easily pair with smartphones and DAPs alike.
Wired Tuning
There are quite a few timbral and tuning differences between these two. The Xelento wireless sounds the smoother of the two with a more pleasing and reliable harmonic balance in its timbre.
The reason for that is the Flares Pro's accentuated upper mids and treble performance. The Flares Pro's tuning has a bit more bias to the treble than its bass weighting leading to an abundance of sharpness and a tizzy top-end when called on. When not called on the Flares Pro is very competitive, clean and resolving, especially in the mids.
Both have decent low-end weight though the Xelento is a bit more solid in that respect with more sub-bass depth, quantity, and physicality. The Flares Pro is north of neutral but a bit more reserved by comparison.
Mids are little further forward on the Flares Pro compared to Xelento wireless which pushes them further back. The timbre is warmer on the Xelento and not as sharp but the tip is earlier at 800-1K at its lowest point whereas the Flares Pro bumps 1-2k and dips closer to the IE800 line at 2-4k. Male vocals sound a little closer than the Xelento but the Flare Pro female vocals do not have the same body and focus as the Xelento.
Bluetooth Tuning
I much prefer the Flares Pro with its balanced BT output over its wired alternative. aptX tends to give a little more bloom and a softer treble on the Flares Pro which suits it better. That does not mean this is suddenly a rich and wet delivery. It still has a partial overtone on its timbre that can jar compared to the Xelento's smoother delivery.
The Xelento wireless does sound a little more relaxed moving to BT from wired and you get a little less treble sparkle. The Flares Pro sounds a bit more open for me with less of a recessed midrange compared to the Xelento wireless so it tends to favor vocal focus a bit more.
However, that solid low-end Xelento performance is very satisfying and if you do want something a shade more powerful and richer then the Xelento is the better option. If you want more open mids and an airier top-end then pick the Flares Pro, just watch out for that sharpness.
Hifiman RE2000 Silver Edition
$1500
Technical
The RE2000 SE is not a Bluetooth capable IEM but it is a more than capable single dynamic driver monitor. I thought it would be worth comparing this with the Xelento wireless when it is in its wired mode. The RE2000 SE was also as low as $799 for quite some time but it is now back up to its original $1500 SRP.
The RE2000 SE is unique in its use of a 'topology' design. This is a single 9.2mm dynamic driver with a nanoparticle coating applied to the surface. Distinct geometric patterns in this nanocoating allow Hifiman an ability to fine-tune the final sound signature and reduce distortion in a way not possible with traditional drivers. beyerdynamic's approach with their dynamic driver is based on their headphone tesla driver design being miniaturized into the Xelento housing.
Design
Both use aluminum materials for the housing but the Xelento is a smaller shape than the RE2000 SE and sits a bit more snugly in the ear. The design and finish also look a shade more premium than the RE2000 SE.
The Xelento wireless uses MMCX compared to the RE2000 SE's 2-pin connectors. You can roll both no issues with better cables though, in terms of stock, the RE2000 SE silver-coated crystalline copper wire seems to be a better gauge and quality.
Whilst I like the dual flange tips with the RE2000 SE the overall tip selection is nowhere near as refined as the Xelento wireless. The RE2000 SE really does need foams for better isolation.
Performance
First things first, the 16Ω 110dB Xelento (wired mode) is much easier to drive than the 60Ω 103dB RE2000 SE. You will need plenty of current and a bit of power to get the best out of the RE2000 SE whereas the Xelento wireless already sounds optimal out of simpler devices.
The likes of the DX160, Lotoo PAW 6000 can drive the Xelento well and it also performs better from a smartphone. The likes of the Lotoo PAW Gold Touch, Cayin's N6ii or their own R2R2000 is where you will find the RE2000 SE sound optimal.
Tuning
Tonally, the Xelento is more v-shaped with a heavier low-end and a bit more upper-mids/lower treble presence. You will hear some more sub-bass quantity and power and a bit more bass/treble contrast with the Xelento. The RE2000 SE has a more balanced approach with a bit more mid-bass emphasis and less sub-bass quantity by comparison. It still has an unmistakably dynamic driver sound and it sounds planted but with less sub-100Hz bias.
Both do dip at 1k, however, the RE2000 drop is less extreme and it carries a shade more warmth and texture into lower mids instrumental timbre as a result. The Xelento sounds the cleaner but cooler of the two for instruments but has the better PRaT and bass fundamentals.
Vocals are similarly positioned but again the RE2000 SE has a bit more warmth and naturalness and the Xelento goes for more contrast and a cleaner timbre. The RE2000 SE is also less prone to sibilance but both are really very well-controlled in that regard. The RE2000 SE also sounds a bit more open with better layering in the mids compared to the Xelento.
The Xelento has more upper-mids and lower-treble elevation to provide that bass/treble contrast. The RE2000 SE sounds a little smoother and more controlled with a bit more body in its percussion and high note timbre. You could argue the Xelento has the better depth and more sparkle and the RE2000 SE more resolving for mids.
Our Verdict
So, the Xelento wireless is pretty much the Xelento with a Bluetooth aptX-HD capable cable alternative in the box for some additional Euros. However, as a first-time listener to the Xelento experience, I have to say this is an excellent dynamic driver. I loved the choice of being able to go wired or wireless with these drivers.
The tuning is tailor-made for modern pop, hip-hop and Audiomack enthusiasts with its powerful but detailed sub-bass thrust and clear treble contrast. It is also forgiving enough for plenty of long-listening sessions. And it is not without detail either in that low-end. The bass bloom is beautifully controlled and despite the dip into the mids, it does not lack clarity.
If you enjoy that fun side, the V-shaped side, then the Xelento wireless pretty much nails that presentation to a "tee".
Xelento wireless Specifications
Frequency Response: 8-48,000 Hz
Nominal Impedance: 16 ohms
Sound Pressure Level (SPL): 110 dB
Supported BT Profiles: HSP, HFP, A2DP, AVRCP, GAVDP
Codecs: aptX™, aptX™ HD, AAC, SBC