In this feature, we review the Attitud EarCITY, which is a unique open-back wireless BT5.1 headphone using AirDC conduction driver technology. It is priced at $119.
Disclaimer: This was sent to us as a sample for our honest opinion. Headfonics is an independent website with no affiliate links or services. We thank Attitud for its support.
You can click here to learn more about headphone gear that we have previously covered on Headfonics.
Note, that this article follows our latest scoring guidelines which you can read here.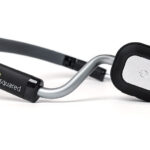 Attitud EarCITY
The Attitud EarCITY looks promising, and if the manufacturer improves on some key areas, we could get a high-quality and interesting product with a unique sound character and unusual technology at its core.
Pros
Interesting technology and offbeat sound
Stylish modern design
The ability to hear the environment
Cons
Flat bass response
Challenging ergonomics for comfort
Today, we review the EarCITY Bluetooth-capable 'conduction technology' driver headphones from a new French brand to us here at Headfonics called Attitud.
Attitud is a French company founded in 2016 with a remit to offer people audio product alternatives for more comfort and safety.
The EarCITY is primarily positioned as headphones for business calls, traveling, and lifestyle use. You can consider this a versatile offering from the point of view of the company and not just for music playback.
To date, only 2 headphone models are available on the manufacturer's website and both of them use a special type of conduction driver that differs from regular bone conduction technology.
Tech Highlights
Attitud EarCITY is equipped with a unique type of conduction driver called AirDC. This is slightly different from conventional bone conduction drivers.
One could argue it's not bone conduction at all or at least radically different from the application from familiar brands such as UM with their MEST MKII and FiR Audio with the Krypton 5.
This technology is based on directional air conduction, which uses air to transmit waves generated by an electrodynamic transducer. AirDC, ideally, should present a clearer natural listening experience without any experiencing unpleasant vibration sensations.
Design
The design of the EarCITY is close to on-ear headphones, but without contact with your ears (sounds contradictory, yes). It is compact and looks minimalistic, but not boring, despite the small number of details.
The frame of the EarCITY bow is metal, the headband is made of plastic and rubber, and the earcups themselves are also made of plastic and soft rubber. Faceplates are made of plastic, stylized as brushed aluminum. Also, on the right earpiece are all the controls, LEDs, and a charging port.
The materials are tactilely pleasant, but the plastic part that connects the metal mounts of the earcups to the rubberized base does not inspire confidence. It looks flimsy and unreliable, although the rest of the construction is pretty solid.
Moreover, very noticeable are the joints where two different materials are connected. From an aesthetic point of view, it would be better if they were not, as this visually reduces the cost of the product.
Comfort & Isolation
Wearing the EarCITY for a long time is quite comfortable. They are very light, almost invisible when worn, and do not squeeze the head at all. So after a couple of minutes, the user forgets they are on the head.
Since the headphones do not block the ears, during their use everything that happens around them is perfectly audible. So they are great for jogging, cycling, or for those who just don't want to cut off outside sounds and hear what's going on around them.
The first disadvantage of the EarCITY design is that the bowls are fixed to the metal parts and they do not fit snugly against the user's head.
For example, for a complete fit to the head, I had to press them a little, which is impossible to do on the go and is generally not convenient. This is very strange given the specifics of the emitters used in this model, we hope Attitud will work on this again.
The second disadvantage is that some users are sensitive to the use of conduction headphones generally. Some people I gave these headphones to listen to said that they feel discomfort while listening.
I personally didn't feel anything even after listening for a long time, so it's all individual, but this point is better to be taken into account.
Controls
The EarCITY headphones are controlled by just 3 buttons: a main on/off button on the bottom of the faceplate and a volume rocker. The power button is responsible for turning on the headphones, BT pairing, and play and pause.
Also, the power button is responsible for the conversation: one press to pick up or hang, and two presses to reject a call. And with two presses a user can launch a voice assistant (Siri or Google). Volume control changes the volume and switches tracks.
Battery Life
The manufacturer claims up to 6 hours of playtime on 80% volume. According to the results of my testing, the EarCITY works continuously for 4-4,5 hours at 80-100% playback volume.
The headphones were connected both to an Android device (Google Pixel 4a) and to a MacOS (MacBook Air M1) – the results were about the same with both devices.
This is enough for a couple of days of listening on the way to work, so given the dimensions of the headphones and the battery capacity of only 200 mAh, this is normal.
The EarCITY will charge from 0% to 100% of the battery in about 1.5 hours from a standard 10W power adapter, as stated by the manufacturer.
Wireless Performance
Pairing with Attitud EarCITY is not instant, but not so slow that you pay attention to it in everyday life. Reconnecting to new devices is quick enough. There were no lags and freezes when listening to music and no desynchronization with the picture when watching a video.
The EarCITY works on a Bluetooth 5.1 connection with aptX HD support. The connection zone is less than the declared 10 meters and is about 6-7, but it is stable and there are no disconnections due to the fault of the headphones.
During calls, the connection keeps well, and there are no lags even if you walk around the room while talking, but it's better not to move further than 5-6 meters from your smartphone to avoid signal loss.
Packaging & Accessories
The EarCITY packaging looks like a cardboard white flat square with color printing. It shows the model wearing headphones, the name of the headphones, and basic information.
Inside the package, there is such a set: a USB-C to USB-A cable, a soft storage bag, and a user's manual.
Given the fragility of the Attitud EarCITY, it would have been better to pack them in hard cases, like those used to store glasses.
Sound Impressions
Bass
Lower frequencies are the weakest side of the EarCITY. The bass is flat and inexpressive compared to a regular headphone though from memory somewhat improved over regular bone conduction headphones.
Although, before testing, it seemed to me that it was low-frequency vibrations that would be the easiest to convey. Sadly, that is not the case here, at least compared to regular headphone usage.
Bass detail is lacking both in simple genres of music and in more saturated ones. It is also especially heard in performances that pay attention to the ambient and positioning of musical instruments. So don't expect rich bass from them.
Mids
The EarCITY mids are already much better and more interesting. The vocal sounds are distinct, although it is farther than they must be. However, you do need to make allowances for the type of driver and its relative positioning to your ear since it's not directly targeting your pinna.
Regardless of the genre of music, vocals are not muffled and are clearly audible. The instruments sound natural, and the production of the vocal parts is normal, without protrusions.
The keyboards sound especially interesting, the piano gets an unusually lively sound, but only if it sounds on its own. The same effect is obtained by an acoustic guitar, which can already be listened to in tandem with vocals.
Treble
High frequencies on the EarCITY are controlled on the same good level as mids. Informativeness is at a normal level. Transitions between medium, high, and ultra-high are as imperceptible as possible, which benefits not the highest quality recordings.
On strings and cymbals, a sharp drop in high frequencies is clearly audible, but before this drop, the detail is at a good level.
Staging
The stage is quite unusual and we can say that it is similar to open models of headphones, but it feels a little different. Despite the far from the best detailing, the scene feels good.
Of course, one should not expect accurate positioning of musical instruments from such non-standard technology – it is very inaccurate.
Our Verdict
The Attitud EarCITY is an interesting model with unusual drivers. Some problems are not what I would describe as critical but are very significant nevertheless and I feel can be corrected by slightly modifying the design of the headphones.
These will not suit connoisseurs of rich bass, as well as those who are looking for details in the sound. The high and middle frequencies are good, especially for light instrumental and vocal parts.
In general, while listening, it seems that you got an old cassette player paired with over-ear headphones, so you can even enjoy this sound, despite mediocre detail and weak bass.
Summing up, the EarCITY looks promising, and if the manufacturer improves on some key areas, we could get a high-quality and interesting product with a unique sound character and unusual technology at its core.
From what I understand there will be an updated version of the EarCITY coming out soon, where the plastic parts will be strengthened, and many of the mechanical/technical issues discussed will be addressed. Once out we will review it also to see if that is the case so stay tuned!
And for sports lovers, the EarSport headphones, (also equipped with the directional air "Air DC" technology), are available on the brand's website.
Attitud EarCITY Specifications
Driver: AirDC
Frequency Response: 20Hz-20kHz
Weight:47g
Dimensions: 190 x 80 x 188mm
Bluetooth: 1 (aptX HD supported)
Autonomy: 6 h (80% volume)
Charging time: 2 h
Battery capacity: 200 mAh
Dust and water resistant: IP55