For today's review, we listen to the new xDuoo MU-601 DAC which is an affordable and compact desktop single-ended desktop decoder. It is currently priced at $116.10 with an SRP of $129.
Disclaimer: This was sent to us as a sample for our honest opinion. Headfonics is an independent website with no affiliate links or services. Thank you to xDuoo and Shenzhen Audio for this opportunity.
Click here to read more on Xduoo products that we have previously covered on Headfonics
Note, that this article follows our latest scoring guidelines which you can read up on here.
xDuoo MU-601 DAC Review
Easily fitting in any desktop configuration, the xDuoo MU-601 is a great entry-level DAC with simplistic feature sets that perform well within its given price range.
Pros
Smooth tonal character
Accessible input location
Compact proportions
Cons
Modest dynamics
Absence of finer controls
As far as I am aware, the new xDuoo MU-601 is currently the only desktop DAC in the company's lineup without an integrated headphone amplifier that accepts a USB connection.
That makes this device a pure DAC and a proper downstream converter to other dedicated amplifiers putting all of the cost into what matters. And speaking of cost, this is also one of the more affordable desktop DACs out there at $129 SRP.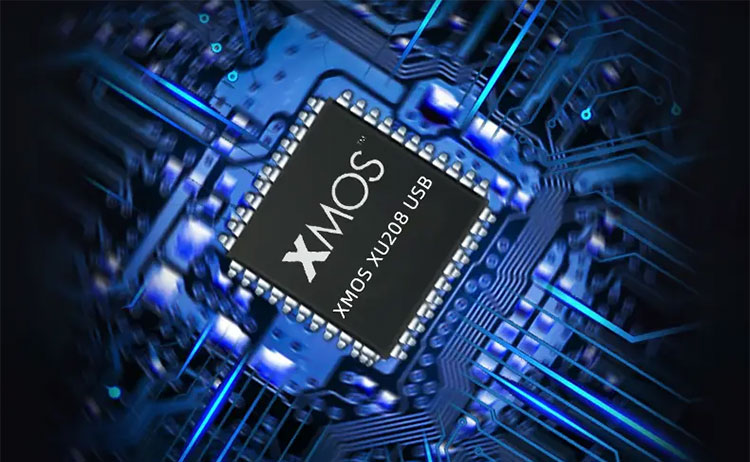 Tech Highlights
Since one is never enough, there are 2 USB-C ports on the MU-601 and both are being handled by an XMOS XU208 chipset making it possible for the unit to decode at rates up to 32bit/384kHz PCM and DSD256.
A rare if not unique feature of the MU-601 is having a user-selectable switch to change the mode of the USB input from high performance to normal mode for greater compatibility.
In tandem with the USB's chipset is an ESS ES9018K2M DAC which is a bit dated by today's standards and primarily for mobile or low-power gadgets. Still, the numbers are reasonably competitive with a THD+N measured at 0.0028% and 0.0008% for the analog and digital outputs respectively.
Going deeper into the circuit's design, two high-precision active crystal oscillators are used as the clock source of the device. And explaining the height of the unit a bit is the presence of Japanese capacitors from the company Rubycon Corp. which is described by xDuoo as smooth and warm sounding.
Design
Tipping the scales at 380g, the MU-601 is a diminutive yet solid feeling desktop audio decoder that can physically fit anywhere or easily stacked above amplifiers with a similarly small footprint.
The sandblasted aluminum housing melting down to the black glass panel in front adds to its nifty appeal.
Even though the glass panel is a fingerprint magnet, it is an attractive minimalist design with just a power switch, the USB input, and a small window for the sample rate status to light up.
Turning to its side, a series of vent holes are cut from the screwed-on wall of the unit for breathability. And at the rear of the unit are the rest of the inputs and outputs including the pronounced selector for the 2 different USB modes.
I/O
The dual MU-601 USB-C input-only functions in both 1.0 and 2.0 with most likely to want to keep it to 2.0 for the 'high-performance mode'. For that, you will need to download the drivers from xDuoo for full Windows functionality. USB 1.0 is plug-and-play.
The dual versions mark a clear distinction between audiophiles who consume their media from their computer and those who also have other gadgets with audio output to connect to from time to time.
Connecting to multiple amplifiers is not a problem with the MU-601 as it comes with two pairs of RCA outputs. In addition, it also has a coaxial digital output to connect to other sources if required.
Control
Interacting with the MU-601 is fairly intuitive Once the input and output have been connected, switch the unit on and wait for it to show up on your device. The logo of xDuoo will turn from green to orange if it detects that a proper link has been made.
For compatibility or performance improvements, the two USB modes can be found at the rear each addressing a specific concern. Selecting the normal mode increases compatibility at the cost of lower decoding support so it is better to use the high-performance mode whenever possible.
Packaging & Accessories
The MU-601 packaging is tall, unusually cubic shaped, white, and covered with the text 'MU' subtly stressing the product line that it is a part of.
Right after removing the foam and paper works placed on top, the MU-601 is housed at the top and protected in a specific cutout area. A white box as tall as half of the whole packaging is directly below looking like a false bottom but actually houses the accessories which include a USB-C cable, power cable, and a DC 12V adapter.
Sound Impressions
Summary
Even though the recent trend being applied among other DACs is accuracy and linearity, xDuoo has swayed towards a more forgiving and laid-back sound.
The MU-601 has a gentle personality that is more focused on ensuring pleasing listening than embellishing details. It may lack grace in the formation of the finer textures but its tuning is capable of differentiating itself from the crowd.
Timbre
Notes have a decent fundamental and sound fairly impactful with our tested headphones. It has a good reserve of energy for faster attacks tipping the impression of size to be much bigger than it seems but at the cost of some smearing and a slight loss of clarity.
Vocal features of female singers are decently pronounced with some nice definition but at times they can seem lacking in dynamics. This extends to instruments such as pianos and guitars as both receive a sweet and light timbral coloration but tread softly.
From the upper midrange to the lower treble, it is noticeable in heavily remixed tracks that it pulls back sharpness to a degree that blunts percussion attacks but in doing so it keeps higher-pitched vocal timbre to the smoother side.
The higher frequencies are also smoothed out in general. Instruments such as cymbals and chimes all share a blunted 'pizazz' affecting both placement accuracy and scale.
Staging & Dynamics
Directionality is of no issue with the MU-601 but the width of the stage brings objects closer than expected forming a spherical wall which I don't find in higher-end DACs. While images are easy to identify, it is generally harder to sort through layers as instruments can mesh with one another.
Affecting the dimensionality of the MU-601 is its dynamics that hinder the midrange from mastering a wider range of vocals without sounding hushed and conveying instruments in a riveting manner. Although for gentler passages, it has a tactful execution that goes well with its signature.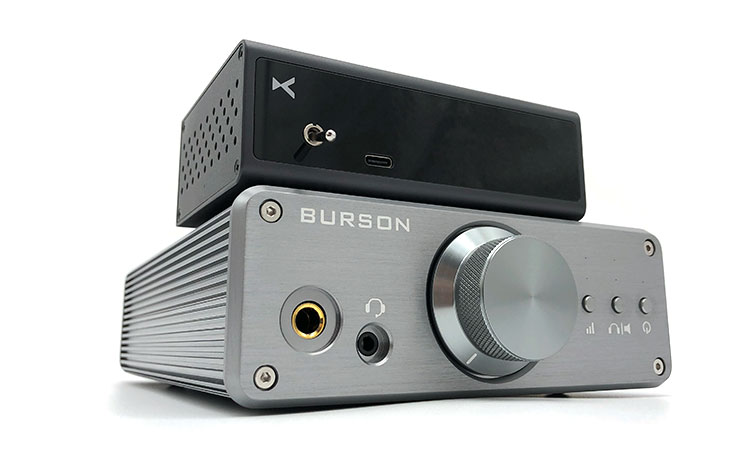 Synergy
Pairings
Playing to the strengths of MU-601's tonality, the Burson Funk gave a gentle reproduction of most genres that ran through its 3-watt Class-A headphone amplifier.
Even with the brightly tuned ADX5000, the pairing did it a significant favor by pulling back the treble and in turn, the headphone helped push the stage further out.
For a leaner sound profile, the SMSL SH-6 did change the character of the DAC quite a bit. Both the bass and midrange got tighter while the treble received a bump in energy as it gave trombones a pointier attack.
Using Sennheiser's HD600, the mellow midrange of the DAC introduced a sense of space to the intimate character of the cans which helped avoid congestion on busier tracks.
Select Comparisons
SMSL M100 MKII
$93.99
Technical
Hiding inside the M100 MKII is a host of features and components that challenges the MU-601's competency. Both DACs use an ES9018-based chip from ESS to handle the conversion of digital signals but SMSL measured the THD+N of their design at a lower 0.0003%.
Its USB accepts up to 32bit/768kHz for PCM and native DSD512 through the help of an XMOS XU208 processor. For those with a desire for experimentation, the M100 MKII has 3 DSD filters if needed.
SMSL has specifically mentioned the use of audio-grade MELF resistors and NP0 capacitors as well as their thoughtful two-layer board separating the digital processes and the analog amplification.
Design
The M100MKII is a curious shape being deeper than it is wide. Viewed from the front it looks significantly smaller than the MU-601 but a lot longer from the side. And speaking of the front, both have a simplistic appearance with only a button and a blue 7-segment screen on SMSL's design.
Without digging into the specs of the M100 MKII I would not have guessed that the blockish design is intentional as the inside of the device is neatly divided into two sections explaining the additional height.
Performance
The M100 MKII low-end punch is weaker in comparison while similarly appearing more pronounced in the mid-bass region. Separating objects is harder having smoothed out details that place bass guitar and drums mixed in with the other layers.
The vocal timbre of the M100 MKII is sometimes hollow but it balances it with its more forward midrange. Less refined than MU-601, there is less information on the intention of the pianist as the keys are duller and more smoothed out.
Snare drums lose detail and air in such a way that taps from drum sticks are rounded and unexciting. Although the treble is more pronounced in comparison its lack of articulation and thinner character only ends in a shoutier but less resolving experience.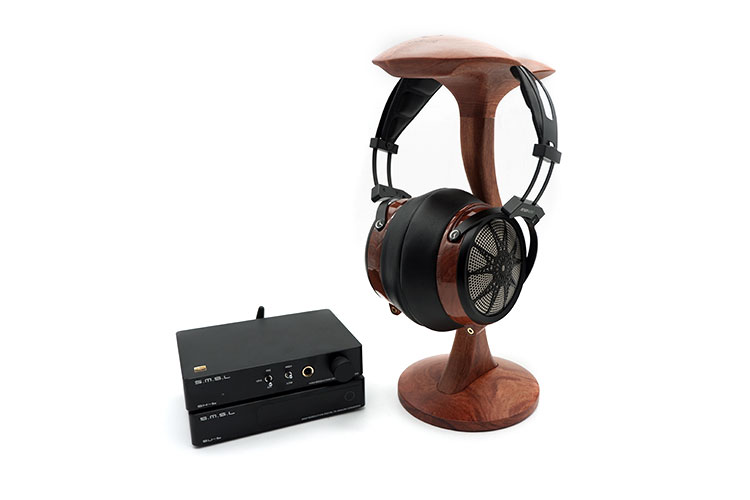 SMSL SU-6
$169.99
Technical
The Su-6 has a higher-end ES9038Q2M DAC chipset compared to the MU-601's older ES9018K2M, though both are mobile low-power geared designs. A second-generation XMOS processor and a Qualcomm Bluetooth chip stretch the playback compatibility of the SU-6 for both wired and wireless scenarios.
Even though it doesn't have a digital passthrough and only a pair of RCA outputs, the SU-6 gains in input flexibility by having an optical and coaxial terminal. Improving the fidelity of the device's signal is 4 OPA1612 op-amps and a built-in low-noise switching power supply.
Design
The SU-6 is a neater-looking unit with a laid-back conservative design language. Its lower profile makes it great for stacking especially with its matching SH-6 amplifier since the MU-601 quickly adds more height when compared.
Neatly inserted from the right side of the unit's face, there is a black tempered glass hiding a 7-segment display for status feedback. Not yet done, SMSL also included a touch-sensitive area to change the input selection or place the unit on standby.
Performance
With an improvement over the bass of the MU-601, the size of the SU-6 soundstage is deeper plus it has better separation and less blurring. For bodied thumps, the dispersion is more distinct creating a more even decay.
The SU-6 midrange has a stronger and more vivid sounding center image sounding more accentuated and energetic compared to the calmer nature of the MU-601. While close in detail retrieval, the SU-6 is the more textured of the two with superior detail in vocal breathiness as an example.
Although similarly dialing back the lower treble, the rest of the top-end frequency on the SU-6 is much more pronounced generating a thinner and sparkling cymbal crash. Here, the layering is much clearer and the soundstage is a closer interpretation of what the mix is recorded in.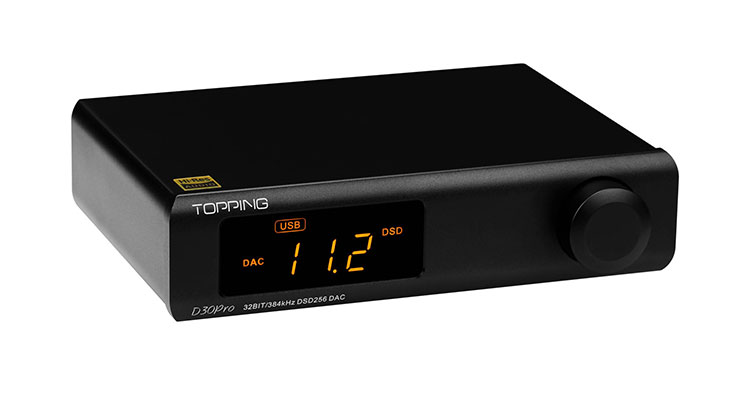 Topping D30 Pro
$399.99
Technical
Topping has fitted the D30 Pro with not just one but four CS43198 D/A converters from Cirrus Logic. Trying to separate itself from the busy market of ESS and AKM DACs, it comes in with a lower THD+N rating of 0.00009%. Its USB processing is being handled by an XMOS XU208 with PCM support for 32bit/384kHz and DSD256.
The D30 Pro is not just a DAC but also a balanced capable pre-amplifier for powered speakers and other audio components. Playback compatibility is similar to the MU-601 but those additional features mean it has a better I/O suit with a preamp volume control and XLR outputs at the back.
Design
The D30 Pro is a straightforward device that is more concerned with function than form. It has a plain yet solid feeling aluminum chassis and an assembled front-end that is larger in measurement as the only significant element in its design.
It comes with a secure rotating volume knob that is handy when the remote is not in sight. The D30 Pro display for me is easier to read than the MU-601 version with its large orange-colored 7-segment sharing the status of the DAC.
Performance
While technicalities are better on the D30 Pro, comparing it with the MU-601 still boiled down to preference in sound signature.
The SMSL DAC has a forward mid-bass attack complemented by a deeper and more distinguished sub-bass presence. The tighter image is also easier to place with relative precision and resolution.
The D30 Pro is more geared towards those looking for an engaging listen with its thicker and soulful midrange affecting mostly female vocals while male singers stay defined and brusque. Although breathiness is a bit blunted it is more accurate sounding compared to the MU-601.
Showing it has the superiority in top-end frequency control, violins are produced with gripping overtones, and trumpets are airy and detailed without sounding sharp.
Both the MU-601 and the D30 Pro err on the smaller side of staging size although the Topping is better at layering and imaging accuracy making it easier to locate snare drums and high hats playing in the background.
Our Verdict
It is refreshing to have a company not chase linearity and instead put its efforts into what matters at the end of the day, musical enjoyment.
For those that will argue that a DAC should not have a sound profile, this is where pairing comes in to complement and dial in the sound to a certain preference.
Against other implementations of an ESS chip, this is the most pleasing and serene quality I've yet heard. If only the dynamics could be improved a little and details given more texture, it could be playing in a whole different league.
Easily fitting in any desktop configuration, the xDuoo MU-601 is a great entry-level DAC with simplistic feature sets that perform well within its given price range.
xDuoo MU-601 DAC Specifications
DAC: ESS ES9018K2M
Input: 2 USB-C
Output:

Digital: Coaxial
Analog: 2 RCA

Sampling Rate:
PCM: 16-32bit/44.1-384kHz
DSD: DSD64-256 (DOP/NATIVE)
DXD: 24-32bit/352.8-384kHz
THD+N:
Coaxial: 0.0008%
Aux: 0.0028%
Size: 12.0 x 9.6 x 4.2cm
Weight: 0.38kg