Sound Impressions
Tonality
Tonally the Stance S1+ is relatively neutral headphone in BT mode but with a definite slant towards musicality over any sort of pristine analytical presentation. This is also a fairly mid centric headphone with a bit of roll off in the bass extension and a treble performance that transitions well from the mids and stays relatively well controlled until the upper treble which has a little bit of peakiness around 7-10k range. With that mid centric sound I found myself gravitating more towards soft rock, AOR and 80's New Romantic rather than hardcore, funk or EDM. Detail was excellent and the soundstage was pretty decent allowing decent guitar work to shine though and accurately also. Kleer Tech cans sounded tinny and small with poor dynamics and NC cans often sound muffled to me, bass heavy and veiled. The Stance S1+ sounds the complete opposite in that respect to the NC problem and has a far more convincing weight and dynamic presentation than TDK could ever muster.
Bass
The Stance S1+ is not devoid of bass, just the extension is a bit attenuated and drops off quickly around the 100mhz meaning most of your slam is midbass slam rather than sub bass dynamics. The magic of the Stance S1+ really takes off from there to the upper mid-range leaving a strong sense that even though it's a closed can it acts and responds more like an open headphone. The lack of isolation could help to explain why it has a less than gut wrenching bass delivery and in some ways this reminds me of Audio Technica's Art series cans or the SoundMagic HP series closed and open which make leave you scratching your head as to why the lack of extension despite looking like it will kick ass. Whether by design or not the bass on the Stance S1+ is the weak point if you require meaty rich sub bass delivery.
However it is better than the wireless cans I have heard before such as the TDK Kleer tech range and it is a lot cleaner and snappier than the NC cans I have had on my head also such as Bose and AKG. One thing you cannot accuse the bass on the Stance S1+ of being and that is slow or muddy, in fact, I found it relatively clean and clear with detail that is more than acceptable. Approach these headphones as essentially a midrange performer with just enough clean bass response to add a bit of depth and dynamics and you should be fine.
Mids & Treble
Mids onwards the Stance S1+ performs very well indeed actually and without a dominant bass response they sound slightly more forward and engaging. Timbre is very good actually and tonally the mids sound convincing and confident with above average detail and instrument separation. It doesn't sound in the least bit congested either with decent space and width though vocal presence is more in the mix than I would like it to be. I do enjoy a big vocal presence ripe with detail and texture and while the Stance S1+ doesn't hide vocals or overly dulls them it doesn't exactly draw your attention to them.
The good news was that the vocal range was sibilant free and lacking any harshness. Mid to treble transition is quite good without any disturbing lower treble or upper mid-range distracting peaks. There seems to be a little drop off just around 5k and hitting its high point around 8-10k higher giving a slight bit of high end sparkle that can work for or against depending on your tastes. Mostly I didn't find it an issue as my tolerance levels are thinner at 3-5k than beyond where spikey percussion work can often stop my enjoyment dead in its tracks.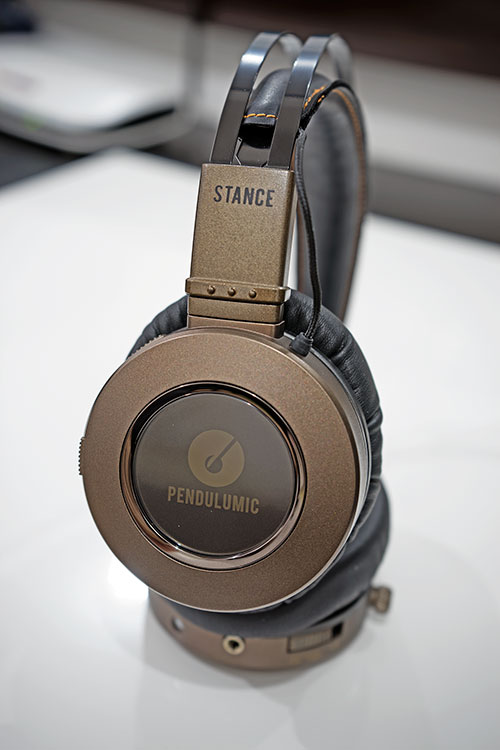 Wired or Wireless?
There is some difference in performance between wired and wireless but there is a caveat' not all BT sources sound and perform in the same manner, but hey you're an audiophile, you understand sources so is this a surprising revelation? I hope not.
For example, using wired with the AK120 MK1 with the awesome CEntrance Glove A1 piggy back DAC and Amp gave a far more dynamic and engaging performance with the Stance S1+ wired than using the AK120 Mk1's BT profile which does not use aptX. Going wireless with this setup felt slightly less neutral, perhaps a little darker but much more compressed and lacking in resolution compared to going wired. Converting the wired into balanced wired mode with the Glove just upped the ante with an even more visceral performance leaving BT wireless to mop up the rear.
Now switching over to the Blackberry Passport BT profile which does have aptX and the difference to the AK120 MK1 BT profile is stark. It sounds less compressed, far more open and dynamic and very close indeed to the wired performance from the AK120/Glove A1 combination. The midrange has its mojo back and the treble retains its top end sparkle again. Vocals are still in the mix a little but far more resolving and cleaner than the more sterile non aptX BT profile from the AK120. If you want a demonstration of the benefits of aptX in BT audio then this is as about as good as it gets.
Using the aptX BT profile from my Sony Z Ultra (Android) profile and the performance was very similar to that of the Passport. There was an excellent width and depth to the soundstage, a very smooth 'in the mix' vocal presence but with good detail, a strong midrange performance with nice separation and a bass response that was more supportive than slamming or dominant. Bass response from the Sony Z Ultra was a bit more convincing for me than the Passport actually so if I had to give an edge to the 3 different BT profiles I tried the Z Ultra would be the one I would choose given the slightly more planted bass and slightly more impressive dynamic range and imaging.
Final Thoughts
The Stance S1+ is actually a good headphone in its own right and for $199 it places it right in there against the SoundMagic HP series of headphones and the ART series to a slightly lesser extent from Audio Technica in terms of tonal presentation and performance to price. It's not a bass head headphone, the bass roll off is too much but the mid-range and treble performance is excellent and the timbre is reasonably accurate with a good soundstage and dynamics. As a headphone I can actually have very few complaints on its implementation and I think some people will enjoy that tonality enough to buy it purely as their headphone of choice. Aesthetically it has some plus points in terms of weight and durability but it's not the best looker on the dance floor and isolation wise it will definitely limit you to where you can go as it lets in more than its fair share of background noise. Call this a relaxation headphone for your own peace and quiet.
As a Bluetooth headphone well I am actually impressed. If it wasn't for that bass roll off I would say you have an out and out winner. I would love it if it had a bit more richness and a slightly more planted bass response but otherwise this aptX might just have something about it that could make a well implemented BT headphone a worthwhile purchase alternative to a wired headphone. Just be careful on the source as not all BT sources have the same strength in signal and double check it actually has aptX as the difference with and without is noticeable. In all honesty wired or wireless if tonal preference if your main subject of discussion with the Stance S1+ then the BT tech has already won you over.
Price: $199
Links: http://www.pendulumic.com/product/new-stance-s1/
Technical Specifications
Driver Type: Dynamic
Earcup: Over-Ear
Headphone Type: Closed
Bluetooth Version: 4.0 with aptX®
Impedance @ 1kHz: 32 ohms
Sensitivity: 110 dB SPL/V
Frequency Response: 15Hz – 22kHz (10Hz – 24kHz with aptX® enhancement)
Isolation: -12dB ~ -18dB
Weight: 8oz (220g) (without cables or accessories)
Battery Life: up to 30 hours total (18 hours Li-Ion, 12 hours AAA batteries)
Wireless Range: up to 50 feet (15m)
Warranty: 1 year
What's In The Box
PENDULUMIC™ STANCE headphone
USB Charging Cable
Audio Cable
Adapters
Headphone Case
User Manual & Guide
*AAA Batteries not included