The IEM
While testing the OE for review and after many hours of listening, I totally forgot Encore included the IEM in the package as well.  If that isn't crazy enough, they also included a few different tips in a cute little bag.  I was surprised to see a set of memory foam tips in there.  Nice.
The IE feels weird in the hand.  It is an odd shape for an IEM with such a large housing and I have a little problem with a lopsided (topheavy) feel while it is inside of my ear.  Thanks to the excellent selection of tips included, fit isn't at all a problem for me.   Considering the exterior shell is made of a brushed, anodized aluminum, I really can't complain here as the IEM feels solid in build quality.  The cable is another story entirely, as it feels a bit cheap and flimsy but otherwise functional at best.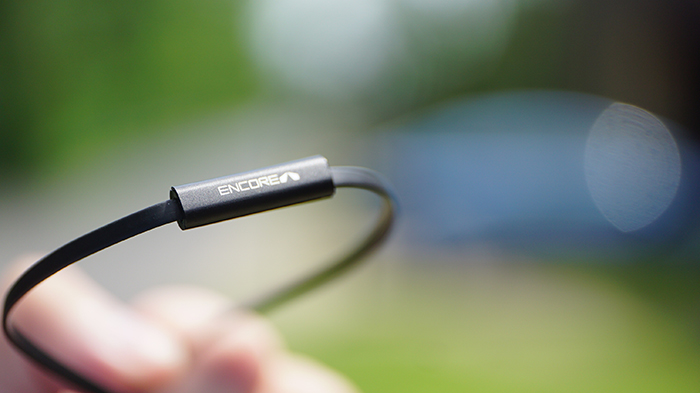 Bass and Soundstage
Oddly enough, this IE from Encore feels much more linear than the OE in terms of physical setup:  equal parts bass, mids and treble to my ear.  Bass quality is relatively smooth and considering the actual price of this IEM (far less than $59) I would say it is a hell of a deal.  It reminds me a lot of the older Fischer Audio Eterna on the low end and that is something I raise an eyebrow to.  This is essentially a free prize that comes with the OE model, so to be able to say the IE is very nice as well is really mind boggling to me.  Bass texture is relatively flat and uninteresting, boarding on the world of clinical in tone and it also doesn't reach very deep in my EQ bass tests and does lose control quickly and under heavy load.
Sadly, when pushed via bass boost, the low end does muck up the midrange too much to enjoy further usage.  I would recommend keeping your EQ neutral or disabled.  Via my Fiio X1, I couldn't hear much of a difference between EQ presets and forced to crank the lowest settings to a +6 before I could even hear anything different.  Although, this is the X1's fault, not the IE from Encore, as this IEM does change through nicer source EQing.  This isn't a bass head IEM and I am going to classify it as offering a more laid back, smooth low end experience.   Light on snap factor, low-end of moderate in actually quantity:  neither too much nor too little.  I feel as though the IEM performs fairly well with regard to all staging traits, but it isn't something to jump overboard for. I do consider it congested, but considering the competition in the under $50 IEM world…Encore's IE will satisfy.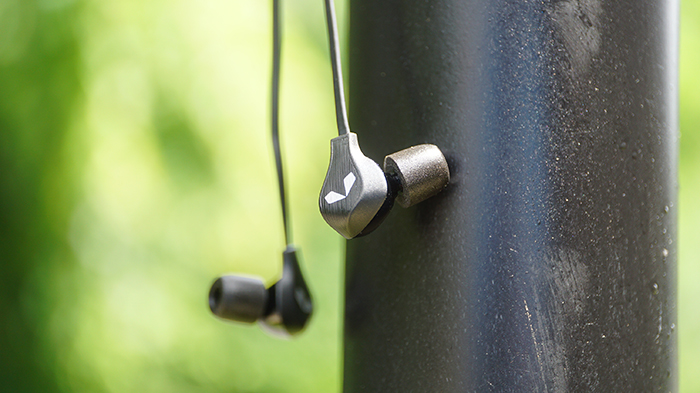 Mids and Treble
I actually think it is very obvious that the IE trumps the OE from the midrange all the way up to the treble.  I enjoy the IE much more than the OE in that regard, the presentation is much more forward and interesting, dynamic in depth of field and overall smoothness.  The IE utilizes a "BA driver as well as a dynamic driver" design.  I must say, I quite like it.  This is a great casual, portable IEM that I can see myself using now and then for a wide variety of applications.  I feel like the midrange could use more oomph and pop, perhaps a bloom effect to help get rid of the very linear feel to the presentation.  With that in mind, I can't consider the Encore IE a good vocalists monitor, unless you are into the very straight lined, linear type of a physical setup to your listening experience.
Considering the price, I think they've done a really nice job with custom tuning the headphone, as they've told me they've invested time and effort into just that.  Nice to see it wasn't a rush job and some real effort was put into it, I think that much is quite obvious when you give it a listen.  The overall clarity, as mentioned before in the bass area, feels a lot like the Fischer Audio Eterna.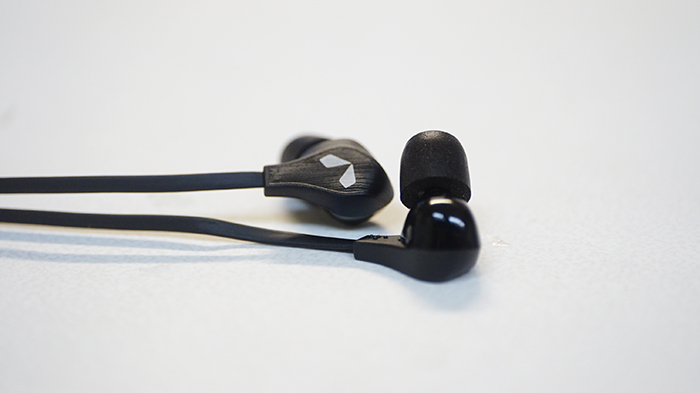 Sadly, it is in the treble area that the Eterna has the clear advantage in with general clarity.  No doubt the Encore is smoother and more recessive, as well as noticeably more dimmed or muted feeling, but the Eterna is also more punchy and fatiguing.   I am able to use the Encore IE for extended hours and not feel any discomfort due to impact, so to have a smooth and linear sounding IEM for this price is pretty damned great.  Once again and for this price, you cannot complain.  Price to performance is stellar, but please don't expect incredible sound quality that will rival mid tier IEMs and over ears with regard to the treble.   There is audible grain occurring at the highest frequencies that I generally listen to, so it is easy to assume if measurements existed, there would be some pits and spikes that any treble enthusiasts out there may want to avoid.
Final Thoughts
The  OE is not a rehash of the Rockit R-Studio, their drivers are different.  However, it seems to be using pretty much the same housing and exterior casing.  I don't think any mid tier enthusiasts are going to go bananas for this headphone, but those who are looking for a very nice budget headphone certainly are going to appreciate it.  This headphone is noticeably better than any "gaming" headphone I've ever heard and will suit Youtube binge sessions nicely.   What sets this apart from other budget titans, such as the Monoprice DJ, is excellent sound staging and bass quality.  This headphone has too much of a recessed sound signature though, too distant feeling for me and very outclassed in the mids and treble by the likes of $150-200 popular headphones out there: such as the Momentum, X1 and even the Sony 950BT.
The IEM from Encore is actually the star of the show here, outclassing the OE in every way except the typical vastness that comes with an over ear vs an inner ear.  It is smooth, classy and enjoyable.  When you factor in the price of both together, this could be one of the better deals of the year that I've yet come across and it seems like that is the entire point behind Encores campaign on Indiegogo.   This is going to be a great gift buy for family members or friends, so I absolutely will be purchasing a few sets of these for my peers and hiding them safely until the holiday season rolls in for 2015.
Good job, Encore and Sonic Unity and thank you for the opportunity to give these two models a listen.  I made the mistake of letting a cousin try the IEM and an aunt the OE…sufficed to say that both of them have not stopped pestering me to give them up to them.  As an audiophile who is interested in higher end stuff on a personal level, I am not interested in the lower end stuff like this, but truthfully the general consumer base out there who have a $100 and under budget really should jump on this deal asap.  I've not found a cheaper headphone in an over ear, or an IEM that sounded this nice for this type of a price.
Price: Headphone – $59 MSRP, IEM – $59 MSRP
Links: http://www.sonicunity.com/blogs/news-1/36252545-the-encore-rockmaster-headphone-coming-soon
Technical Specifications
Over Ear
50mm dynamic speaker driver
Soft and breathable memory foam ear pad and padded head band for exceptional comfort.
Replaceable braided fabric-jacket 3.5mm male-to-male headphone cable
Frequency Response: 20–20,000 Hz
Impedance: 32 ohm
Sensitivity: 107 dB
IEM
Balanced Armature and Dynamic Dual Driver earphones: BA driver Size: 7.9mm x 4.3mm x 2.97mm; Dynamic driver size: 9mm
Balanced Armature Driver delivers the speed and high frequency extension; Dynamic Driver produces deep bass and full mid range sound
Frequency range:  20~20KHZ
Impedance: 12 Ohms
SPL at 1KHZ: S103+-3db
Microphone & mute button
An assortment of rubber and foam ear inserts to provide a perfect, comfortable, custom fit
The brushed, matte black, anodized aluminum finish of the ENCORE RockMaster in-ear headphone looks amazing.