TANSIO MIRAI Land is a triple tuning switch tribrid universal IEM featuring a 10mm dynamic driver, 3BA, and dual EST drivers. It is priced at $599.
Disclaimer: The TANSIO MIRAI Land sent to us is a sample in exchange for our honest opinion in this review. We thank the team at Linsoul for giving us this opportunity.
To read more about Linsoul product reviews previously done on Headfonics please click here.
Note, this 2-page review follows our new scoring guidelines for 2020 which you can read up on here.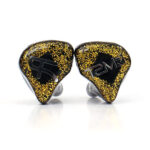 TANSIO MIRAI Land
What are you getting here with the TANSIO MIRAI Land? Good sound quality, lots of micro details but most of all versatility by having the ability to be a warm sounding IEM which can also play the part of bright sounding or midrange forward. Or perhaps you like a "pedal to the metal" sound signature, well then just flip those switches.
Since this is our first time at Headfonics reviewing a TANSIO MIRAI IEM so let's get to know them some. TSMR or TANSIO MIRAI was registered as an IEM maker in China by the Beijing Tang Song Bouyan Technology Company in 2016.
The name TSMR is actually a play of words that originates from an English translation of the "Tang Song era" which sounded similar to the letters TSMR.
If you look up the dynasty one of the traits that are attributed to the period was innovation due to the advancements that took place during that era so for an innovative company to use this motif shows deep research and soul searching.
The Land is one of their IEM models which sits mid-tier in their lineup and falls somewhere in between their current TSMR-5 and their TSMR-8 models. Their product line presently consists of six IEM models and they also make custom-molded IEMs for audiophiles and musicians alike.
Tech Highlights
One of the TANSIO MIRAI Land main features is the inclusion of three dip switches to customize the sound signature. These three dip switches cover the three main frequency bands which are the bass, midrange, and treble.
The switches work by attenuating in the lower position while the upper position is a maximum efficiency setting. The company instructions state that if you want generally high efficiency then just put all the switches in the upper position.
Behind the 3 tuning switches, the four-way micro pores technology crossover, and the four cavity design there are a total of six drivers and two of them are EST super tweeters that exclusively handle the very top frequencies.
The rest of the Land sound spectrum is handled by three Balanced Armature drivers along with a customized 10mm dynamic driver. The three BA drivers are arranged so two produce intermediate frequencies and the third acts as a tweeter, which all together complete the 15Ω driver package.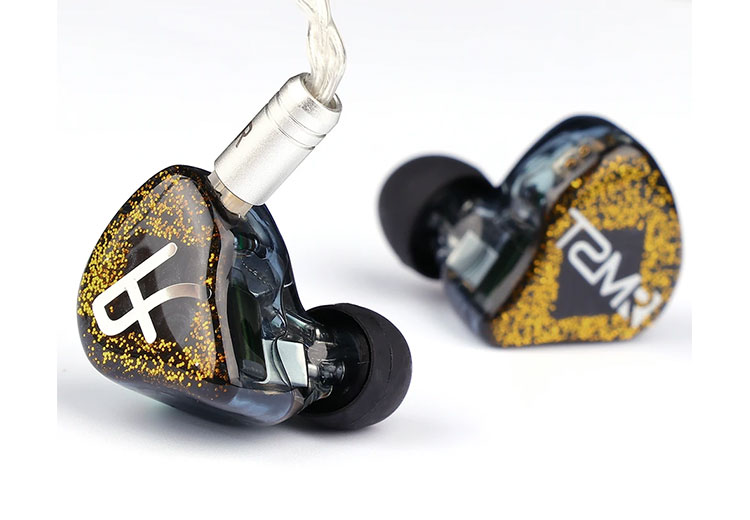 Design
All six drivers sit inside a shell made from medical grade resin in a public mold and if you look at the output port tip you could see the four separate output cavities. Each driver array is directed and separated from all other drivers via separate chambers and port tubes.
The Land's design ensures there are no back wave cancelation issues; resonance is kept to a minimum and by directing each array directly into the ear multiple driver phase issues are basically resolved.
Each Land shell has a dark grey charcoal smoked color and is somewhat translucent and you could almost see the drivers inside. On the front side, they display a yellow gold flaked faceplate with a TSMR logo and symbol each laid in silver.
Connectivity is done via o.78mm gold plated flush-mounted connectors which are fine to me but I would have preferred some kind of recessed port so the wire could have something to hold on to besides the connection pins.
Comfort & Isolation
The Land shells are very light and since the shape is a quasi-custom heavily contoured shape they are very comfortable with no bothersome sharp edges or pressure points for me personally. These will fit most ears very well.
One thing that I found surprisingly good on these IEMs was the external sound isolation. My average test consists of simply speaking to someone with them on and if I have trouble hearing what they say then isolation is considered good to me. Well, all I heard was a soft whisper.
Once you find the right ear tips which was a rather tedious process for me since these IEMs are somewhat finicky with ear tip selection you do get very good isolation and the trick is of course to obtain a good seal.
I settled for medium black rubber tips. The other tips were not to my liking and found them to ruin bass response particularly.
Stock Cable
I found the stock cable to be rather nice but connectivity is lacking since it terminates in a 3.5mm single-ended TRS plug and no other type of connectivity is offered, not even a 6.35mm adapter. At this product tier level, more connectivity variety should practically be standard fare nowadays.
All the cable hardware is solid aluminum and the texture gives them this almost painted appearance but their surface is durable, scratch-resistant and I expect them to be long-lasting connectors.
The wire used to construct the cable assembly is silver-plated OFC with clear poly coating in an eight-strand braid, 4 strands above the Y slit, and terminated in matching color-keyed .78mm plugs. The piece at the Y split is also metal, color-keyed to match and TSMR branded. There is also a transparent bead at the split for adjustment and is the only hardware part that is plastic.
Lengthwise the cable assembly measure 4 feet on the money and is perfect lengthwise for portable use and even more so since there is a minimum amount of microphonics and the cable assembly rarely ever tangles.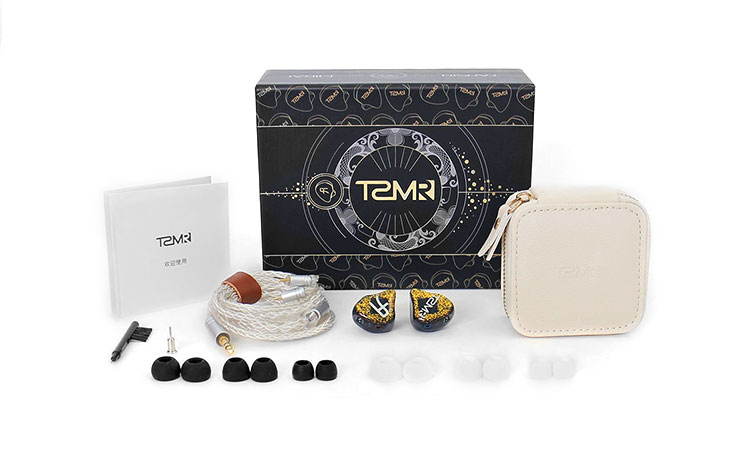 Packaging & Accessories
I had some ups and down feelings unpacking the TANSIO MIRAI Land. I really like the off-white leatherette case which is displayed upfront with the IEMs when you open the box which also hides away some of the contents.
I found a total of six pairs of tips, three are black rubber and three are white silicon tips and each type comes in three different sizes which I found to be slightly underwhelming along with the lack of connectivity.
A cleaning brush and a small metal tool to flip those switches are included but I used a wooden toothpick tip for that job since the metal tool can possibly scratch and create scuff marks but not the tip of a wooden pick.
Sound Impressions
Summary
Most IEM makers aim for a particular sound signature and the Land was described by TANSIO MIRAI as being large, with a majestic and exquisite sense of atmosphere and a beautiful vocal sound field with a good sense of air.
I could understand and sensed some of this description listening to the Land. There is a good sense of size and space to the signature along with a good midrange centric detailed output with highs that are not shy or restrained ether but always remain rather crispy and airy without going overboard and becoming bothersome.
There is politeness in the Land's general tonality but at the same time, the sound signature hits a good balance between impactfulness and presence while at the same time remaining gentle enough not to be fatiguing with too much forwardness in any particular element being reproduced.
The obvious to me about these IEMs is that TANSIO MIRAI called them the Land and to me, it seems to be an appropriate name due to their down-to-earth, organic, natural-sounding timbre.
Bass
The Land bass response is well balanced and well extended, cleanly produced and pronounced as the bass has lots of low-frequency presence while producing a medium amount of slam and impactfulness.
The low-frequency extension is very good. I took these audibly down to 14 Hz on the tone sweep test. The bass is practically flat all through the bass spectrum. Between 18Hz and 22Hz there is perhaps a dip of a few decibels. Above that, the bass remains flat all the way through its transition into the mid frequencies.
Bass tonality is fairly accurate, fast responding, and does have some ability to produce some kick but strikes a good amount of balance between some punchy satisfaction but remaining musical and well defined.
In stock form and with the dip switch in the down position, the bass lacked some of the qualities described above, particularly impactfulness and becomes too bass light for me and bass takes a back seat instead of taking its place on the stage.
This setting will work best for a clinical and analytical listen but the musical fun factor is best produced with the switch in the up position.
Midrange
I really enjoyed the Land midrange production because it has lots of detail and you could hear lots of coherence as elements never conglomerate. The midrange also has a fairly realistic tonality. There are a few small peaks between 2kHz and 7kHz but none were really big peaks.
The dip switch in the up position brings the midrange forward and to me in the right amount. The switches to me increase the volume a few decibels and lowering the midrange dip switch with the others engaged to give this set a slight V shape.
With the switch engaged in that upper position, the Land midrange takes center stage with lots of micro-detail, breath, and with the correct amount of spaciousness while at the same time keeping a realistic presence.
Treble
EST tweeters need some kind of taming in my opinion and fortunately, the Land dip switches give you two settings that work for either a dull recording by adding some brightness while at the same time remaining warm sounding and polite with bright recordings in the down position.
In the down position, you still hear the benefits of the super tweeters but it makes these IEMs sound a touch warm by reducing treble output.
The Land highs are detailed and have a good amount of sharpness, clarity, and have plenty of airiness. However, with the switch in the upper position on certain tracks, the highs can become fatiguing but balancing out by reproducing a high-level amount of detail. Remember it's just on certain tracks that fatigue is present.
The high frequencies have plenty of speediness and can keep up well with recordings that have fast cymbal tapping for example and recordings of high complexity.
Soundstage
The Land has a wide soundstage but not overly so and remains realistically presented. The imaging highlight is presented mostly in the highs.
The bass remains basically upfront but does sound somewhat wide but does not present much depth. The midrange takes up more space while the highs seem to be the widest and tallest in the soundstage.
The Land high frequencies have the ability to place themselves anywhere in a 3D space sound scenario. By that, I mean good height, width, and depth and they can sometimes even rear project accurately along with the midrange.
Click on page 2 below for pairings, DIP switch impressions, and select comparisons