The budget end of earphones is awash with just about anything and everything and finding a keeper in this category is like finding a needle in a haystack. This is the volume end and normally the category which most consider when they throw away their stock ipod buds or whatever came with their shiny phone or igadget. We have all been there to be honest and even the remotest upgrade sounds like a mighty upgrade but how long is a piece of string in terms of upgrade and how much of an upgrade a budget purchase is can be the subject of much debate.
Checking out the RHA MA-350 on Amazon was an experience to say the least in terms of buyer reviews with no less than 22 pages of thoughts, comments, tantrums and praises for a 30 quid earphone. My over-riding opinion was to tread with caution and put the whole thing into context lest I encounter the ire of an already rabid fanbase.
So what's the deal with RHA?
Will Reid and Heath to be precise and they are based in Glasgow, Scotland so lets get that blue and white flag out and celebrate the fact its not an OEM rebranded. The MA-350 is designed right there in Glasgow and manufactured in China so the waving of the flag is probably justified in that sense. The price at 30 quid which is pretty reasonable also and the design, though not earth shatteringly original or outstanding, does look a cut above some of its competitors. They have a small range of audio gear in both the headphone and earphone category but the MA-350 seems to be their top seller as of now. You can't miss the Union Jack plastered on the packaging. Tell you what you cant miss the big 3 year warranty sticker on the packaging either which to be honest is a first for me in this business and a gutsy move by RHA given the battering cans and earphones can take on a daily basis. The most you get normally is a year even at the high end so this is something to be commended and if they have done their costing analysis right the pros should outweigh the cons just nicely.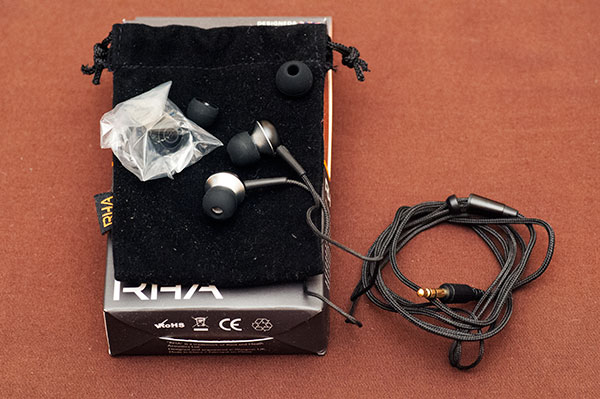 Specifications
Drivers 10mm mylar
Frequency range 16-22,000Hz
Sensitivity 103dB
Impedance 16ohms
Weight 11g
Rated/max power 3/10mW
Cable 1.5m fabric braided
Connections 3.5mm gold plated
So for 30 quid what do you get?
Don't expect customs that is for sure. You get a regular little black cloth sack, some spare tips (small and medium and large) and the box. Yup that's all she wrote folks but the money really has been invested in the aluminum grade housing of the earphones more than any fancy packaging. Most budget earphones opt for plastics and plenty of add-ons but RHA have gone for the metals and honestly in the hand they do feel pretty classy if not on the K3003 levels. It's a nice touch and something which should allow it to grab a unique selling point among it's plastic counterparts. The rest of the construct is made of fabric coated wiring which does a decent job of keeping tangle out but retains a bit too much memory to be totally tangle free but nothing too serious. No fancy Made for Ipod trickery or mics which keeps the whole setup pretty simple and focusing directly on audio reproduction rather than phone controls and the likes. The cables are low on microphonics thankfully also. These look a lot sturdier than some of the equivalents from the likes of Skullcandy or Sennheiser. Elsewhere you have to look a bit hard for the L/R markings being in pure black on the black cable. On earphones I would prefer them in white or even glow in the dark? Oh please do glow in the dark just for the sheer hell of it!
Fit and comfort wise these actually where a tad better than the q-jay's I had on a few weeks ago. Don't read anything into that, this is my ear and not yours and my ear enjoyed the experience, yours might disagree. I guess you either get lucky or you do not with the tips but these worked seal wise out of the box for me and the earphones themselves sat nicely in my ear without any discomfort. Isolation is pretty good also with minimal disruption and almost complete (passive) when the seal sets in and the music is blaring. I cannot see commuters having an issue with these on the go. As with most earphones you might have to fiddle just a bit to get the sweet spot.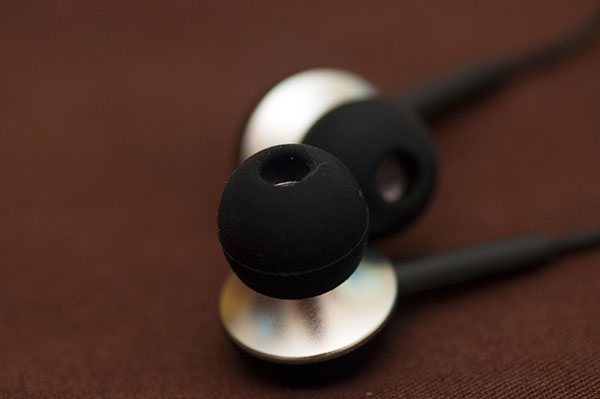 Ok so how do they sound?
Well after a few weeks with dual balanced armature high ends then moving back to a 10mm dynamic driver really highlighted the bass once again. This earphone, out of the box, is built from the bottom up and you are going to hear that bass slam pretty hard which is quite fun until the trebles screech in with some big metallic splashes that don't seem quite right. This earphone needs some working over before it settles down. Give it a burn overnight at least to get the pinch out of the top end and bring in some much needed clarity. Initially they excel with music that requires little pace or definition and only fall over themselves with more complicated tracks or rock which requires a higher degree of dexterity and capability.
Throw on some dance and bass heavy tracks they come alive though. These things have the potential to be a basshead's wet dream. If you enjoy the sweat and heat of a club atmosphere you are going to enjoy the MA-350's merciless reproduction of bass. Dual armatures maybe accurate and detailed but they can often leave you wanting for the drug of a dynamic drivers capability to pound the eardrum with total irreverence. Given the predominance of the bass don't expect a big airy sound stage or presentation though but given their price range and being an earphone I am not expecting HD800's.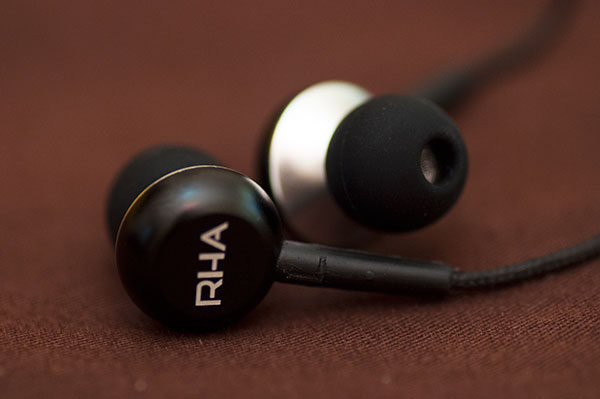 Over the space of a few days the mids came out a bit more and the whole presentation sounded a bit more coherent if a touch forward. And this my friends is the crux of such a wide range of opinions from Amazon. I honestly think some went for the jugular right out of the box and fair enough they sound muddy and harsh with biting highs and thumping bass on first listen. However pound these in for a few hours and things take on a much better shape and those with more patience might just get a budget reward in these little Glaswegian gems. Actually after a few days honestly I found the earphones to handle acoustics and jazz pretty well also with solid mids whilst never really loosing that bottom end that excels so much on eletronica and hip-hop. The tonality remains the same though so don't expect a huge change, just enough for the highs to get some stability and loose the initial harshness.
So what the deal?
This is a tough price bracket and a tough arena to make a name for yourself but the MA-350 is good enough to compete given its sensible pricing and construct. Those looking for a bass thrill are going to enjoy these over their stock buds or OEM wannabees. The 3 year warranty is very reassuring and frankly unheard of in audio market at this level. Yes there are more sophisticated earphones on the market and the initial harshness of the highs will put a few off so be warned but overall a very pleasing thump in the ear and in not the wallet.
For more info visit RHA at: http://www.rha-audio.com/ and their facebook at: www.facebook.com/rhaaudio