The Kinera Imperial Skuld is a 5 driver balanced armature universal monitor with a hand-painted cavity design and an 8-core SPC cable. It is priced at $550.
Disclaimer: The Kinera Skuld or Imperial Skuld was sent to us a sample in exchange for our honest opinion in this review. We thank the team at Kinera and HifiGo for giving us this opportunity.
To read more on Kinera products we have reviewed on Headfonics click here.
Note, this review follows our new scoring guidelines for 2021 which you can read up on here.
Kinera Imperial Skuld
What I like most about the Kinera Imperial Skuld is the non-fatiguing sound signature that lets you enjoy them for hours at a time.
Kinera is an IEM creator which is known around these halls for making very good-sounding IEMs with an artistic flair, usually accompanied with a Nordic concept, shipped with lots of accessories, and packaged in lovely boxes usually hexagonal shaped.
Kinera has ten years of IEM research and development besides a sack full of certifications like ISO9001 and CE certifications. Other countries like Japan, Germany, Korea, and the US have also granted them international safety certifications.
So when we were offered to review the new Kinera Imperial Skuld the answer was of course yes. This is not the first Kinera IEM we review. Kinera's main concept with the Skuld was to introduce an IEM with a melodious, musical-sounding balanced tuning.
We are going to dive deep into this new model named after the youngest one of the three sisters and daughters of Norn. Funny we might even pit the two against each other and compare the two. Well of course we are so read on.
Tech Highlights
Driver Configuration
Kinera usually aims for a balanced sound signature that is soft-natured but revealing and this is not their first try at aiming for these characteristics with a totally Balanced Armature driver configuration. Their ODIN and Imperial ODIN models for example were both pure BA IEMs. Budget wise the Skuld falls below both ODIN models.
Kinera from what I understand is using a BA configuration on the Skuld which is midrange-centric. The high-frequency units and the low-frequency driver are there to cover both extremities of the spectrum which might not be easily handled by a midrange or a full range array.
At the same time trying to avoid crossover issues by using a natural blending of frequencies considering the driver's limits and capabilities.
Following their success with the ODIN line, Kinera decided to employ a full set of Balanced Armature drivers on the Imperial Skuld. The only difference here is that the Skuld uses a 1×2 composite SWFK-31736 high-frequency BA customized by Kinera instead of Sonion tweeters. The bottom end is handled by a single CL-22995 BA customized by Kinera.
The largest and centric portion of the frequency spectrum of the Skuld is handled by a set of composite RAF-32873 full range BA drivers in a 2×2 configuration.
Specifications
Even though if you count the individual BA units inside each composite BA unit you would count a total of seven BA drivers inside the Imperial Skuld but Kinera still sells this IEM as a 5 BA driver model.
Regardless they claim a very wide frequency response of 5 Hz to 50 kHz with this array. I did some cross-referencing especially with the two BA drivers which handle the low and high frequencies, the 22995 and the 31736, and neither reach the 5 Hz or 50K specification and according to their technical spec sheets, their range is rated at 10 Hz and 40 kHz.
Perhaps the Kinera team customization squeezed some better performance off these off-the-shelf drivers. I know it is totally possible and even sometimes OEM manufacturers tend to low ball specification and remain moderate with their numbers plus at time improvements are implemented but not listed.
Efficiency is high enough to use the Kinera Imperial Skuld with any source and list efficiency at 120 decibels sensitivity plus or minus 2 decibels but no test frequency was given. The impedance is listed as a relatively efficient 23 ohms.
Ergonomic Cavity Structure
Kinera is using what is called an ergonomic public mold which is a standard mold shape design according to the general shape of the inner part of a human ear which is an indication that these IEMs should generally fit most people well.
Tuning the Kinera Imperial Skuld was done mostly by testing equipment and not so much by ear. Kinera by using this method obtained a flat frequency response of no more than 4 decibels of a difference between 0 and 8 kHz making this Kinera's flattest tuning second to the ODIN.
The shells themselves are made of high-grade resin and the output nozzles are part of the resin structure which I personally like because it gives the stem a stay put forever durability. Each shell is handcrafted, hand-decorated, and hand-assembled.
Design
Kinera never releases an IEM without adding a personal touch with hand-painted artistry and the imperial Skuld is no exception displaying representative colors of Skuld of polarizing blue and green hues representing hope plus gold leaf and flaking to represent a bright future.
The positivity in concept would be nothing if the Kinera Imperial Skuld was not constructed well but in fact, it is. The entire assemble seems seamless and highly polished.
Kinera also made sure that there are no possible weak areas so Kinera beefed up the .78mm connector by using a 5000+ plug-in rated connector and used C5210 Phosphor Bronze and optimized its internal mechanical structure and I must admit the connector feels solid.
Stock Cable
The Kinera Imperial Skuld comes with a very nice cable assembly which is soft, flexible, and nice to look at. The 8 core 192 strand wire has a very nice and tight 8 wire braid and past the Y split continues up with dual 4 wire braids. All the hardware used is made of metal including the piece at the Y junction and the length adjuster.
The wires are made of Silver plated Copper and are coated with a soft PVC protective skin. What some people call microphonics, which is the transmission of noise to the IEM as you rub the wire against your clothing or any other object is almost nonexistent and properly coined by Kinera as the Stethoscope effect.
The cable assembly is fitted with a Pentaconn TRRRS balance 4.4mm plug which is metal and Kinera branded. No reason to worry however if you have or plan on using a source with a different, more conventional plug because Kinera includes adapters for 3.5mm single-ended and even one for a 2.5mm balanced connection.
Comfort & Isolation
If you need a set that isolates well this IEM does surprisingly well in this area. The Kinera Imperial Skuld is one of the best IEMs I have at passive noise blocking.
I often had to take them off to listen to what my other half was saying because lowering the volume to zero was not enough and I still could not clearly hear what was being said to me. Need I say more?
Comfort levels? You could probably wear these for a good part of the day and not notice them on much and they don't fall out either. They seem very light and comfortable.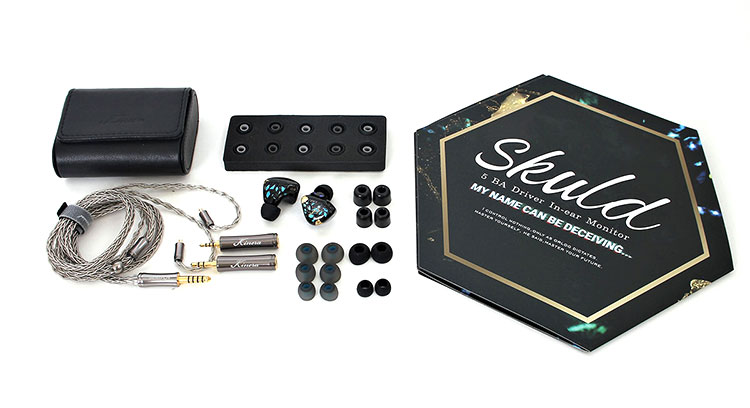 Packaging & Accessories
The Kinera Imperial Skuld comes in the common Hexagonal shaped box that Kinera likes to use and when you open the box you are greeted with the IEMs on display along with some of the accessories like the two 2.5mm and the 3.5mm adapters along with some tips.
I counted a total of 13 sets of tips of four different types. Two pairs are black memory foam tips, some custom RS-B45 tips, some custom JH-FY009-B tips and you also get five Final Audio type E tips. Each tip set gives the Skuld a different tonality. I mostly used the RSB tips which retain the original sound signature concept according to Kinera.
Besides the above-mentioned accessories, Kinera throws in a cleaning brush, a nice storage case made from stitched faux black leather with a magnetic closing flap beside the usual user manual and other literature. As always you get plenty of accessories typical of Kinera IEMs.
Click on page 2 below for sound impressions, pairings, and select comparisons.