This is a review of the Astrotec AM850 MK2 which is a 10mm dynamic driver in-ear monitor equipped with a Japanese 2nd gen LCP diaphragm. It is priced at $169.
Disclaimer: This was a sample sent to us in exchange for our honest opinion. Headfonics is an independent website with no affiliate links or status. We thank Astrotec for this opportunity.
To learn more about Astrotec products we have covered on Headfonics you can click here.
Note, that this article follows our latest scoring guidelines which you can read up on here.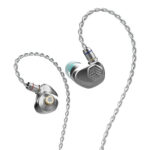 Astrotec AM850 MK2 Review
The Astrotec AM850 MK2 is a competent showcase for the LCP dynamic transducer. While there are some tonal imbalances that can throw off listeners focused on timbral accuracy, it remains an enthralling option for a compelling, consumer-friendly sound.
Pros
Exciting V-shaped frequency response
Crisp treble-range with conservative sub-bass
Cons
Timbrally inaccurate in the scooped, lowed mid-range
Splashiness in the treble
Astrotec is one of the pioneers before ChiFi's breakthrough into the audiophile mainstream. According to the website's official tagline, the tec in "Astrotec" stands for technology; a reflection of their relentless pursuit to traverse the boundaries of what portable audio can achieve.
The recent debut of the summit-fi-worthy product, the Phoenix 6, epitomizes that mission statement. However, the frontier-pushing company portfolio spans a variety of price brackets.
This review is centered on the to-be-released Astrotec AM850 MK2, the official successor to the early AM850 released way back in 2017.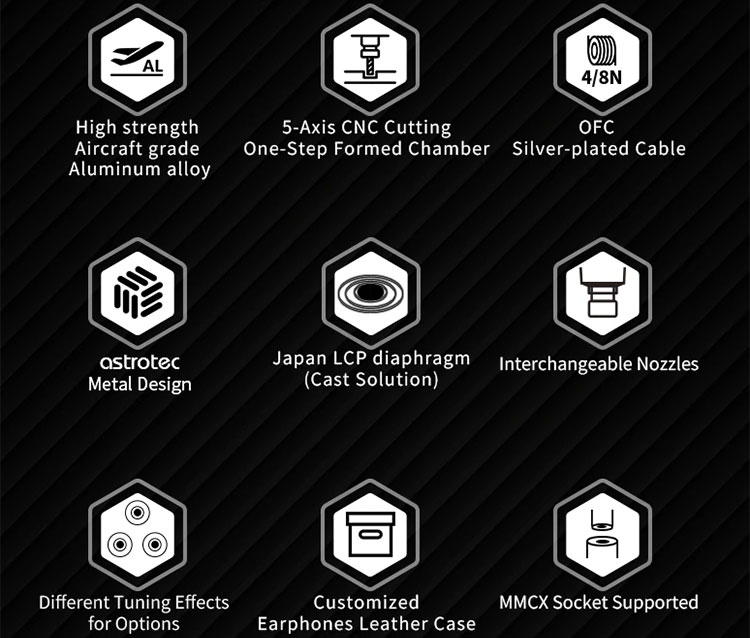 Tech Inside
The AM850 MK2's all-aluminum chassis houses a single, 10mm Japanese-made Liquid Crystal Polymer (LCP) dynamic driver.
From memory, my first encounter with an LCP diaphragm was with Sony's premium range of headphones such as the MDR-Z7. Today, LCP technology is relatively conspicuous in the chi-fi marketplace.
The Moondrop Aria and the Moondrop Variations of other chi-fi examples have integrated LCP technologies into their topologies.
According to the AM850 MK2's accompanying copy, LCP drivers display "good resolution and transient performance, nonlinear distortion, and harmonic distortion". Moreover, Astrotec has made several improvements in the original AM850's magnet circuit for increased durability and heat resistance.
However, what differentiates the AM850 MK2 from the AM850, is its detachable nozzle-bore system.
Each MK2 comes packages with three nozzle types that alter its fundamental sound signature through mechanical damping: Neutral (black star-shaped nozzle), Air (gold hexagon shaped nozzle), and Tide, (Grey round nozzle).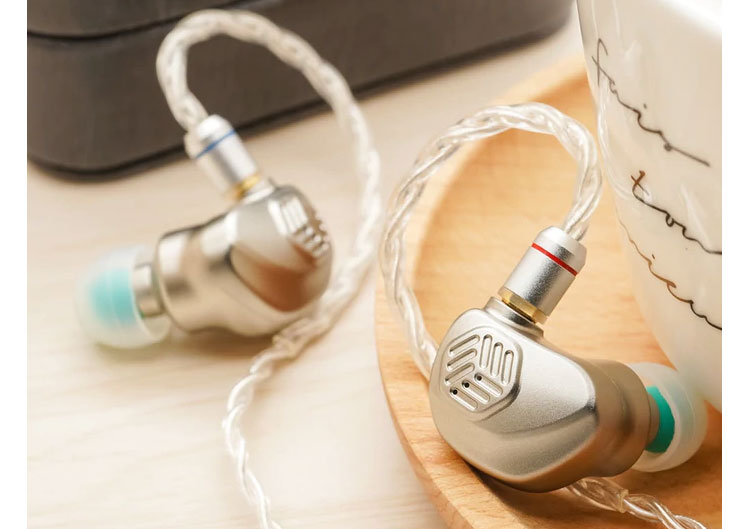 Design
The AM850 MK2's chassis is made of solid aluminum, with a striking hexagonal pattern etched into the surface of the faceplate. The AM850 MK2 boasts modest, satin, and brushed finishing across all its surfaces.
The seam connecting the faceplate and the AM850 MK2's main body is visible. Regardless, its robust shell design inspires confidence in its longevity for the foreseeable future. Overall, I struggled to find any obvious imperfections, blemishes, or pitting across its entire surface.
As stipulated earlier, the AM850 MK2's nozzles are screwed-on; they are easily detachable and can be replaced by the other 2 pairs of included nozzles to fine-tune or tailor-fit its sound profile (albeit with limited variability) to your liking. The threading-finishing on each nozzle is excellent, allowing for ease of detachment or reattachment when necessary.
The AM850 MK2 opts for a standard, MMCX connection; a ubiquitous standard that is universally recognized.
Comfort and Isolation
The AM850 MK2's featherlight shells disappear into my ears, allowing for a comfortable listen across the day. Moreover, its medium-length nozzle depth allows for a flush fit, rarely displacing during walking sessions on the morning commute.
As a dynamic driver earphone, the AM850 MK2 has 2-pin hole-sized vents next to each nozzle to displace any back-waves or bass-pressure build-up created by its transducers.
Consequently, its isolating capabilities are semi-compromised. However, the AM850 MK2 still isolates fairly well, at 80% surrounding ambient noise. The other 20% is mostly derived from harsh, wind noise during extended walking sessions.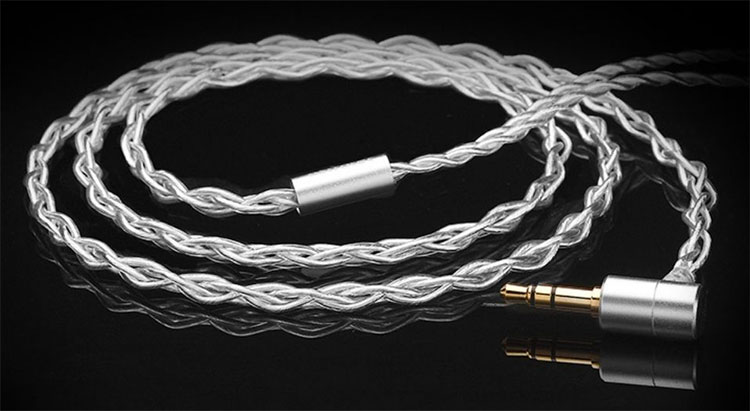 Stock Cable
The included stock cable is a 4-braid silver-plated copper cable terminated in an unbalanced 3.5mm gold plated jack. The included cable displays excellent pliability, remaining resistant to kinks or obvious bends.
Furthermore, the hardware used for the Y-split and the 3.5mm termination features the same, aluminum elements used for the AM850 MK2's chassis. Each end has substantive strain reliefs to weather the occasional tug or pull.
The only drawback of this cable is the aggressive inclusion of memory wire. The MMCX ends of the cable are already pre-bent and shaped to mimic the outer contours of the earlobe. While I am one of the lucky users that finds this particular model comfortable, memory wire has drawn the ire of many an audio enthusiast.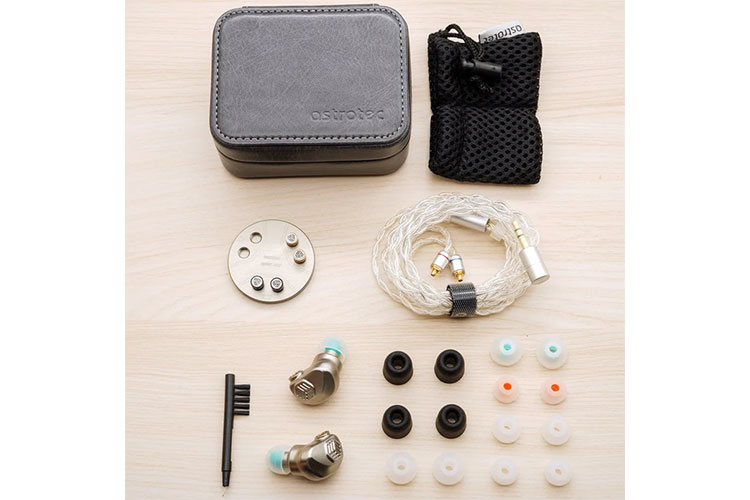 Package and Accessories
The AM850 MK2 comes packaged in a standard, rectangular cardboard box with an outer sleeve. The outer sleeve features an enlarged picture of the IEMs, alongside printed specifications and an accompanying copy at the back.
Inside the box, the user will be greeted by the AM850 MK2 sat nicely in a plush layer of foam, alongside a small, magnetic-flap leather case.
Below that, the extra 2-pairs of detachable nozzles, Neutral (black star-shaped nozzle), and Air (gold hexagon-shaped nozzle) is screwed onto a CNC-machined plaque.
The Tide (Grey round nozzle) is the default nozzle that comes attached to the AM850 MK2. Several silicon ear tips (S, M, L) and the cable discussed above are all stowed away neatly in the included case.
Sound Impressions
It is worth noting that the review focuses on the default "tide" nozzle in the following sections unless stated otherwise.
Summary
Frequency response-wise, the AM850 MK2 displays a noteworthy V-shaped frequency response, with a modest mid-bass punch and conservative sub-bass rumble.
The lower mids are noticeably dampened, exaggerating the contrast between the lower and upper registers. Because of this tuning philosophy, there is an immediate "grainy" or splashy quality to the treble that diminishes the AM850 MK2's ability to present instruments or vocals in a timbre-accurate fashion.
The even-harmonics that accompany warmer instrumentation or old-timey records appear cold, and hollow in extreme scenarios. Conversely, synthesizer stabs are more incisive, and clinical, adding a much-needed layer of resolution to odd-harmonic prominent sounds.
Filter Effect
Neutral (Black) Filter: The neutral filter helps to flatten the sub-bass response, and it injects a modest shimmer into the highs, providing it further breathing room to extend even further. Moreover, there is a noticeable uplift in the mids. But like all filters, you can only add or subtract moderately, but you can't rewrite its fundamental tuning.
Air (Gold) Filter: The air filter, as its name implies, brightens up the entire signature by emphasizing the high-frequency band. Similar to the black filter, the lower registers take a backseat, allowing the highs to take center stage.
Timbre
The AM850 MK2's timbre is crisp, and taut. However, that is not to say that this is a sibilant monster; that is not the case. The treble here while splashy is never grating on the ears, nor does it err on the side of discomfort.
The frequency response still experiences the typical, even-harmonic warmth characteristic of dynamic transducers. However, mid-range heavy instrumentation and vocals suffer from a lack of timbral realism or accuracy.
In reality, many of the aforementioned sound profiles can be described as organic and warm, with a dominant emphasis on upper-bass to lower-mid frequencies and a modest decay.
Here, the AM850 MK2 proudly adopts the standard V-shaped frequency response. Conversely, the result is a perfect subway commuter IEM, with enough verve and excitement albeit at the expense of tonal accuracy.
Filter Effect
Neutral (Black) Filter: The AM850 MK2's timbre is now a touch more grounded in the mids, with a modest boost in the lower-mid floor allowing for the missing "warmth" to shine through. However, the AM850 MK2 is still tonally off in its sonic presentation.
Air (Gold) Filter: The air filter adds a tonal edge that emphasizes odd-harmonic elements in music, where saxophones and shriller instruments have more bite, with more sizzle bordering on very mild sibilance. Similarly, timbral drawbacks are still present from the stock nozzle permutation (grey).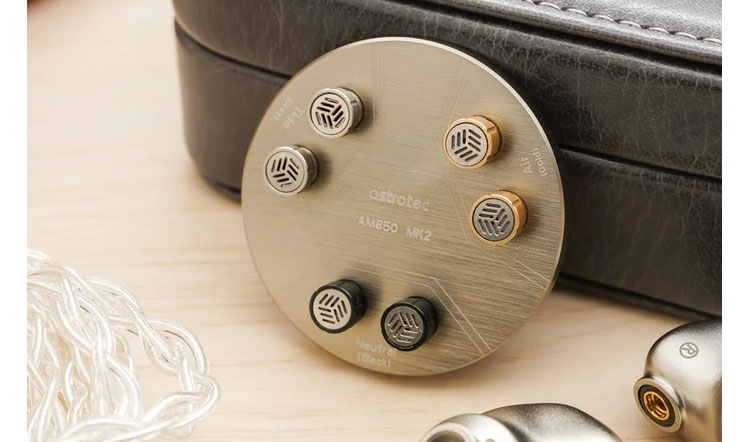 Staging and Dynamics
The AM850's MK2's lateral soundstage width is above average and performs adequately within its price bracket. Z-axis width between instruments from the front-to-back of the stage displays similarly decent positioning for a single dynamic transducer.
However, the sharp valley between its high and low-end compliments its staging capabilities, allowing for a more distinct separation between different instrumentation and vocal melodies.
Imaging also performs commensurately to its price point, where distinguishment between audible cues is well pronounced. However, the AM850 MK2 struggles with complex passages with a high PRAT. Thus, it lacks the resolving speed of balanced armature to keep up with grandly orchestrated songs.
Dynamically, the AM850 MK2 has excellent macro-dynamic presentation, where the obvious elements of the track are presented at face value, with a concrete mid-bass slam and shimmery highs.
Micro-dynamics, however, are not as well-developed or nuanced, failing to capture subtle changes or gradation in amplitude on acoustic tracks.
Filter Effect
Neutral (Black) Filters: The black filter's truncation of the lower registers allows the mid-to-high registers to appear more pronounced. Technical performance is improved marginally in terms of ease of separation and distinguishment between instruments.
Dynamism appears softer, with macrodynamic swings in the lower registers proving to lack the energetic verve and dynamism.
Air (Gold) Filters: Surprisingly, the effects on staging and imaging are largely the same when compared to the black filters. But, the effect is turned on its head; the high-range extension results in very aggressive macro-dynamics, and a slight boost in micro-dynamic detail retrieval.
Synergy
Efficiency
With an impedance of 32Ω and a sensitivity rating of 106dB/1mW, the AM850 MK2 is efficient and easily driven from all audio sources. Being a dynamic driver, achieving a listenable volume is an effortless endeavor. Thus, you could argue that it is a chameleon-like earphone that is well-suited for daily, outdoor use.
Pairings
For this review, I opted to use the Colorfly CDA M1, the Shanling M0, and the Sony WM1A.
The Colorfly CDA M1's pairing on the 3.5mm unbalanced out does little to alter or tweak the sonic presentation of the AM850 MK2. The Shanling M0's pairing added a lower-mid veil, compensating for the prominent scoop in the midrange on the AM850 MK2 by filling it out.
Lastly, the Sony WM1A pairing on the 3.5mm unbalanced out on high-gain deeply exaggerates the V-shaped frequency response. By doubling down on its sonic profile, the AM850 MK2 now sports a more fitting U-shaped frequency response, with an even larger scoop in the midrange.
Overall, this is an easy-to-drive solution for everyday listening, it is still possible to alter or tailor the final sonic output to your liking by pairing it with the right sources.
Select Comparisons
Shuoer S12
$149
Technical
The Shuoer S12 first made waves and has since amassed a cult following less than a month after its initial debut. It houses a single, 14.8 mm planar-magnetic transducer with a 16-ohm mechanical impedance.
Unlike its planar counterparts save for the 7Hz Timeless, the S12 is an efficient animal that requires minimal power output for it to sonically shine.
Design
The Shuoer S12 has a smooth, aluminum chassis with a satin-finish, spare for subtle polishing near the 2-pin female ends. It has an oblong form factor modeled after a substantive pool of ear scans. There are no visual, or physical imperfections that diminish its industrial aesthetic.
Despite its larger footprint, the S12 proved to be a comfortable fit with its medium-length nozzle. The Astrotec AM850 MK2 is finished to a similar standard, and is in fact, fabricated from the same material. There are almost little to no tangible differences between them in terms of fit and finish.
Shuoer's included cable is a 1.25m silver-plated copper, mono-crystalline cable. For this review, I opted for the 4.4mm balanced termination. Unfortunately, the salt-and-pepper colored sheathing is characteristically inflexible.
But at the same time, it is fairly resistant to bends and kinks, allowing it to remain tangle or coil free. In this comparison, the AM850 MK2's included cable is more adequately suited for its supple malleability and ease of use in an outdoor setting.
Performance
The Shuoer S12 has a neutral-to-bright sound signature, with a modest mid-bass bump and a slower decay. The result is a sound signature reminiscent of Hifiman's legacy headphone models such as the HE400 with its robust, mid-bass wall.
Above all, its treble performance is slightly exaggerated, placing airy instruments and vocal sections front and center, at the expense of minor sibilance on occasion.
What's unique about the S12 is its ability to toe the line between the acoustical warmth of a dynamic transducer, and the revolving nature of a planar transducer. Macro dynamics are soft and gentle, with sudden gradations in volume dampened by their presentation.
The Astrotec AM850 MK2 is more conservative in its presentation. Its low-end response is a touch more sub-bass dominant, and a faster attack.
Furthermore, its deeper midrange scoop deviates from the S12's frequency response. Lastly, its highs experience earlier roll-off, truncating any hissing highs or rough peaks at the cost of detail retrieval, and technical prowess.
Harmonicdyne P.D.1
$379
Technical
The Harmonicdyne P.D.1 is an uncommon hybrid IEM with a 10mm dynamic driver and 10mm planar magnetic IEM. Adopting an unconventional, hybrid IEM with two pistonic drivers.
With a 16Ω impedance with a 1kHz sensitivity rating, the PD1 is an efficient planar-magnetic IEM that is easily driven from almost any audio source.
Design
The P.D.1 has a sleek, and smooth aluminum chassis with a jewel-like, faceted faceplate. The P.D.1 fits well, has a well-machined finish, and has no obvious or glaring imperfections. There are no obvious differences between the P.D.1 and the AM850 MK2, save for their respective silhouettes and subjective aesthetic differences.
Performance
The P.D.1 has a W-shaped frequency response, with a stronger emphasis on the upper mids and highs, followed by a gentle mid-bass bump. But the mids are not prominently scooped out on the P.D.1; instead, it is simply placed marginally behind the rest of its sonic presentation.
Therefore, the midrange simply lags behind the rest of the signature. What's interesting, is that the P.D.1 has more similarities than there are differences with the AM850 MK2.
Apart from their distinct tuning philosophies, there is a clear, metallic stridency in their timbral presentations. Moreover, their imaging and staging capabilities are on par with one another. But it is important to note that the P.D.1's timbral oddities are more evident.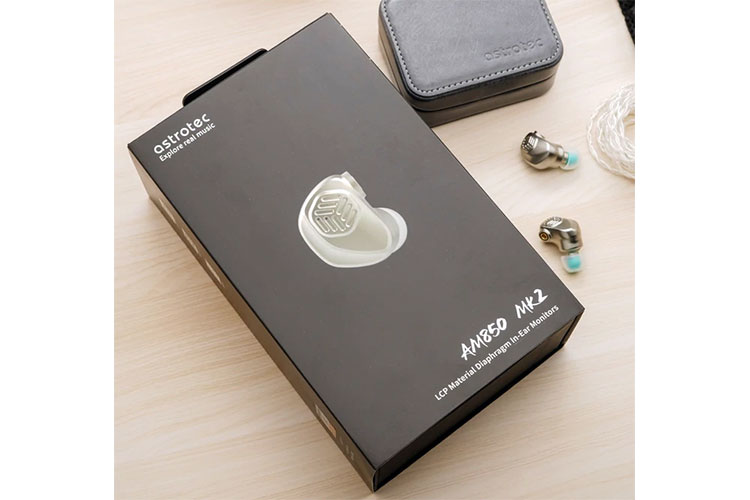 Our Verdict
The Astrotec AM850 MK2 is a competent showcase for the LCP dynamic transducer. While there are some tonal imbalances that can throw off listeners focused on timbral accuracy, it remains an enthralling option for a compelling, consumer-friendly sound.
As the saturated IEM industry returns to the tradition of adopting single-transducer topologies, this is one of many leading the audiophile charge.
Astrotec AM850 MK2 Specifications:
Frequency Response: 5Hz- 35 kHz
Sensitivity: 106dB/1mW (S.P.L at 1kHz)
Impedance: 32 Ohms
Connector: MMCX
Input: 1 mW
Max Input: 3mW