A bit of personality
That personality begins right out of the box with some notable departures in the overall padding and cable design of the Young Guru edition. If anything you could argue that the Studio gained a bit of verve with a new red coiled cable finished in an attractive polished silver metal and gold 3.5mm jack with 1/4 screw in adapter and red threaded cup cable. Again it follows the TMA-1 time honored traditions of being a single sided detachable DJ style cable but with the new lock in mechanism seen on the stock Studio and Fools Gold/Beatport editions. The jack though has gone back to a straight line rather than right-angled as seen previously on the older Studio edition.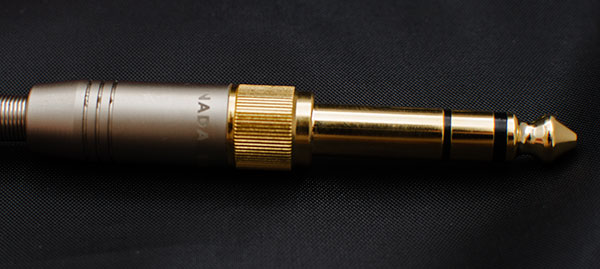 Outside of the more colorful look the Young Guru edition sports an entirely new and altogether more sophisticated cup padding design consisting of memory foam covered in a microfiber material that it leaps and bounds comfier than the original cups. For those in the first batch roll out of the stock Studio who remember the initial glue problems on their cups I can assure you none of that exists on these new pads. They feel very well made and very comfy, at least to my old ears. Isolation for a closed can on the new pads is probably not the highest you can get in it's class and the clamp is not as strong as say the V-Moda M100 or the HD25-1 II but the whole design feels very well balanced and steady once on your head.
You can detach the earpads in much the same fashion as the Studio stock edition but rather ironically you have nothing to change them to as the Young Guru edition does not come with a spare set of pads which I think is a first for the TMA-1 product line. If you happen to own the stock edition you can indeed swap them around. The same memory foam and microfiber design is also used in the cushioning under the headband making it more comfortable to wear in my opinion than the original TMA-1 Studio. The Young Guru edition comfort is also aided with a 40g weight reduction over the original stick Studio edition going down from 200g to 180g without the cable. The whole look and feel is very impressive indeed and delightfully it is still as relatively stress resistant and flexible as the original Studio edition so those bringing this out and about will find this a tough nut to break.
Click to next page for the inner personality…