Sound Impressions
Bass
A/B comparisons between this DAP and anything else were made very difficult, due to the Plenue D's snobbishness in resetting the volume to default levels each time you remove the headphone cable: once you remove the 3.5mm adapter from the Plenue D, the volume automatically lowers itself. Naturally, swapping quickly between it and another portable player is immensely stressful, having to readjust the volume intensity to match the second DAP to the best of my ability each time I swap between the Plenue D and something else. I get it is a safety issue and I can certainly appreciate that, but I don't think it is needed.
The player has relatively low power output and is not something intended to be used with anything but what most would consider efficient headphones anyway. Because of that lack of power, the low end takes a hit in the quality and substance department: it becomes very evident with a flat EQ that the Plenue D struggles to do proper justice to mildly efficient Planar's like the Audeze Sine and even my older ESW11LTD from Audio Technica, which is a dynamic driver headphone that gets better with more power than what typical DAP's are capable of offering.
Quality is a bit weak here and it is well into the realm of good, no doubt, but certainly not on par with even the stock DX90 from iBasso…which again, is audibly inferior to the DX90 using the modded Rockbox operating system. For $275 or so, the Plenue D's bass end seems more than acceptable in both quality and quantity, but you should not expect anything to shoot above its price point. I feel like the Plenue D took a page from the Digizoid Zo's handbook (an external amplifier that was geared just for bass EQ) and has ended up sounding like the DAP that those with lower end or middle tier bass enthusiast headphones would enjoy a ton.
However, those looking for a clinical or natural tonality to their low ends should not buy this player. You will be incredibly disappointed by it, due to the fact that this DAP is completely setup for exaggeration, abundance in every area of the frequency response and that was developed for the musical enthusiast, rather than the neutral chaser. You can get a ton of bass through the Plenue D, thanks to the silly amount of BBE/MachBass EQ's available inside.  But, the overall quality is just "good" to my ears.
Sadly, I'd rather recommend the DX90 with Rockbox at this point, as you can purchase a used DX90 for the same price as the Plenue D these days. However, the DX90's battery lasts but a few hours, maybe 6 at the most, and the Plenue D is rated at 100 hours via standard .mp3 usage, roughly half that with .Flac files. I can attest to the battery life of the Plenue D, it is almost as if the battery bar doesn't deplete and I swear I've gone well over an entire week before I saw the power icon dip to ¼.
With that EQ active and likely the extra volume needed to power headphones that are mildly efficient, headphones like my Audeze Sine, the Plenue D ends up feeling stressed on the bass end at all times and one that isn't capable of offering a pure tonality. Is the quality good? Absolutely. Is it up to par with the Fiio X5, DX90 or the Luxury and Precision L3? No, there is an audible inferiority between the Plenue D and those other mentioned DAP's which are all in the same ballpark in price.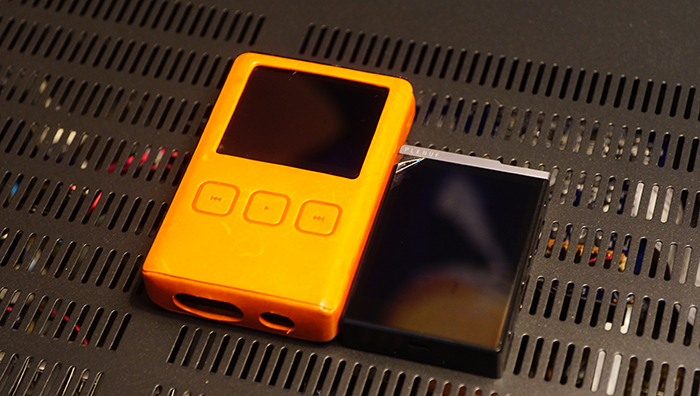 Mids and Treble
The player isn't mid-forward, but it can simulate it with proper EQ, of course. As mentioned earlier, some presets and setups, via the Plenue D's vast EQ functionality, can actually dramatically increase the bass quantity without making the presentation feel V-shaped: prominent bass/treble, but distant and recessed midrange. I think you'll have to rely on your headphone more than the Plenue D for forwardness factor. The reason I say that is because the Audeze Sine, for example, is not supremely mid forward, but it sounds relatively the same in physical locale in the vocal experience as when I plug into my L3 from Luxury and Precision.
My ESW11LTD is stupidly forward, probably the most forward midrange in a portable headphone that is available, but it also does not change when swapping between certain DAP's I had here to test. Summed up: on flat EQ, a forward headphone will sound forward, a recessed one will sound recessed on the Plenue D while using little to no EQ. This isn't always the case, as some DAP's out there will alter the forwardness factor for better or worse. A good example of this was found in the Hisoundstudio V DAP that I mentioned earlier, where even forward headphones ended up sounding a bit recessed by comparison to the DX90, L3, and the Plenue D.
The upper end of the player is not at all refined, it can sound a bit underwhelming to say the very least. However and again, the JetEffect EQ system can fix quantity and kick if you so desire, but it will not ever sound as natural as some other recent portable players in this price range. The Plenue D is the definition of artificial sounding and feeling from top to bottom and the top end can't achieve that desired sparkle I desire: that tendency to feel dense and weighted, but with a gentle bite that is a pleasure to hear without going overboard. Sadly, the Plenue D sounds too thin up top and the excessive EQ system inside isn't helping at all by masking it. It isn't a joy to listen to until I pair it with an external amplifier. If you are a treble head, grab a used DX90 instead.
Imaging
Ouch. This is the only real area I can say is a very weak link in the arsenal that is offered with the Plenue D. If sound staging is your thing like it is mine, then you shouldn't buy this. Depth and realism factor available in the DX90/L3 and the older Studio V from Hisoundaudio are not as present in the Plenue D. Despite that lack of excellent staging properties, it does just an alright job. Sure, swapping between the Plenue D and the DX90 results in the feeling of a door or window being opened up in the latter's presentation, but it isn't like the Plenue D is severely lacking. I consider it more than acceptable, but not up to par with the rest of the $300 or so lot available from other companies.
Sadly, I've no clue what DAC is included inside this player and that is likely the culprit. Cowon has been supremely secretive about it and I couldn't confirm what the hell is even inside of this DAP to begin with. Whatever it is, clearly it isn't up to par with the current generation of great middle tier portable players with regard to imaging potential. But, those coming from iPods or cell phones will be happy enough.
Final Thoughts
I'm scoring this DAP very high, due to Cowon making sure it has an awesome UI, good sound quality, and supreme battery life. You can't really ask for much more here, they've thought of pretty much everything. What has impressed me the most is that they've simplified the UI to be so efficient, that most of the features you'll be using are all on a single small pop-up bar that rises when you touch the Features button at the top right of the screen. Want incredible EQ options? No problem, the Plenue D has that in truckloads. How about ridiculous battery life that can reach 100 hours, depending on what type of files you are listening to? They got you covered there as well.
At the end of this, I look back and cringe at my unwillingness to dive deeper into the impressive Features list the Plenue D has, but it has so many things to talk about inside the UI that I just can't seriously hope to pen it all in a review. Outside of .DSD, this player did everything I've ever wanted all those new "audiophile/expensive" DAP's to do for me, it far exceeded what I even needed or desired as a whole. All of that extra bonus material isn't in the way either, it is all neatly packed in a sub-folder of the primary Settings menu. That is a great sign that someone took care to develop the software inside the unit with great attention to detail…instead of just shelling out the player half-done to the market. Yes, I will be recommending this player to anyone who wants to take the first steps into the Audiophile world and who may be getting serious about their listening pleasures. This Plenue D is a great stepping stone and gateway drug to the higher end stuff out there.
True, it doesn't have the literal quality of the DX90, which can be purchased for the same price, but it does  fit into the realm of portability that I consider suited for actual on the go listening. I can't take my DX90 with me on trips, I know the battery will deplete in mere hours. I can't take the L3 from Luxury and Precision with me on trips either, nor the Studio V. We've forgotten what portability actually is because, over the last 5 or 6 years, audiophile companies have been swinging towards 3:1 ratio of sound quality vs functionality.
Again, I was actually criticized for asking for a better UI in the L3 by some, but I was shocked to read (on a certain 'other forum') that some users were pro-my thoughts and almost entirely against the person who was anti-my thoughts on that DAP. We need to demand better, stand up and shout with me! Multi-hundred and even near $1,000+ portable players like the CalyX and the L5Pro should never be an expensive and wonderful sounding file browser and nothing more. We deserve better and Cowon gave us better. I've not had a chance to hear the upper-end models from Cowon yet, but I can safely tell you that for general, non-DSD or high res audio needs, I've shelved the DX90/L3 for the time being and have been using the Plenue D for most of my leisure time. If the Plenue D sounds that nice and has that grand of a UI system, I am extremely excited about the Plenue M or the P1 and how they sound!
Great job, Cowon. This is probably the best overall "portable" DAP on the market that I've ever used. It is one of the first portable players that never gave me a single worry, never gave me any trouble, never froze or glitched, never had micro SD card issues and never left me desiring more with its extremely abundant software and overall UI layout.  You know what this is?  It is ear candy…simple as that.  Yum.
Price: $275
Link: http://www.jetaudio.com/products/cowon/plenued/
Where to buy: http://www.bhphotovideo.com/c/product/1241976-REG/cowon_pd_32sb_plenue_d_high_resolution.html/BI/20219/KBID/14477
Technical Specifications
24bit/192kHz High Definition Sound, High-Quality 24bit Stereo DAC
SNR 123dB, THD+N 0.004%, Crosstalk -105dB
Jet Effect 5 & BBE+, FLAC/WAV/AIFF/ALAC/APE/MP3/WMA/OGG
Wide Angle Touch Display, Isometric Edge Design
Music Playback 100 hours, 32GB Internal Memory, microSD Card Slot, Matrix Browser