One of the things I like to see in a well implemented DAC is good dynamic control and a certain punchiness being translated into any amp connected to it, or in this case its own internal amp. This dynamic control and snappy rendition was most obvious in comparing the Rein Audio X3 and Just Audio uDAC2496 – the detail was there in the X3 but the uDAC2496 just sounded that bit more weighty and exciting compared to the flatter and more restrained X3.
The N4 tonally speaking sits somewhere in between both but lacking the utmost detail such as the X3 and not conveying the same visceral punch as the uDAC2496. Using it's own internal amp the N4 is warm to neutral with a reasonably thick presentation and a smooth though somewhat soft attack and tapered top end without any irritating spikes or lower treble energy to distract giving a fairly coherent sound.
Bass is pretty solid, bloat free and fairly tight on the N4 without being overpowering or bleeding and disturbing what is a rather musical and fun midrange. There is a slight midbass hump rather than a deep extension but I didn't really find it lacking on most dance tracks I tried.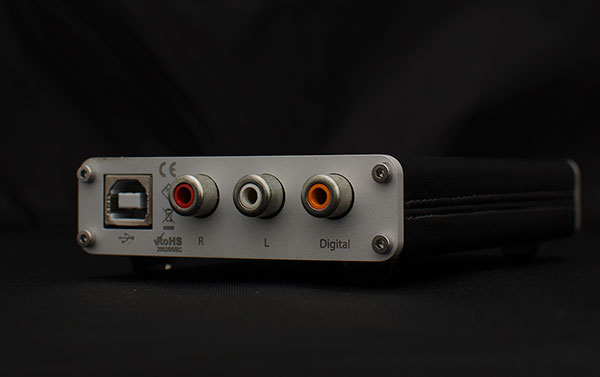 The internal amp also did a great job conveying a pretty good sound stage and some great depth and accurate imaging. In some ways the N4 reminds me of the Island from ALO Audio tonally but while the Island felt a bit hollow and grander the N4 is more center focused and tighter and overall a slightly better choice for more detailed listening than the Island for me personally. It doesn't have the same sparkle and dynamic punch as the uDAC2496 but it precision and smooth rich body to the tone more than compensates and places it at the easier end of the scale in terms of easier listening.
The N4 matches pretty well with neutral headphones that are not too demanding in power using the internal amp and whilst I detected a bit of hiss on more sensitive earphones and headphones I did not find it distracting when the music started. Using RCA the N4 duplicated much of the existing tonality into my Swann active speakers with a lack of dynamic punch compensated for with decent mid range performance and a clean but rich presentation that felt well controlled and a slight step up from what I was hearing from the internal amp. SPDIF output gave a slightly more digital presentation and again that slight attenuation in the treble but still retained that rich smooth response that makes the N4 so easy to listen with.
Click on next page for final thoughts