Out of the rather basic packaging the N4 strikes a nice balance between functionality and flair. Wrapped in a charcoal/dark grey faux-leather wrap the N4 stands out a little from the rather monotone all metal casings I am used to. There is some thought put into how it looks and feels. Perhaps Miniwatt believe the digital audience and laptop user is a more discerning 'fashionista' who demands more from his audio devices such as the Igadget users and it would not look out of place actually beside a Macbook or an iPad. The front does have a slight industrial finish with the protruding screws but otherwise the faceplate sports that minimalist design with digital plus and minus volume buttons and a headphone jack.
Digital buttons are never my preferred choice given the greater control I can get with analog volume pots and stepped attenuators but it does look pretty sturdy and well finished.The back follows in much the same pattern with usb input, RCA left and right output for analog and a coaxial output for digital all with the same flushed out grey faceplate and protruding screws.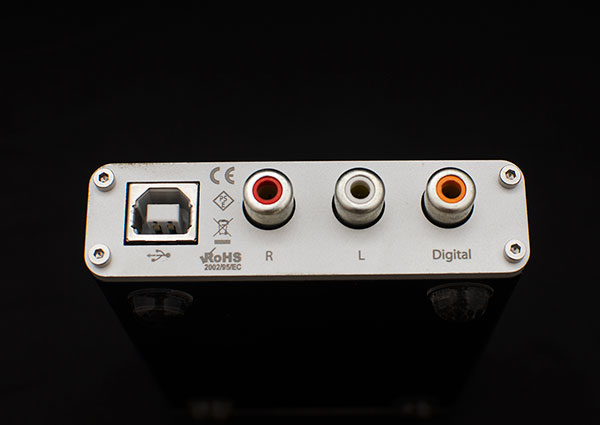 It feels just about the right size though and very well balanced. Sticking on some blister feet will help keep the leather free from unwanted scuffs and thankfully there is no tilting due to cable weight which sometimes the Just Audio UDAC2496 can be prone too given its tiny form factor. The N4 is small, usb powered (5v) but feels sturdy and balanced in operation and as such it is a perfect office partner or standalone audio gadget for wallowing in Starbucks with your tall latte, cans and laptop.
Click on next page to read more about the functionality of the N4