Sound Impressions
Having been an avid user of the hybrid 5 driver (1 bass and 4 BA) UM Merlin I thought I would kick off with that and use that as a comparison in some ways and not just the Pro and the Artists side by side. True the Merlin is roughly twice the price so please bear that in mind. The Merlin with stock cable can be best be described like a mini LCD-2 V1 – plenty of bass, wonderful natural warm and detailed mids section and a detailed but slightly laid back treble response. There is no bleeding from the dynamic bass into the BA mids and uppers making the Merlin a spacious, hard hitting custom with a relaxed tonality that is equally at home with dance, rock and most classical or acoustic genres. Switching from the stock cable to something like Twag v2 benefits the treble immensely as for me the stock cable contains a slight veil and muddiness that holds the Merlin back slightly from greatness. Silver or Twag v2 elevates clarity and articulation to satisfying levels without loosing that wonderful bass dynamic response, big sound stage and pleasing warm tonality. Kind of like moving from the LCD-2 V1 to the V2 in many ways.
The Pro and Artist use a custom specialist transducer setup designed and assembled by Sonion and is roughly equivalent to a triple BA experience and does not contain any dynamic driver hybrid technology so both are much close to say a Westone UM3X or 4R in terms of driver setups or some of the slightly lower custom configurations that use triple BA. Certainly, the price is much more comparable to the Westone universals and provide a very healthy alternative with a much superior fit and seal and performance.
Both the Artist and Pro tonality is much more warm to neutral than the warmer Merlin with a slightly more forward upper mid or lower treble section and a smaller but more focused sound stage. Both play out very smoothly with no obvious signs of peakiness or undesirable spikes throughout. Both the Pro and Artists top end also has a dash more verve and sparkle than the Merlin but obviously looses out to the Merlin in terms of bass response given the fact Minerva do not use hybrid dynamics in both versions of the Mi-Performance CIEM's.
I would not describe either the Pro or Artist as particularly aggressive even though they tend to place you more front row than the back row in terms of overall positioning; that more mid-centric focus just draws you in a lot more than the much wider ambiance of the Merlin's soundstage. Though Pro and Artist are more forward and mid-focused than the Merlin but I did find them slightly more condensed and lacking in depth and width compared to the higher-end Merlin which was masterful in image placement and separation.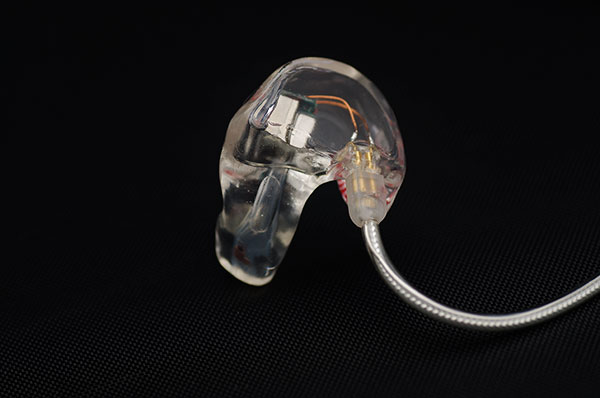 In previous incarnations, feedback from users was that the lower treble had too much energy and fizz distracting from any sense overall coherence and leading to listener fatigue. I am glad to report in both editions that whilst the lower treble is slightly accentuated, it is in fact executed almost perfectly for me without a hint of any peakiness or distraction giving both a much tighter and coherent transition from the mids to the treble. Between the two though the Artist gets the nod with with its slightly better seal and bigger hollow chamber giving a more engaging and fuller tonality then the Pro silicone. This is not to say the silicone Pro is lacking, far from it, but of the two the Artists edged it for me.
Bass response is quite similar to the high end BA setups from the likes of Westone. It is not dominant but rather supportive with a response that is both quick and forceful when it needs to be on more demanding bass centric tracks. It is in no way one dimensional though with excellent detail and texture but really cant come close to the wondrous subterranean levels of sub-bass shudder of the Merlins.
Matching
Sensitivity wise they are quite similar actually with the Pro and Artist just being slightly less efficient than the Merlin which rates at 102db from memory. The Merlin, Pro and Artists performance right out of the Samsung S3 jack was average at best and thin and tinny at worst. All 3 need a decent pocket amp to get the best out of them. Using the V-Moda Vamp Verza with the S3 brought both the Artist and Pro up to a more satisfying level with richer thicker mids, better bass impact and more sparkle in the treble. Things improved even more with the FiiO E18 (apart from the weird RF interference) with much more spacious and dynamic response making the Verza seem somewhat muddy in comparison when paired with the Artists and Pro. Straight out of the Ibasso DX50 the volume was a comfortable 190-195 and the more natural match over the FiiO E18 and Vamp Verza with excellent body and a slightly smoother upper range than both of the convergence units from FiiO and V-Moda.
Cable Swapping on the Artist
As luck would have it my Merlin Twag V2 cable fitting perfectly on the Mi-Performer Artist and the difference was tangible. First the comfort around the ear was superior to the stock Kevlar being a woven soft cable which also had a ton less memory retention than the stiffer stock cable. Presentation and tonality wise the Artists was a little bit more controlled and monitor like and the depth and separation a little deeper, wider and clearer. Whether or not it is justified to spend another $300 on a quality upgrade cable when the Artist is around $500 in it's own right is debatable but if this is a second IEM or you have existing cables that can fit it is worth changing around and comparing.
Our Verdict
The Minerva Mi-performer Pro and Artist are very attractively priced custom in-ear monitors whose BA Sonion setup is incredibly smooth and natural to my ear. They can't quite reach the same levels of dynamics and bass response as the Unique Melody hybrid Merlin and both have a more condensed and shallower image and instrument presentation than it's loftier cousin but then again its almost half the price so that is to be expected. They easily outperform universal BA's at a similar price such as the Westone UM3X with a much thicker and dynamic presentation and thanks to Minerva's excellent manufacturing the seal is night on perfect for my ears giving a really nice and engaging response, particularly from the acrylic Artist version.
I would love to see a few more cable options in the ordering process and the level of physical customization is not as advanced as say UM, JH Audio and other competitors and this might hold them back a bit from the initial wow factor you often see on the ordering pages. Do not let that put you off from what are otherwise excellent customs and a very supportive ordering and after sales process from Minerva.
Price
SRP – £375.00 (Not including impressions)
Some options in the customization process will cost extra such as the Peli case.
Links