Sound Impressions
Bass
I was fairly shocked upon first listen and couldn't shake the feeling that this portable Edition M sounded superior to the older Edition 8 full size headphone.  The bass seemed very uncolored and pure, although of a moderate quantity and lacking the deep richness that I had hoped for.  Truly, it is hard for a musicality lover like me to swap between the Audio Technica ESW11JPN ($700) and this Edition M without feeling saddened by the loss of musical appeal in the latter of the two.  The ESW11JPN is really the only competition in the portable, on ear world of headphones and the Edition M seems like it is top dog now.
Quality is nowhere near reflective of a $1,200 headphone in the full size circuit.  However and for an on ear design, the Edition M feels like the flip side of the coin to the ESW11JPN:  more neutral and less exaggeration prone than the 11JPN's extremely potent, lush and vivid bass experience both in tone and quantity.  The Edition M wrecked house against the Beyerdynamic DT1350 both in quantity and clarity, so expect a moderate bass quantity with good quality when considered against most other on ears that have come before this model's release. I think Ultrasone got the tone right here, as it really will appeal to the neutrality lovers and the tone purists who might want a bit more quantity in their portable game.
As mentioned, the low end is moderate in quantity and physicality, it lacks a sense of guttural deepness and responsiveness, but what is available is very nice when you ignore the price tag.  Trying to review headphones without price in the mix (this comes at the end in final thoughts) is not that hard to do and getting lost in the A/B comparison scenario is something I look forward to.  Amidst the slew of other on ear portables, the Edition M is the clarity king of the lot that I've experienced in my time and that is a certain fact I feel comfortable telling around the campfire.  However, it is not nearly as deep reaching as a $1,200 headphone should be.  I can't really fault it these days, since I've recently received the Enigma Dharma (a hybrid, full size electrostatic/dynamic driver headphone that is also $1,200) that sounds much worse on the low end than this Edition M.   I guess this is where audio is going in the future.  Now, we are all going to pay the price as more headphone price tags sky rocket and offer less performance.
The bass end of the Edition M is also a bit soft on impact.  I know that most people are going to say "Oh, but 24bit, most Ultrasones have potent kick and slam!"  Well, this isn't the case here.  Both the Edition 5 and the Edition M are much more tolerable than the disaster Edition 10 and 12.  Hell, both the M and the Edition 5 are also more tolerable and softer on kick factor than the Edition 8 as well.  Don't expect a supremely relaxed experience though, it still has a little bite to it, but I find it very appealing and a nice middle ground quantity with impact levels.  It is very musical in that regard, as most neutral in tone headphones tends to be more snappy and harsh on slam effect.  It is an odd contrast here and one that doesn't come up often: neutral bass tone, but a moderate and enjoyable slam factor that isn't wince worthy at all and this lack of slam extends all the way up to the treble.
The Mids
Thankfully, Slogic doesn't screw up the experience here in the slightest.  This Edition M sounds lovely, firm and more solid than the ESW11JPN, although clearly and again much more neutral and less musically exaggerated in tone.  The vocals are forward and lively, spaced well and offer a great sense of solidity that really raised my eyebrows.  I didn't expect this upon first listen, but the M puts out a wonderful vocal experience that really sets the bar higher than where Audio Technica had previously set it.  Audio Technica's are no longer "The only portable vocalist delight headphones" out there of a higher end quality.  Now, the Edition M fills the gap on the opposing side of the audiophile divide by offering more tone neutrality and solidity, but also with very nice clarity that isn't overly impacting.
Solidity is an important quality for me and when swapping back to the DT1350 and ESW11JPN, I am met with a much thinner appeal than the Edition M: these models just don't carry the weight and heft than the Edition M does and it bugs the hell out of me.   I think Ultrasone has done a marvelous job here with the mid experience and it really does come across as a mini Edition 8 in terms of physical presentation setup.  I really enjoy it as vocalist lover!  Finally, after all these years…Ultrasone of all companies… developed a portable headphone with a nice, forward midrange, excellent solidity factor and good clarity to boot.  Jeez, didn't see that one coming at all.
The upper most areas of the midrange and onward into the treble retain a very good sense of non-sibilance.  There are no nasal tendencies going on here and I am beyond excited to hear an Slogic headphone pipe out a moderate treble quantity, yet also without sounding horrible.  The Slogic tech doesn't affect the treble or sound stage in the slightest and the Edition M's treble is not breaking the experience's airiness in the slightest.  This is a far cry from what most Ultrasone headphones have offered in the past and I can absolutely, definitively say that the Edition M does not sound at all like an "Ultrasone".  None of the company's prior "house sound" properties exist in this headphone.  The best example I can use here is what Grado did with the PS500:  a Grado headphone that broke the laws of what Grado house sound was in the past models.  Ultrasone has done the same with the Edition M and Edition 5.
Treble
The upper end of the headphone is quite relaxed with only entry level-moderate bite and slam.  That means the treble is not brightened, painful or overly reserved.  It is a nice, middle ground quantity with plentiful engagement, but all without going overboard or under development.  I enjoy it a lot, actually.   I don't want too much of a clinical appeal on the go in portable setups, I reserve that for home listening.  Taking the train or a bus, commuting to and fro and while on lunch breaks…I tend to want to be able to enjoy and kickback, never worrying about how accurate the headphone is to the track.  With that in mind, the Edition M is very neutral for the most part in tone, but offers just a bit of elevation from top to bottom to keep things fun and vivid.  Don't expect much sibilance or an annoying treble experience, but do expect something dead center-moderate in quantity and kick and just a bit of a sibilant tendency with harsh tracks.  The M doesn't seem to cover up much up top, but the moderate treble quantity certainly makes it more tolerable when the occasional hiss occurred in a track.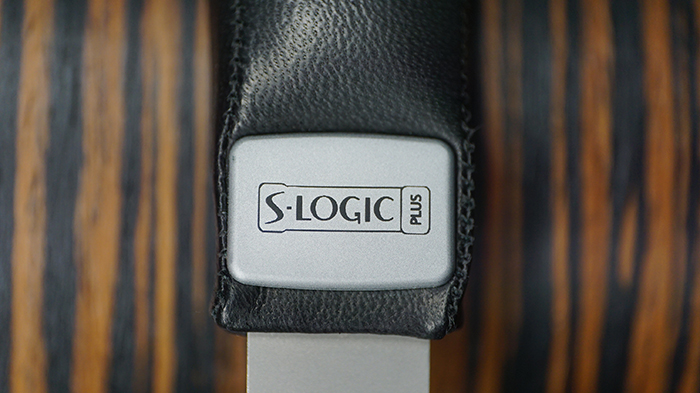 Staging
This is where Ultrasone stands out from the pack of other nice portable on ears out yonder.  Slogic sounds and feels nothing like it did in the previous generation of Ultrasone components.  Thankfully, things are more natural sounding in texture, tone and physicality these days.  I really don't think it is a fair battle when the ESW11JPN (the closest competition to the Edition M) is forced to fight to the Edition M to the death in the sound stage arena.  There is little doubt that the M feels deeper reaching and is noticeably more aired out and spacious, which is something the 11JPN doesn't get right by comparison.  Ultrasone's tech has evolved it seems and I won't be one to complain about it.  Hell, I have the Edition 5 here that uses the same revamped Slogic tech and I will defend the new sound signature to the death if need be.  Both sound nice.
One thing that bugs me is the lack of a concise physical feel to the sound stage shape.  What I mean by this is that the Edition M feels odd in the literal physical setup.  Despite having plentiful depth of field and an aired out sense of appeal, I feel like the height and width factor don't make sense with each other and the headphone was not lovingly tuned to feel proper.  Width feels disproportional to the stage height, which in turn feels odd when you consider that nice sense of air.  I don't like it.  But, with that in mind, I still consider is a little more spacious in height and width than the ESW11JPN, which is easily the most spacious on ear headphone I've ever used.  Summed up, you get a good sense of staging and by comparison to the competition, the experience is solid in quantity.  However, some staging properties are disproportional to others inside the Edition M.
Final Thoughts
At the end of the day, the Edition M branded itself as the current on ear champion of the world, dethroning the ESW11JPN audibly and taking its crown.  Sadly, there are no flagship and summit level on ear products out there and it is clear that the Edition M will sit on that mountain peak for some time by itself.  There really isn't a market for on ears of this price tag and really only the bountiful and financially endowed would be okay with taking a $1,200 headphone around in public.  I feel worried taking this headphone for brief walks around the city and I would assume those like me who want a great portable experience in an on ear would resort to buying a DT1350 or ESW series from Audio Technica to fill that niche for portability needs.  If you have the cash and want the best portable on ear available, go for it.
The Edition M is on the more naturalish tone end of the spectrum, offering good comfort, style and excellent clarity in comparison to the competition.  If you don't want the musical tone and prefer a more "dry" appeal to tonality, something more relaxed on impact and more linear feeling than most other on ears, then pick up the Edition M and know full well that pretty much everyone is going to eye ball you in public while you wear them.  I highly suggest taking out insurance or carrying pepper spray though, as these headphones are nothing short of beautiful and will warrant the full attention of anyone nearby.
I'll be repeating this part soon in my Edition 5 review, but the social meme of Ultrasone being stupidly expensive is no longer a viable justified line of text to type online, or to verbally commune with another user in reality.  Sennheiser and Audeze, Hifiman and a few other companies took what Ultrasone did and ran with it, jacking up prices to multi thousand dollar levels in 2015.
By rights, Ultrasone's now seem like a good deal for what they offer and that giggle worthy price tag on the Edition M and the Edition 5 are no longer so crazy.  Prices are skyrocketing and will continue to do so if the community doesn't stand up and say enough already.  Anyone else offering a portable on ear, Summit level headphone?  Nope.  The Edition M has no competition in this price tier and design style, with the closest being the older $700 Audio Technica ESW11JPN.
Technical Specifications
Dynamic principle, closed back
S-Logic®Plus technology
ULE technology
Impedanz: 40 Ohm
Impedance: 40 ohms
Titanium coated 30mm driver
Magnet: NdFeB
Frequency range: 10 – 38000 Hz
Sound pressure level: 99 dB
Weight: 146g (without cable)
Detachable cable with Micro and Remote (1.2m, OFC) gold plated, angled 3,5mm 4 pole plug
Spring steel headband
Ruthenium plated ear cups
Head pad and ear pads made of Ethiopian long-haired sheep leather