Sound Impressions
Tonality
Tonally speaking I found the A73 to be a bit warmer than the brighter treble orientated A83 with a nice clean response, a naturally weighted bass body and pace characteristic of a dynamic driver. If anything the A73 takes some of the treble performance aspects of the A83 and adds a warmer more natural bottom end with the 10mm dynamic driver and a slightly elevated vocal presence to produce an IEM that I think veers more to the musical side of presentations. I did however find the A73 to be a little peaky in and around the 7k range which is a hot spot for splashy percussion and sibilance if not matched well. Overall a slight u-shaped FR with some elevation in the mid bass, vocals and a peak on the 7k.
It never really comes across as a typical consumer sound though despite the elevated bass response. The slightly thinned edge to the A73's overall tonality marks this IEM out as being better tuned for the typical jazz infested mid-tier DAP you see hanging out of everyone's pocket at a CanJam near you. It is not in any way veiled, bloated or overly syrupy, quite clear and articulate actually especially with lazier but intricate genres like lounge/jazz vocal tracks or acoustics. If you are stacked with a bunch of binaural recordings or Chesky laden albums the A73 fits right in style wise.
Bass
The A72 has an elevated bass response from 50-200hz that is reasonably planted with decent sub-bass extension and only a slight roll off when you get down real deep below 50hz. It's actually a well-controlled bass signature, possessing good body and a hint of warmth, but never bloated or overly soft. The characteristics of the dynamic driver means it's not the fastest but it does sound relatively more natural sounding with good impact, texture and detail. Much more so than all BA's setups for bass delivery in this price range.
Mids
Mids are pulled back just a tiny amount in the lower midrange with a better level of elevation and energy in the upper midrange and vocal presence. The A73 thankfully does not suffer from any bass bleed into the lower midrange so the slight dip is not terribly noticeable and as such I never got the feeling it was a recessed response. This is where the BA design starts to kick in so details and speed are actually very well defined and snappy with good micro detail.
Vocals are excellent and full bodied when everything else is toned down/ Jazz and acoustics where single female and male vocals take center stage are clear and well defined however things got a bit ragged once you threw in full on rock harmonics and aggressive guitar and percussion. The timbre of the A73 is far more suited to sparse musical arrangements where the subtleties are far more nuanced than full frontal sonic assaults.
Treble
A73's treble is a little uneven for me with a prominent 7k spike that adds a little too much heat to an otherwise clean and well extended top end performance. Unlike the peaking in the A83 which crept in a bit higher around the 10k mark, the A73 hits right in the sibilance zone leaving percussion a bit sharper and harsher than I would like it to be and synth work a bit on the piercing side. Comply tips or foam tips can help tame it a bit, a warm thick source can also help also but otherwise it comes across as a little too peaky to be as likeable as the A83 treble response.
If you are working out to a lot of classic 80's glam metal or synth induced rock with a ton of percussion and shredding solos this might grate and become fatiguing. Slow it down however to a more gentile pace and thankfully it becomes more tolerable and that's when the detail shines a bit better because otherwise the treble on the A73 is quite articulate. Interestingly EDM did quite well also with the likes of DeadMau5's While album taking advantage of the u-shape of the A73 quite nicely and avoiding a lot of the sibilance I found on 80's rock.
Matchability
The A73 has a medium range sensitivity setting at 107db SNR and 20-ohm impedance but it is still pretty easy to drive out of most decent setups and as such I am inclined to avoid additional amping unless you are trying to tweak the synergy a little to your preference. The word synergy is actually quite critical for me when IEM's come into play especially with an IEM that peaks up a little at the top end as that's my most sensitive listening area. DAP testing though did yield some interesting results.
BB Passport
The smartphone exercise and yes slightly lower dynamics, slightly softer bass response and vocals pushed back a bit further. However, it did a good job with the peaky treble without sounding too harsh or sibilant even with huge pitfall traps such as Whitesnake's Still of the Night which I was expecting to be a total car crash. It's not a terribly strong amp but it's one of the better mobile phone amps out there and plays Flac natively. I could live with this match on the go maybe but I might want something more.
FiiO M3
The Clip killer and a DAP we will review very shortly indeed. This is a lovely little match with the A73 with only a slight drop in dynamics and resolution compared to the heavier hitters. Volume is very manageable 20-22 for most tracks and no noticeable noise or hiss. The M3, and mind you its early days with it, seems to have a neutral to slightly warm tilt to its response with a rolled off top end and a smooth midrange. Bass is slightly elevated also and reasonably full sounding. It does a really nice job of pulling back the treble peak of the A73 and it could be the most pleasurable listen thus far though not the most resolving of all the DAPs I tried. You have to remember this DAP is just $55 and if you are in the market for a A73 and a DAP this makes a really nice combo.
iBasso DX80
This is a much superior match with a lovely smooth warm signature and just worked a treat with EDM and Deadmau5's The Veldt which can easily descend into sibilant chaos if matched poorly. No noticeable noise or background hiss either and excellent left right channel balance and volume sitting comfortably at 70-75 low gain. Even super-hot synthy and percussion rock tracks such as Brother Firetribe's For Better or Worse was kept well under control though still sounding a bit too metallic overall to convince as a rocking IEM. This match sounded more realistic and at home with the likes of CC Colletti's blues swing and sparse acoustics mix on Bring it on Home or Caro Emerald's perky jazz vocals on her Parisian swing influenced Tangled Up.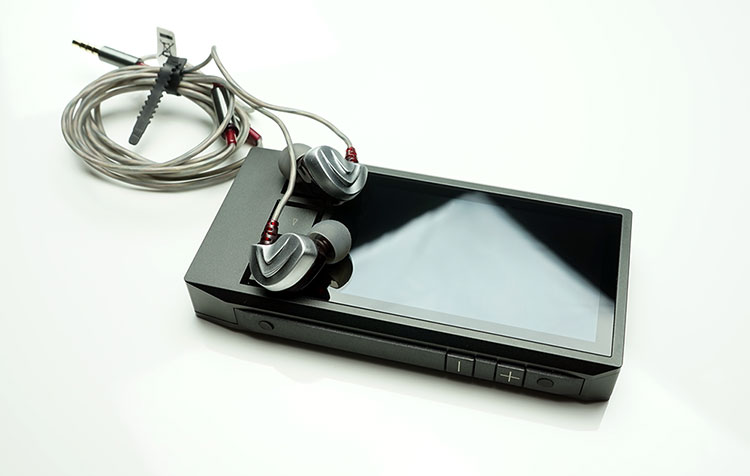 AK120/CEntrance A1 combo
Perhaps a bit too much power with the mechanical volume on the Glove down by 5-6 notches. A much cleaner signature and perhaps too much energy brought out a really aggressive dynamic and much more menacing bass response on track like "Rocky Mountain Way" from Ozzy but in return I got a little too much heat from the lower treble that I didn't get on the DX80. This match is excellent though for detail and articulation at all gain levels and really makes the A73 come alive. Paquito D'Rivera's The Peanut Vendor really spritely but delicate Cuban overtones and clarinet driven orchestra is superb. The treble articulation is excellent and the a73's slightly thinner tonality works a treat with the vast array of percussion and wind instruments at play.
FiiO X7
Imaging and clarity of the X7 with the A73 is superb actually and whilst the treble once again gets a touch sibilant given the FiiO X7 is far more neutral I still find this combination very convincing. Vocals in particular are expressive and the bass picks up a touch more speed certainly than the DX80. Bass response using EDM on the X7/A73 is huge also. Clearly the A73 is capable of being pushed very hard indeed. Volume sits at a steady 60 on high gain and around 68 on low gain for DSD64 Queen A kind of Magic which is more than comfortable listening levels with zero noise or background hiss.
Brief Comparisons
The A73 is right in the firing range of the RHA range and it's a hit or miss if I would choose one of them or the A73. Ultimately it would depend on my mood and what genre I want to play for the day. The T10 and T20 mould injected metal shells are by far the comfier of the two. The A73 though is slightly better fitting than the M750 from RHA which has the more classic straight chamber design making fit more of a hit and miss compared to their new designs. Though slightly heavier in weight the RHA T20 and T10i feel a lot more durable than the A73. Not that the A73 is fragile by any means but that metal is rock solid on the RHA units.
Tonally the T10 is much more limited in use than either the T20 or the A73 with its much heavier hitting bottom end and shelved down top response making it an EDM king but not much else beyond that even with the treble filter. However even though the A73 has the chops for trance I would still grab the T10 for slower BPM and harder hitting dub, house or techno. The T20 is much more realistic as an all-rounder than the T10 but coupled with say the FiiO M3 I actually felt the A73 was the slightly more spacious performer than the T20 with better top end extension, a slightly bigger soundstage and greater clarity in general. I loved the T20 with the treble filter but the A73 with a good matching budget DAP actually outperformed it.
Other hybrid IEMs such as the Sony XBA-H3 have a more refined and balanced FR right the way throughout with better balance in its treble response but at twice the price. They also require a lot more power to perform adequately (iBasso DX80 hit 90 on low gain!) and have a weird seal angle that are infuriating at times. Get them right though with some foams or a good sized silicone single bore and they do pull away a bit from the A73.
Final Thoughts
Despite the slightly elevated bass response in the A73 I still say Fidue are a bunch of audiophiles who die hard for treble sounds and a store a bunch of Chesky records in the background somewhere. The A73 is an attempt for me to largely replicate that passion on a budget and they almost pull it off if it not for that slightly hot treble response. The good news there are a ton of DAP's out there that actually respond quite well to the A73 and if you have $55 to spare the M3 from FiiO might be the best choice of the lot.
I admire the way they took the A83 feedback and came out with something they felt could do it justice but on less than half the price also. There have been some cut backs on both accessory type and levels that I think a few foams would have been worthwhile including and the cable is a bit bouncy also. I get that, you can't have everything at $150 but then again RHA are churning out a lot more at $150 also these days so it is possible to be competitive on a shoestring budget.
The good news is for me the A73 actually sounded better than the T10i and T20, especially with the all new FiiO M3 and that is saying something because I do really enjoy RHA's offerings. It didn't have the ability to knock something like the Sony XBA-H3 off its perch for hybrid resolution but overall I would say you get your money's worth with the A73. Just don't forget to have a few spare foam tips at hand.
Technical Specifications
Specification
Driver: Φ10mm Exclusive Dynamic & Balanced Armature Drivers Frequency
Frenquency Range: 13-27,000 Hz
Sensitivity: 107dB
Max Input Power: 20mW
Distortion: <1%
Plug: 3.5mm stereo, gold-plated (MP3, iPod, iPhone & iPad Supported)
Cable: 1.3 m
Sensitivity of Mic: -42+-3db
S/N Ratio of Mic: >55db
Package
FIDUE A73 In-Ear Sound Isolating Headphones
Silicone eartips (S/M/L)
Double flange silicone eartips
shirt clip
High quality Leather Carrry case