The iFi Audio NEO iDSD is a new compact integrated headphone amplifier and DAC with MQA and Bluetooth LDAC capability.
...
The iFi Audio ZEN CAN is a compact balanced-capable desktop headphone amplifier capable of up to 1.6W into a 32Ω
...
The iFi Audio Zen DAC is an entry-level desktop integrated DAC and balanced headphone amplifier with MQA support. It is
...
The iFi Audio hip-dac is a new portable integrated amplifier and DAC designed to replace your smartphone's audio output. Featuring
...
The iFi Audio xCan is the latest slimline amp in their new 'x' range of portable amp/DACs and also includes
...
xDSD: EISA BEST PORTABLE DAC 2018. SOUNDS GREAT! You can read our recent review on the EISA Award-Winning xDSD here
...
The iFi Audio xDSD is a bold new portable amp and DAC design by the English company and set to
...
The iFi Audio iEMatch is a short cable with a unique matching module that reduces impedance mismatch for monitors and
...
The iFi Audio iCAN SE and Micro iDAC 2 are the latest slimline amp and DACs in their new 'I'
...
Disclaimer: The iFi Audio iCAn iDAC iPhono & iUSB were sent to us for the purposes of this review and
...
The EMAC 535SE is the most recent offering from The Audio Guild, a California-based company run by Steve Eddy and
...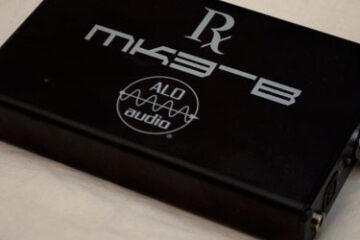 Fresh off the Continental and National Amp review along comes another highly anticipated ALO Audio amp in the shape of
...
Associated equipment used during review – Fiio E7/E9 DAC Amp Combo out of a Lenovo laptop – Apple Ipod 5.5g
...
The HIFIMAN HE-R10D is a single 50mm dynamic driver closed-back headphone featuring the company's patented Topology diaphragm. They are priced
...
The Auris Audio HA-2SF is the successor to the original HA-SE desktop tube amplifier with up to 2W of balanced
...
Cambridge Audio Melomania 1+ is the company's next generation of TWS featuring app integration, aptX, and up to 45 hours
...
The Tin Hifi P2 is a second-generation 12mm planar magnetic driver closed-back universal IEM with a 6N OCC 2.5mm balanced
...
The HIFIMAN HE400se is a new edition of the classic HE400 open-back circumaural planar magnetic headphone. It is priced at
...
The FX Audio D01 is a compact desktop integrated DAC and headphone amplifier featuring up to DSD512 decoding and LDAC
...