The technology
Yikes not an easy one this and not simply because current mode is a relatively new concept in headphone amping but the implmentation itself in the CMA800r makes it even more of a nosebleed but anyhow here goes. Lets start with the actual implmentation whcih Questyle describes as having basically 4 phases: an input, a current transmitter, a trans-impedance amplifier and then it completes the loop with an output buffer. This kind of implmentation allows Questyle to reduce or avoid transient intermodulation distortion (TIMD) as amplifcation takes place in the current stage as opposed to the voltage stage thereby lowering distortion and reducing what the team at Questyle describe as a metallic tinge to the tonality of many modern SS amps that use traditonal transistor amplifcation. I wouldn't go as far as to say that gone are impedance ratings that in theory a fully discreet current mode amp should allow since in the end the CMA800r does finish off with a voltage output. What you do get though is a distortion free experience and a much, much smoother top end in solid state form with a few headphones, the main focus of which is on the Sennheiser HD800.
The "r"
The CMA800r is extremly well built and fairly solid with 10mm thick aluminum enclosure with a finish that is not the most dirt friendly so now and then be sure to take it out and give it a rub and clean to keep that fresh industrial light grey look fresh. It's a fairly wide but low profile design and about 70% of the Schiit Mjolnir size and 60% of its height approximately.
From the outset the tuning of this amp (300ohms to be precise in terms of power handling) has been with a bias to how it matches and responds with the HD800. The "r" edition is certainly not the first attempt either. Before the "r" was the CMA800 which I almost received from Questyle but waited a few months and ended up with the R edition which stands for reference edition. The key differences physically are the additions of a balanced output mode with a stereo/mono switch on the "r" edition front panel and in the back panel a pre-amp dual RCA output and a fully balanced single 3 pin xlr input alongside the original left/right balanced and single ended inputs.
Monoblocking
In all respects this would certainly qualify as an upgrade on the original CMA800 though as a headphone user, and not a decidely rich one at that, I was perplexed by the single 3-pn XLR input and output instead of the normal 4-pin XLR the likes of which I can find on my EF6 and Schiit Mjolnir. Why mono output for a headphone amp? OK so mono block? So I have to buy two at $3000 for the pair to get fully balanced output to one set of headphones? I am just not convinced that is what headphone users want for balanced mode. That is not to say there are those who will not want to try it or that there are no benefits in using it in monoblock mode. But naturally, only having one amp for review, I cannot tell you if having 2 of them in a monolock configuration would blow away one of the them in a single unbalanced mode. It is an interesting idea but for the more frugal among us I would have liked to have seen it with a 4-pin balanced option in the same shell either beside the 3 pin XLR or in a unit on its own simply to allow the masses to have a crack at it without having to buy 2 units.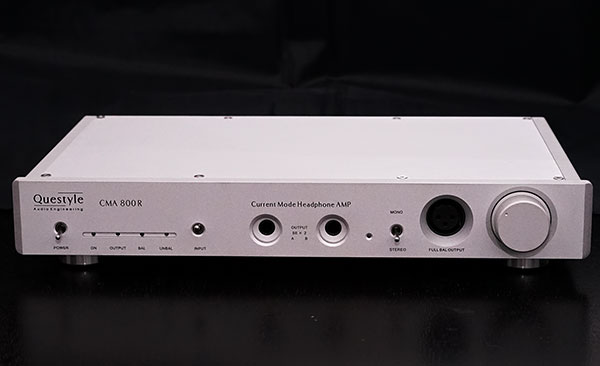 Setting it up
The other slight issue I had was working the unit with a single balanced headphone using balanced input. The switch on the front panel to the right controls the monoblock function primarily and the switch to the far left of the unit (the one before the power switch) determines if the unit runs in balanced or unbalanced mode. After a bit of trial and error and some chats with Questyle I managed to get it working with the left switch in balanced mode (blue led light on) and the right switch on in stereo mode. Opting for mono mode goes to the monoblock function, useful if you have another unit naturally and the unbalanced option on the left switch will only work with an unbalanced input RCA connection on the rear. Now that sounds pretty easy upon reading it and yes I did feel a bit daft after working it out but the manual didn't quite have the lingual fluidity to make that apparent in the initial setup.
Pre-amping
The pre-amp output is pretty straight forward though and it worked a charm on my Kingsound MS-10 electrostatic amp which had been suffering with a dirty potentiometer of late introducing unacceptable levels of 'sratch' during volume playback. Moving to the CMA800r as a pre-amp was far more accurate and steady and allowed for a small amount of micro control I didn't have on the Kingsound setup alone.
Dual quarter jack outputs
The other standout feature, and one I have with a Violectric HPA-V100 are the two single ended jack outputs to allow two cans to be run from the unit at the same time. Though not essential it's always a welcome feature especially for comparison purposes. Sadly there is no mono left and right function for balanced ouput just dual stereo so if you want to go balanced you really do need to go dual monoblock 3 pin xlr.
Click on next page for sound impressions…