UI
Being $55 do not expect an apps library and smooth flowing gestures. Something has to give and the OS is one of those areas that has been slimmed right down to the bare essentials of a modern OS. On the other hand, Clip OS, it is not. It is much more than a set of single lines of data on a black screen. Presentation wise it does have those rather quaint Chinese English font which to me looks like an anaemic Times New Roman or something similar with a sans serif coating. I am well used to it and to be honest its reasonably easy to read but it just doesn't have a high aesthetics feel about it compared to a Nano or the X series.
Controls
The menu system is entirely physical button operated and as such the playback buttons on the M3 double time on menu options. The far left button with the horizontal 4 lines allows you to quickly flick between the play screen and the home page/central menu options page. From there you can navigate to your desired menu option through the central up and down arrow buttons which also act as the volume controls during playback. Once highlighted vertically you can select the option with the far right top button which also acts as the play/pause button during playback.
During playback a long press of the top left home button will give you access to a secondary menu page which includes play mode, system settings, delete track, track information, the equalizer with some presets, playlist generator and playback repeat, loop or continuous (note no gapless support unless using cue files). Now for me some of these would have been better off in the home page such as system settings rather than the media library. If you want to start setting up your player these options are buried a bit too deeply into the system itself and are not immediately obvious or user friendly. You will learn it quickly though since after all there are only really 4-5 menu screens in this OS.
Menu systems
There are two core menus but for me they are back to front. The main system settings, equalizer and playlist maker are tried to the playback screen with a long home button press. The short home button press takes you to the media library selector. It could be a question of personal preference here because for some the media library will be the starting point for those who have no interest in fiddling with system settings but for me I want to start my DAP daily with a tweak on the entire setup, update my library, change the sleep timer and maybe pick a preset equalizer before I choose my song.
It could be construed as six of one, half a dozen of the other but it is my personal preference. Those coming from the X series will be familiar with the main system and playback settings such as left right balance, memory volume, preferred display, brightness and the timer options. You can also update the firmware from this menu.
At the time of writing FM1.05 just came out and sadly I didn't have time to go back and rewrite another review for the new firmware (who does?) but in essence some of the concerns I had do seem to have been remedied:
1. Added option to go to Settings by holding menu button while not at the Now Playing screen (Yes please!)
2. Added On/Off reminder for Fade in/Fade out.
3. Fixed issue where the player would display format error by certain operations.
4. Fixed issue where the genre tag of some APE files was read incorrectly (thank you)
5. Fixed issue where the battery gauge couldn't move when charging under certain interfaces.
Forward But Not Always backwards
The process for accessing song choices and moving back and forth is not terribly logical nor does it really follow any 3-click drill down. For the more advanced version of this OS in the X series you can drill down to a song choice and move back out on the same path or go straight to the home menu and back into another menu option within a few clicks or cycles of the jog wheel. The M3 UI can take you deep into the folder or media library quite quickly, however, you cannot reverse back out on the same path once you start playing the track. All you can do is click home again and start moving around the folders again. I hope in time the firmware of the M3 can develop to allow you to go back to your folder or song list choice rather than start again.
The good news is navigation through the main menu itself is more linear and allows you to drill down and back out the same path via the home button so if it can be achieved in that way then I think it can be done eventually in the media library once you hit the playback screen.
Boot Times
The benefits of a slimmed down OS is a fast boot time and the M3 is pretty fast compared to its older siblings with an approximate power on to home screen boot time of 4 seconds. It does boot into the play screen though so you will have to manually navigate back to the main menu if you want to fiddle with any options. Power down time is around 2 seconds. Both power on and power off is activated by a single long press of the physical power button on the left panel. A short press will turn off the LED screen only.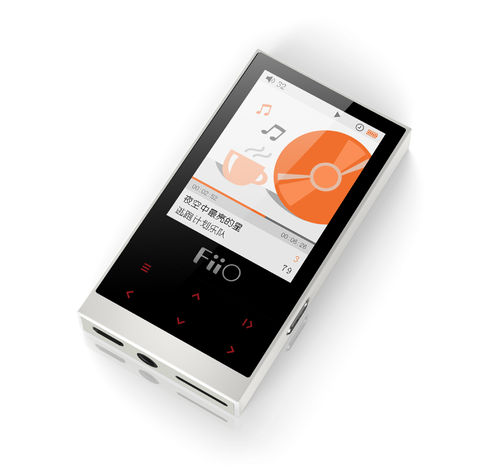 Playback
The media library itself is reasonably accurate though one of my album titles didn't get grabbed and ended up being an orphan album of sorts. Artists names and the general list of sing titles came out accurately in the library. What I am delighted to see though is FiiO adopting a more structured drill down from artist to album to song which I much prefer to the older flatter big lists they did in the Gen 1 X series. How many times have I had multiple albums under one artist only to find the album breakdown not there, well in the M3 that album breakdown is there.
Sadly no genre category on the M3 that I can see off on the current firmware 1.03. so that might be an issue for some people who do not playlists. You can also access tracks via the folder explore option on the main menu and that my normal route given how OCD I am about file naming but note the internal and external memories are not integrated so in effect you are moving around two different areas for track selection.
Page 3: Sound Impressions