Cracking name, Larry Miller would be proud, "Yeah but I don't know anyone called Ruby" – yeah you do now and it is the size of a postage stamp with a knob on the end of it. Few amps come in this size, perhaps the FiiO E6 or the Creative E1 and the in-line tiny amp/DAC modules from the likes of AudioQuest and their Jitterbug line but this is all analog, all cube and just the cutest thing you laid your eyes on in the audio world today. It is not a toy, its fully functional and sells for just $99 from Stoner Acoustics who are based in Malaysia.
If memory serves me right the Ruby has been on the market for six months but it is only now yours truly managed to get my hands on one. Their new website does not seem to be pushing it sadly so here is hoping you can still get one because I think it's actually a good value little amp and a nice alternative to similar digital amps in the same bracket. If you hang around E1 in Singapore Or Kuala Lumpur then chances are you might be still able to get one as they are the official sellers as of now of all things Stoner Acoustics. This product line is 100% boutique.
What Is It?
The Ruby is a portable amp measuring around 5cm from end to tip of the volume pot and 3cm wide and tall. It is battery powered so you can class this one as portable depending on how you want to use the DAC function either with a laptop or desktop. It most certainly is pocketable and then some given the size. It is also an analog design packing a SABRE9601 headphone amplifier delivers up to of 122 dB DNR and -117 dB THD+N which should make it very suitable for IEM users out there. By picking this rather new amp chip, Stoner Acoustics have managed to bypass large capacitor designs, lower the power supply to lengthen the battery time to a very nice 12 hours as well as in theory produce a noise free experience all in that miniature cube.
Build
It's solid, black, its a cube form factor and I dare say pretty hard to do some damage to it. It feels very robust. That being said the gain pot is about one third of the overall length and as such you could classify it as a bit big given the main body size where the amp is housed. Thankfully its reasonably weighted so it neither tips or angles when a USB charging cable is inserted at the back or when you fiddle with the pot. It feels comfortable balanced despite its 50g weight on paper.
It's got an industrial or traditional build design with screws on the back and front and the name 'Ruby' and 'Amplifier' plastered on the top in case you don't who she is and what she does. Designed and assembled in Malaysia is proudly printed on Ruby's ass.
Front
On the front, apart from the huge gain pot, you also have 2 jack sockets for line in and headphone out. The output impedance is 2.3 ohms which is not too bad actually for a wide range of headphones but it lags behind more expensive portable amps such as the new RX from ALO Audio which is rated at 0.5 ohms and highly sensitive to boot. Even the cheaper amps such as the FiiO E06k is rated at 0.3 ohms and the E11K, also from FiiO is rated at less than 0.3 ohms also. It will be interesting to see how it performs with IEMs overall though the high DNR and THD+N rating should help. As such you cannot term this primarily as an IEM amp though I think given the size a lot of IEM users would want to give it a shot.
The pot is a stepped attenuated gain control with 21 steps and with decent physical resistance also. 21 steps is more than enough control given that the Ruby doesn't have huge dollops of power so I would considerate that suitably accurate for subtle volume changes. It is also one of the better ones for balance control with very little left or right emphasis at very low volume levels which is usually a challenge for analog designs, particularly with IEMs.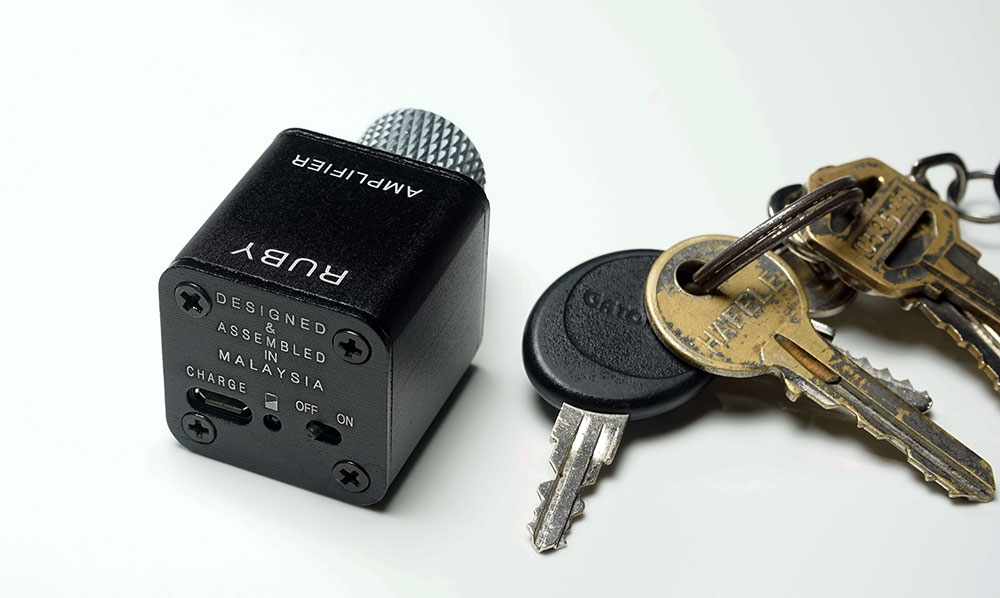 Back
The back keeps things simple with a micro USB charging port (not to be confused with any DAC functionality which it does not have) on the far left and in the middle you have a charging light which comes on during charging and turns off when charge is complete. To the far right you have the on/off switch though I was hoping the LED light would come on when turned on but it seems not to in this case. The switch is low profile and stiff enough to prevent accidentally turning it on and off when out and about.
Stacking Problems
Despite the miniature size stacking of the Ruby will provide a Tetris like challenge. Spatially it is a cube and as such lacks the slim dimensions of say an Oppo HA-2 or a FiiO E12 to stack smoothly with a DAP or phone. Straps will not work that well either given the small surface dimensions of the top and bottom. The volume knob is also rather large and tight against the input and output jacks meaning slim profile jacks are mandatory to fit and even then they nestle in tight against the pot making everything a touch too cramped. Most of the time I had it beside the X7 for instance rather than under or on top. I suggest grabbing a little bit of Velcro and sticking it under your DAP of choice and on top of the Ruby and place her right where you want it for cable connecting for the best solution.
The Package
Small amp, small package and nothing spectacular but what comes with it is good enough for $99 with a small hard case, USB cable and 3.5mm analog IC. Technically you could probably fit the Ruby in an IEM case of choice and still have room for the IEM and some tips and the IC. The case itself is reminiscent of a decent IEM case anyhow so it doesn't take a leap of imagination on how to get your 'on the go kit' packed up and ready to go. The USB cable supplies a standard 5v USB charge to the Ruby and it charges relatively quickly to max within 2-3 hours and that gives you a 12 hour playback time max. Tests had that relatively close in real world usage.
Page 2: Sound Impressions