It never rains it only pours. The Pendulumic Stance S1+ is the first proper aptX BT headphone I reviewed recently. I thought it was a pretty decent rig for the price just lacking in a little bass which I found unusual for a BT type sound since I normally equate them to shelved down trebles, overcooked bass and not much else in between. Now along comes another one and this time from budget stalwarts, Brainwavz, with their tastily priced BLU-100 IEM at $45.
Clearly targeting the first time upgrader these 'wireless' earphones are designed for gym users, people on the go and the vast mobile phone market where the majority of BT connecting devices are. Yes, a few people will grab this for connecting to their PC, but it's the cell phone guy that is going to think about grabbing these most. I have a cell phone, I don't go to the gym, I most certainly will not BT this to my PC and I move around about twice a day with any vigorous intent. I may not be the target market but I can give it a go.
What You Get
The BLU-100 comes in quite an unassuming carton packaging no bigger than the BLU-100 pill case itself. Kudos for thinking of shipping charges but not something you're going to dwell on with much admiration. It pretty much tells you what you are getting with a pic of the IEM's and the fact it is sporting BT4 technology. Inside you get a semi hard zip pill case in red and black with the Brainwavz logo on the lower right on a metal plate. It's neat and tidy actually and feels of decent quality and looks like it will do the job of protecting your earphones.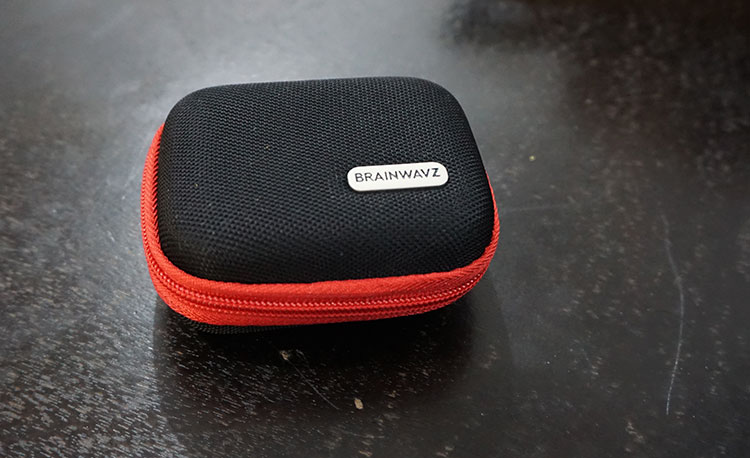 Inside the red and black theme continues with a mesh pouch on either side holding the accessories and the BLU-100 itself. Given that the BLU-100 lacks a long traditional cable and 3.5mm jack everything fits rather well into the case.
The accessories are also rather good for the price also. You get 3 sets of silicone tips (s/m/l), a pair of ear hooks (helpful if you are the exercising type), and a set of S-400 Comply foam tips. The Comply tips alone are worth about $5-10 depending on where you shop. The last accessory is a micro USB to USB A cable which is required to actually charge the BLU-100 on account of a tiny little amp inside the IEM itself and of course all that BT functionality needs power also. All in all good value for the price, especially the USB cable and Comply Foam tips.
Build Quality & Fit
The Cable and Controls
The BLU-100 itself, being a BT unit, comes fitted with a loop short cable that stretches from earpiece to earpiece and missing the usual 3.5mm jack found on passive regular IEMs. On the right hand side about 2-3 inches down is the small in-line power unit with 3 multi-function buttons and a few LED lights positioned around the unit to indicate when power is on and when you are in pairing mode.
The cable itself is flat, prone to a bit of memory retention but free of microphonics and when worn it sits nicely out of the way of most body movements so it's quite freeing in that respect. It's one of the major advantages of any wireless headphone over traditional wired units. Strain relief on the connections with the driver units look decent enough with the rubber actually wrapping around each driver casing.
The Housing
The driver unit housings are actually pretty big compared to a regular universal IEM, there is no getting away from the fact they are not discreet. However beyond a single dynamic 8mm driver the casing is also packing a 60mAh battery so some of that spare space is already accounted for and charging itself is done through a rubber cap on the right hand driver with a micro USB slot underneath. I cannot tell you if the rubber flap is built to last, it seems reasonably durable, you simply peel back like the FiiO X5 Gen 1 microSD flaps and insert the USB cable in and then into your PC/battery bank etc to charge.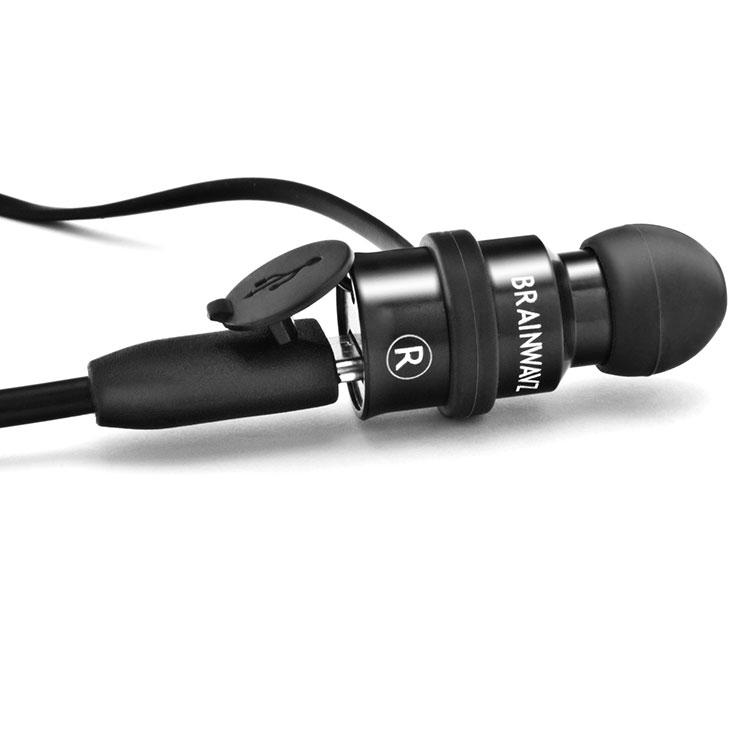 Fit
For an IEM with such a large housing the fit was actually pretty firm and isolation was excellent with the silicone stock tips. I was one of the few who had no problems with the TF10 fit so your own personal experience might vary. They can be worn over or straight down also. Personally they felt a bit more comfortable straight down as the cable crept up under my chin yet they felt more secure over the ear. Take your pick, but either way the fit is solid.
Functionality
This is where the BLU-100 forges ahead of regular budget IEM's in terms of what it can do. True enough there are plenty of inline remote and mic earphones but mostly wired and very few BT aptX at this price range. The manual guide provides you with plenty of features you can play away with such as:
Multipoint connecting
Volume control
Track selection and play
Voice dialling and answering
Rejecting phone calls
Last number redialling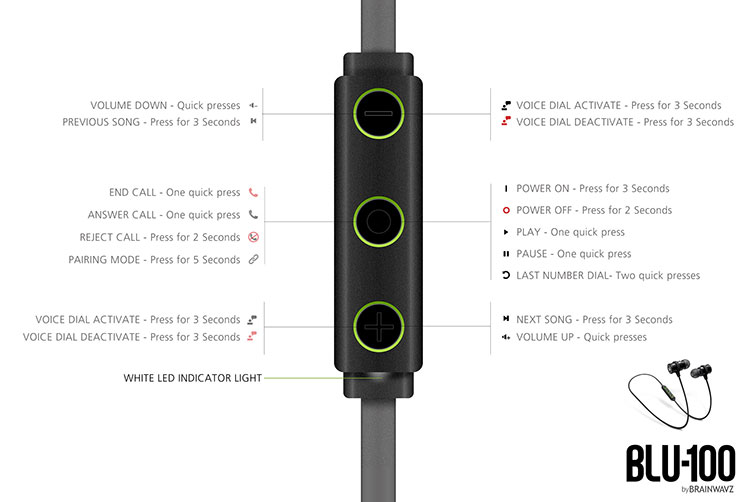 Pairing
Pairing with a BT device was pretty simple with my BB Passport and Sony Z Ultra. Simply press and hold the middle button for 3 seconds to power up or press and hold 5 seconds to power up into pairing mode. A tiny LED light at the top of the inline starts blinking and you should see it on your phone. Pairing is code free so just confirm to get them matched up. During this time you get a generic female voice state "power on" and "connecting" to validate the link.
Distance
BT is getting so much better and better with regards to connectivity but when I read around a lot of people were mentioning this thing clapped out from quite a short distance. Thankfully mine didn't suffer that issue at all in fact I got within one meter of the same distance I got with the Stance S1+ headphone. Now that's with the same smartphone, the BB Passport and through two hollow walls I got around 5-6 meters and in line of sight almost 8 meters before it started breaking up. Those who broke earlier I can say I had that experience with my AK120 and sometimes it's really to do with the BT module inside your source rather than the BT can or IEM.
Battery/Charging
One thing I did note during charging is that the inline remote and right driver got kind of warm to almost hot which was surprising. It does cool down quickly after disconnecting though and the BLU-100 does not display any residual heat during play back. Charging time is a handy 1-2 hours and playback time is a stated 4 hours but mine topped out around 3.5 hours max depending on usage it may be possible to get 4 hours. Standby time is a healthy 100 hours.
Page 2: Sound Impressions