Pricing the HA-2 at $299 was the right pitch for Oppo. It gives them a bit of wiggle room and fiscal future proofing in a very rapid and changing digital market. Had this been released this time last year they could have charged double and people would have gobbled it up such was the scarcity of DSD capable convergence devices in the market. The market is evolving very rapidly indeed and even FiiO X3 Gen 2 DAP's are claiming DSD native playback these days so it is not such as premium as it was even a few months ago. The net result is that, much like Blu-ray players and mobile phones with certain features, the market price is dropping and the competition is getting a lot stronger. I do believe the Companion One from Celsus has a slightly superior more natural sounding output and a few more features to boot such as wireless but you get that at $599 which for many is a premium or hard-core price. $299 puts the HA-2 within reaching distance for a far higher percentage of potential buyers.
An added benefit is the form factor will greatly appeal to Apple and Android users who will want to take advantage of the OTG and direct lightning connectivity not to mention the power bank option which I guess is a bit of "keeping up with the Jones" there days but still a relative useful feature if in a pinch. Placing a modern day smartphone on top of the HA-2 feels very normal and logical. It will also make considerable inroads to those who might have chosen other audiophile convergence devices like the FiiO E18 and the Creative E5 which can't hold a candle to the HA-2 in terms of audio quality all-round attractiveness physically.
Oppo should really get this into Apple and high end lifestyle stores if possible. The HA-2 would look very much at home there and present a rather respectable level of audiophile credibility in stores where design often edges out everything else.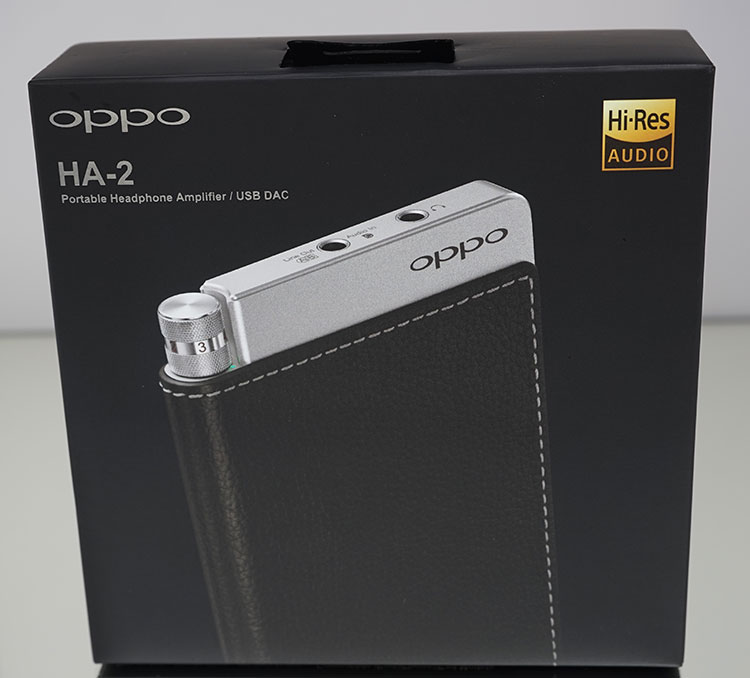 Price: $299
Links: https://www.oppodigital.com/headphone-amplifier-ha-2/headphone-amplifier-HA-2-Overview.aspx
Technical Specifications
General
Dimensions (W x H x D)
2.7 x 6.2 x 0.5 inches, 68 x 157 x 12 mm
Weight
6.2 oz, 175 grams
Frequency Response
20 Hz – 200 kHz
Audio-in Level
1 Vrms
Line-out Level
1 Vrms
Recommended Headphone Impedance
16 Ohm – 300 Ohm
Maximum Headphone Output Power
300 mW into 16 Ohm
220 mW into 32 Ohm
30 mW into 300 Ohm
Output Jacks
3.5 mm stereo headphone
3.5 mm stereo line-out
Input Ports
Analog: 3.5 mm stereo audio-in
Digital: USB A for iPod / iPhone / iPad; USB micro-B for smartphones with USB OTG feature and computers.
DAC Chip
ESS Sabre32 Reference ES9018-K2M
Input Format
Stereo PCM, Stereo DSD (DoP v1.1 or native)
PCM Sampling Frequencies
44.1 kHz – 384 kHz, 16 / 24 / 32-bit
DSD Sampling Frequencies
2.8224 MHz (DSD64), 5.6448 MHz (DSD128), 11.2896 MHz (DSD256, native mode only)
Profile
USB 2.0, USB Audio 2.0
Included Accessories
Power Supply Unit (Rapid Charging Charger)
USB A – USB micro-B data and rapid charging cable
USB A – Lightning data cable (for Apple devices)
USB micro-B to micro-B data cable (for Android and other smartphones)
3.5 mm – 3.5 mm stereo audio cable
Silicone rubber band (2 pieces)
User guide and warranty documents
Battery
Built-in Battery type
3000 mAh lithium polymer rechargeable battery
Battery Operation Time
Approx. 13 hours for analog source via Audio-in; approx. 7 hours for digital sources via USB
Charging Time
Approx. 1 hour 30 minutes