Final Audio Design are no strangers to the audio scene and have consistently launched beautiful yet sonically pleasurable audio gear time and time again. Key to their success is the employment of innovative engineering which has seen the company launch products with a natural yet vivid sound signature. An example of just this is the Heaven VIII, one of the latest in the Final Audio line of IEMs, and certainly a highly anticipated addition to the Heaven series.
The Heaven VIII is the result of 'Metal Injection Molding', a manufacturing method where fine powder is mixed with a binder material and a resin and consequently heated to extremely high temperatures. The nature of this form of construction enable the housings to be created with high levels of precision and hence sound acoustics can be optimised which Final Audio claim is not possible through standard machining. Utilising a single balanced armature driver with special 'Balancing Air Movement' technology, Final Audio boast enhanced bass levels and stereo imaging which would again be hard to achieve conventionally.
Some may question the use of a single BA driver at the price of £499, but Final Audio Design have not failed to implement the rightful technologies and produce a technically proficient sound capable of competing with earphones of 3 times as many drivers. So without further ado, let the review commence.
What you get: the box
The Heaven VIII come in a faux glossy reptile-skin box which includes a furry type platform in which the IEMs rest. Compact and beautifully designed, the packaging pays homage to the brand of Final Audio and its current line-up.
What you get: the accessories
Final Audio have kept it short and sweet by offering only necessary pieces of accessories to accompany the Heaven VIII. Included are 5 different sizes of silicone eartips and a deluxe metal storage case. As well as this, Final Audio Design have provided a warranty card and an instruction manual.
Build/quality
From the gold stainless steel casing to the elegant mosaic backing, the Heaven VIII are stunning in design. They offer a rich brown flat cable which reduce microphonic noise distortions as well as eliminating any tangling to be expected from standard cables. Put next to other IEMs, the VIII stands out and exudes a level of quality which transcends many of its competitors.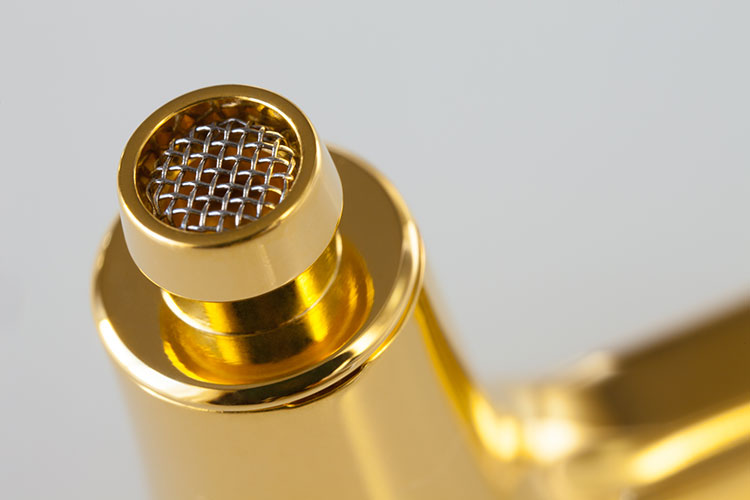 Fit
The looks of the Heaven VIII are certainly deceiving in the sense that the level of insertion into the auditory canal is not as deep as one might expect. This is due to the side traction of the stock eartips which prevent the housing from progressing any further and consequently create a vacuum-like seal. This was something which felt different from the start of using the Heaven VIII but progressively got more and more comfortable to use. Of course, if the stock tips do not satisfy your tastes there are still a wide plethora of aftermarket tips available to suit any audiophile's needs and desires. One area which Final Audio Design could strive to improve upon is the weight of each earpiece which weighs a relatively heavy 29g. By using lighter construction materials, a lighter version could be more practical and comfortable for longer listening sessions.
Page 2: Sound Impressions