Final Thoughts
The FiiO X1, the hi-res DAP for $99. Except that it is not the only hi-res DAP under $100 out there and costs more than $99 once you add a microSD card which is mandatory since it has no onboard memory. I liked the FiiO X1 but not as much as the X3 and a long way off from the X5. No surprise there and chances are most of the reviews you will read will say the same. Compared to the Nano, the Clip, the Fuze or the HM-700 to name but a few and there are some pros and cons you need to consider before jumping in and spending your ton with the X1. This after all is the real competition to the X1.
If you want total portability and long battery life there are other better options. The X1 is perhaps the largest $100 class DAP with the Sansa, Hifiman HM-700 and Apple's IPod Nano all significantly smaller. Most, if not all the competitors have onboard memory, meaning adding at least 16Gb is going to set you back around another $20 making the X1 the most expensive of the budget DAP's on offer. The FiiO UI, though much better than the X3 and some might argue even the X5, still doesn't have the speed of the Clip or the gloss of the Nano's UI. The Clip certainly lacks the real estate of the screen of the X1 but it does most things quickly and has plenty of options also if you Rockbox it. Even the old touch Zune HD UI is much more visually impressive and engaging than the X1.
However if you want the best overall sound quality in the $100 class the X1 is your best choice for now. If you can bear with the lack of features listed above and go with just sound quality as your main consideration then the X1 is the most musical, most hi-res friendly and most powerful of the bunch just mentioned. FiiO said it is for the 'young' and not for audiophiles. I say it is for anyone who wants the best sounding DAP in the $100 category. I know plenty of people who I would not consider to be young, just fiscally challenged, who might trade in their Clip for this or buy it as a second DAP when they do not want to risk their X5 on their daily commute. Just don't skimp on the cash thinking you are going to get something close or better than the X3 or 99% of the X5 on sound and detail.
Technical Specifications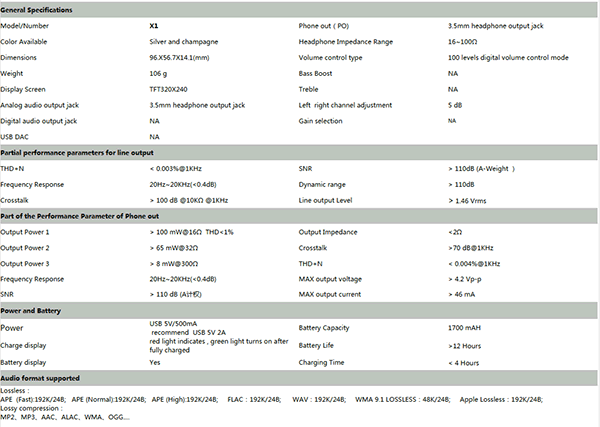 General Specifications
Phone out(PO)
3.5mm headphone output jack
Headphone Impedance Range 16~100Ω
Volume control type 100 levels digital volume control mode
Color Available Silver and champagne
Dimensions 96.X56.7X14.1(mm)
Weight 106 g
Display Screen TFT320X240
Analog audio output jack 3.5mm headphone output jack
Left right channel adjustment 5 dB
Bass Boost NA Treble NA
Digital audio output jack NA Gain selection NA
USB DAC NA
Partial performance parameters for line output
THD+N < 0.003%@1KHz
SNR > 110dB (A-Weight )
Frequency Response 20Hz~20KHz(<0.4dB)
Dynamic range > 110dB
Crosstalk > 100 dB @10KΩ @1KHz
Line output Level > 1.46 Vrms
Part of the Performance Parameter of Phone out
Output Power 1 > 100 [email protected]Ω THD<1% Output Impedance <2Ω
Output Power 2 > 65 [email protected]Ω Crosstalk >70 [email protected]
Output Power 3 > 8 [email protected]Ω THD+N < 0.004%@1KHz
Frequency Response 20Hz~20KHz(<0.4dB) MAX output voltage > 4.2 Vp-p
SNR > 110 dB (A计权) MAX output current > 46 mA
Power and Battery
Power USB 5V/500mA recommend USB 5V 2A
Battery Capacity 1700 mAH
Charge display red light indicates , green light turns on after fully charged
Battery Life >12 Hours
Battery display Yes
Charging Time < 4 Hours
Price: $99
Links: The FiiO X1 Home Page