I really need to go to Oregon someday. A lot of my favorite audio gear is sold there by one vendor or another. There are amps from ALO Audio, decoders and even more amps from Cypher Labs and now customs from 1964EARS. I can vision an audiophile Oregon right now in my mind; no talking just amping and cans and customs. It literally could be the quietest loud state in the US with charging USB ports instead of fire hydrants. It is a musical bliss that only my mind is capable off and darn sometimes I wish it was true if only for a few minutes.
Getting back to a no less exciting reality with the launch of 1964EARS' top of the line V8 customer IEM and we were lucky to go right through the entire experience with the kind support of our local dealers, Polaris Audio Design, in Makati and Caesar's Palace in Hong Kong. Like the Heir Audio 8.0 we just reviewed last week, the 1964EARS is packing no less than 8 balanced armature drivers in each earpiece coupled to a three-way crossover and all packed in a custom shell of your choice and tagged with a 2 year warranty.
The V8 is technically their flagship however the purchasing choice is not strictly linear as in V2, V3, V6 then V8. If you fancy the V6 or the V6 Stage and you buy the V8 thinking it is more of the same but at a higher level then you will very much mistaken. The V8 was made for a purpose and that was a top end custom for the audiophile bass heads. The closest in their range to the V8 would probably be the Qi edition which sells for $549 but it only packs 4 drivers, or half of the V8. The Vanilla edition V8 (no extras or customization) also sells right now for just $899. In comparison to similar custom setups that is incredibly competitive also. Heir Audio's universal 8.0 (8 driver) starts at a healthy $1099 for example and further up Unique Melody's 10 driver Mentor kicks in at $1499 right up to Vision Ears and their eye watering $2300 6 driver VE6 X Control custom IEM. The closest to the V8 in terms of target market and tuning might be considered the Merlin from UM at $879, but even then this is a hybrid dynamic and 4 BA so quite a different setup. Even the ever popular JH Audio's JH16, which also packs 8 drivers, starts at $1149. You get where I am going? Yup, the V8 from 1964EARS is probably the best value custom on the market right now.
The funky 1964EARS website
I have to give special mention to 1964EARS' website which does the majority of the business for them in terms of marketing and ordering. This is one clever site, probably the best I have seen yet in terms of features, eye catching UI and customer focus. The designer section is pure genius. Even if I wasn't immediately buying I was playing with the CIEM model designing variation after variation just to see what they might look like. If you are like me and can never decide what design looks right for you then features like this can really open you mind up to possibilities just through trial and error. I remember going for my first custom a few years back with Unique Melody and having to ask the UM staff to show me galleries for inspiration. Now I found one and still love it but the fact that its already out there and I copied it means it is not totally unique.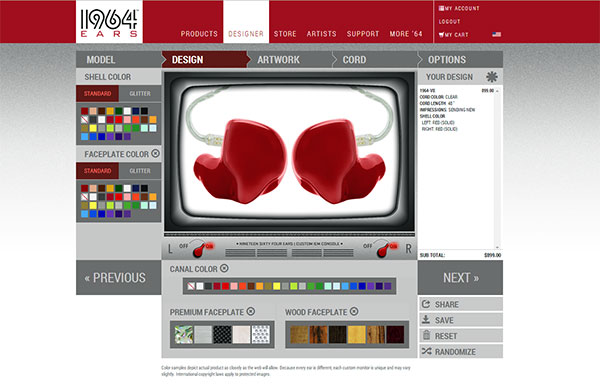 Another great feature of the designer section is that every option automatically calculates your final price so you can chop and change to fit your budget before you go to order. I think this is quite an important aspect of custom ordering, watching that price because you can 'nickel and dime' your budget to death with all the limitless options and rush processing if you are not careful. By clicking on most of the expensive options I was able to move from the standard $899 to a much more alarming $1354.00. Options like premium plates, longer cables, glitter, logos or custom artwork all have micro fees and if you want to push your ticket number up the line and get them faster than anyone else than yes that's a small fee also. It is a very transparent process though and the choice always remains 100% with you which is a huge positive. Other sites such as UM document the options also but from a drop down list and don't actually let you really see your final product in the same compelling manner as the V8 designer section.
Beyond your order you also get a nice customer account section that shows how your order is progressing and what the current status is which I find really assuring given my utter impatience on things like this. Current turnaround time is listed at 4 weeks which is down about 1-2 weeks when I placed my order earlier in the year due to the initial buzz and heavy duty order processing when the V8 was initially launched.
Click here for the ear impression process and final product…