Hifiman HE-560: Capability Incarnate
If you have experience in the HiFi headphone world, you should know that Hifiman's original HE-500 Planar headphone is considered one of the most well rounded headphones ever designed. Rightly so, it was truly a remarkable deal in terms of price to performance.
I do not believe the HE-560 is a natural upgrade from the original sound signature of the HE-560, however I do consider it technically and sonically superior. I'm not wild about the tone of this headphone, but I do regard it as very good. Typically, Planar headphones are uncomfortable and I'd originally loved Hifiman's simple Grado-esque style headband…so why fix what isn't broken? The HE-560 sports a radical headband redesign that I absolutely hate with the fury of 10,000 nuclear blasts. The headband and comfort qualities are a significant downgrade to me. Purely subjective, but I found these headphones to offer the most painful clamping pressure of all headphones in this report.
With regard to sonic qualities, the HE-560 is a dry and neutral beast with plentiful bass, exceptional midrange clarity and what I feel to be overly reserved treble by comparison to the gut wrenchingly beautiful treble the Hifiman HE-500 and HE-6 offer. There simply isn't much going on up top and I find it incredibly annoying and out of place. Now, that doesn't speak to the clarity the treble offers…which is fairly good. It just means the defining factor of what I considered Hifiman's best feature in the past models was completely removed and replaced with a more natural and emotionless treble. In terms of sheer quantity, there simply isn't enough of it to do the Hifiman name justice and it conflicts with how much has been offered in previous models.
I find the bass and vocal experience, as well as overall stereo imaging to be nicely improved over the past renditions of the HE-series headphones. The HE-560 certainly sounds superior with dynamics and separation, qualities not at all well regarded in the Hifiman headphones. The low end seems very smooth and plentiful, very focused and extremely well controlled with a more natural and colorless appeal to tonality and coloration. The upper midrange pushes a gentle metallic and bright sheen to it that I find vividly engaging and well suited…shockingly…for genres like fusion guitar and metal. When it comes down to it, I found the overall sound signature offered through the HE-560 to be the most well suited to enjoy fast paced guitar riffs and tracks void of vocals in general. The more forward sound signature in some other more clear headphones like the Oppo PM-1 are simply too intimate and too forward for me to consider useful and musical with these genres. The HE-560 is somewhat similar to the T1 with regard to how relaxed and distant the presentation is portrayed. I cannot quite put my finger on why, as I have spent weeks trying to figure this out with no success, but the sum of the HE-560 equates to a sound signature that I personally feel to masterfully exploit rock, metal and fusion guitar genres. No complaints here, when was the last time you heard of an expensive headphone masterfully handling metal guitar?
It upsets me greatly that Hifiman didn't provide a natural progression from the HE-500 into the HE-560, it is more of a side step with noticeable improvements of course but the HE-500 still retains a generally superior sound signature to me, despite not being as spacious or clear as the HE-560. With that in mind, I would still recommend the HE-560 depending on their preferences, the headphone offers a natural tone that is absent in the HE-500's more metallic and cold tone that I found to be tonally stunning. The HE-560 is no doubt a fantastic purchase at the $700 or so price tier, however it is not quite worthy of inclusion in the Summit level headphone tier. In terms of price to performance, the HE-560 is an even better deal than the original HE-500 so there is no question this headphone is my pick for the best all around headphone in Hifiman's lineup.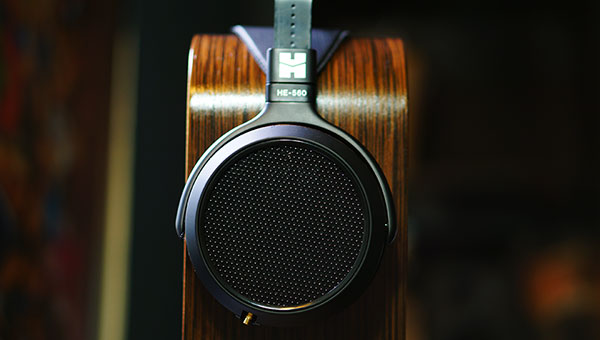 The Most Interesting Comparisons
HE-560 Vs Beyerdynamic T1
These headphones sound very similar to each other and share a similar shape to their sound staging and imaging properties. Both have a dry and natural tone, however the T1 exudes more sheen and treble quantity with noticeably more sibilance potential. Bass response in the HE-560 is noticeably smoother and capable of more control, however the T1 offers less kick and slam, less impact and driving force with regard to the low end. Both headphones share similar placement of the entire spectrum, something a bit more distance and not at all intimate, however still not lacking or with an overly distant feel to where everything appears out of the sonic curtain. I consider these headphones blood brothers and absolute equals.
HE-560 Vs Oppo PM-1
I've found the PM-1 to offer a more clean sound signature in the treble and the midrange, but only just. I don't think the HE-560 is that far behind and considering the HE-560 is priced at hundreds of dollars cheaper, it is very obvious which headphone is the better deal all around. The PM-1 bass quality lacks cleanliness that can compete with the smoother and softer low end of the HE-560, switching up between the two instantly showcases the HE-560's superiority in clarity and purity on the low end. However, the PM-1 is significantly more comfortable, more efficient and much more well rounded. No doubt that the PM-1 chalks up superior definition in the mid range and treble response, both of which are qualities that sound muted and a overly reserved on the HE-560. I'd never thought I'd get to say a Hifiman bested another headphone in sound staging qualities, but there is no question the HE-560 is the technically superior headphone with regard to all stereo imaging properties, the PM-1 sounds closed in, claustrophobic and severely lacking width.
HE-560 Vs Alpha Dog
This is where things got really interesting for me, I've found the Alpha Dog to house a much more pure midrange and treble response when their vents are fully closed. With vents open, the Alpha Dog plucks away the rich solidity they offer when their vents are closed, becoming a much more thin, all be it more spacious sounding headphone. The Alpha Dog swept away all the texture awards, leaving the HE-560 in the dust with regard to coloration and tone of every area of the frequency response. The Alpha Dog is also noticeably more spacious and airy, more effortless and more well defined, offering a more musical and fun tone with gentle coloration to most areas of the presentation, which is something the HE-560 greatly lacks with his more natural and neutral sound signature.
Rig Recommendations: This was the hardest headphone in this report to recommend a proper rig for. Due to the reserved treble and smooth bass, I've failed at finding an amplifier that was able to accentuate the sound qualities of this headphone correctly. I've found that my Oppo HA-1 seemed the most well suited for the task, but lacked a mirrored smoothness on the low end to do this headphone justice. Seek an amplifier known for buttery smooth bass response and a neutral sound signature to help bring out the natural sound signature of the HE-560. Avoid U-shaped sound signatures in your amp or source at all costs.
My Story
Burn In
AKG K812
Audeze LCD3
Audeze LCDXC
Beyerdynamic T1
Fostex TH600/900
Hifiman HE-560
Hifiman HE6
Jhaudio JH16 Pro
Mrspeakers Alpha Dog
Oppo PM1
Sennheiser HD800
Stax 007
Conclusion
Click here for the Hifiman HE-6…