Lawton Fostex TH900 – The Natural
Originally Fostex had created and designed Denon's D2000, 5000 and 7000 signature model closed back headphone for Denon. Recently, Fostex decided to bank on their own design and kick Denon to the curb, revamping the Denon D-series design into a their own branded headphones that offer some nice upgraded sound quality: The Fostex TH600 and TH900.
With a heavy sigh, I was unable to solicit a stock Fostex TH900, although I have owned it in the past…I resold to afford a nicer amplifier at the time. I recall the stock TH900 sounding more recessed and painful with treble, one of the reasons why I had no quarrels about reselling it. However, Lawton has done a beautiful job with their modifications. The allure of owning an LA-D7000 is far too intense for most of us to begin to handle, as Mark Lawton pioneered the modded Denon headphones with Dynamat and custom wooden chambers. The result is very nice on the Fostex TH900.
Bass on this headphone reaches very deep and feels like a blend of power typical of Planars, combined with extremely natural and voided texture. If you enjoy neutral bass, this should be on your list to experience. Weighted, clean and as fast as lightning the TH900 low end really can dish out some excellent quantity. Some people may find the tone very boring and lackluster, I certainly do. However, I can't honestly say anything negative about it. Having this much quantity with a drier and immensely natural flavor to the bass experience is very strange and unlike any headphone I've ever heard before. I do not know of any other headphone that mesh these two qualities together in such a way, it certainly takes some getting used to.
The vocal experience and general sound staging qualities found in this Lawton TH900 are superb beyond reason. Coupled with the headphones natural tone, midrange vocals appear to have excellent definition and placement. While I find the midrange recessed, similar to the Denon D7000, the TH900 still retains excellent vocal presence for a dynamic headphone. True, the stage feels aired out by comparison to most other closed headphones, I don't feel it to have the spaciousness in depth of field of the Audeze XC nor the Alpha Dog. The midrange feels exactly the same as the Hifiman HE-6 in terms of how vocals are defined, physical substance and body are similar on these two headphones.
Treble on the stock TH900 was a problem, however it is not a problem after Lawton's upgrades. While still fairly muted, it is similar to the muted flavor of the Alpha Dog. While not at all bright nor annoying, there simply is not enough of it to satisfy me. Despite being an improvement over the stock and unmodded TH900, Lawton's TH900 is certainly superior and classifies as a headphone I do not want to be without. In terms of portable applications, this headphone may be one of the most well suited for me. A grand and spacious stage, extreme comfort, reclusive treble, prominent bass and mids combined with a natural tone all make for one of the most enjoyable on the go experiences out there. I would very much like to have this headphone modified with a portable length cable, something I can tote with me when I travel or take walks. As one of the very few extremely comfortable and sexy headphones on this list, I must say that the TH900 is not vastly technically superior to its little brother: The TH600…a headphone that costs significantly less money by the way. Fostex put immense effort, love and care into the manufacturing of their stock wooden cups, far less into the actual headphone itself. I really am not fond of the red stock TH900 cups, despite being expertly and lovingly crafted, they look like someone colored over a piece of wood with a vibrant red highlighter marker. Lawton's cups are not only tonally superior, but visually as well.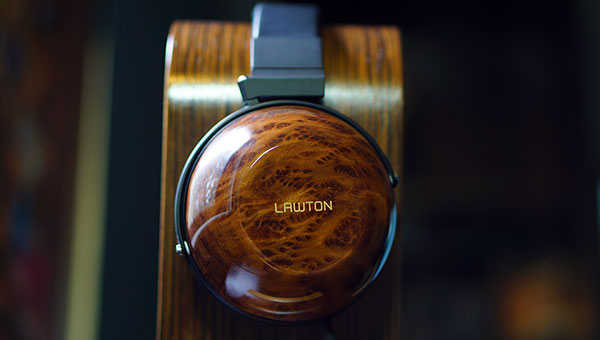 The Most Interesting Comparisons
TH900 vs Audeze XC
No doubt the XC offers a higher fidelity across the board, however the Fostex is infinitely more comfortable to me. The XC treble is lively, fun and brighter with far better presence, the TH900 is muted and relatively boring without any positive appeal to it in the Lawton version…far worse in the stock version. The XC is more forward sounding, more engaging with superior texture in the vocal range, as well as tone of the entire frequency as a whole. The TH900 sounds incredibly dry, in fact it is the most dry sound out of all 12 headphones in this report. The TH900 is much faster than the XC with near instant decay on the bass, where the XC is more thick, broad and more balanced sounding by comparison to the rest of the qualities found in the headphone.
TH900 vs Alpha Dog
As much as I enjoy the Fostex TH900 as modified by Lawton, I enjoy the Alpha Dog much more sonically. No doubt in my mind I'd rather have the TH900 on my head due to significant comfort superiority, but I think the Alpha Dog is a bit more clear sounding across the board, as well as almost equal in sound staging vastness. The Alpha Dog can't quite extend as low as the TH900 on the bass, but it offers more quantity and with vastly superior texture that I find wildly interesting. The TH900 bass is just too boring and fast, the Alpha's bass is more pure and gently colored, not quite as fast, thus becoming more enjoyable. Both headphones have a muted treble response that I am not exactly fond of. Where the Alpha is more yummy and musical, the TH900 is more colorless and neutral, especially so on the low end. The TH900 also has a noticeably more relaxed sound signature with a recessed vocal experience, the Alpha is tonally more forward and thick sounding.
Rig Recommendations: The TH900 is fairly efficient and does not benefit much from added voltage, so most portable amps and USB Dac's will power it sufficiently. Look for sources that are dead neutral in tone and that offer exceptional bass deepness. Avoid recessed midrange and look for amplifiers that push vocals more than any other quality, this will help lessen the reclusive midrange of the TH900 and help to boost the vocal experience to a more forward and lively locale. Seek also exceptional staging qualities as found in Burson, the RSA F-35 or the Apex Glacier will suit this headphone very well.
My Story
Burn In
AKG K812
Audeze LCD3
Audeze LCDXC
Beyerdynamic T1
Fostex TH600/900
Hifiman HE-560
Hifiman HE6
Jhaudio JH16 Pro
Mrspeakers Alpha Dog
Oppo PM1
Sennheiser HD800
Stax 007
Conclusion
Click here for the Hifiman HE-560…