The 1793
With tonality opposite of it's brother the 9018, the 1793 chip offers a respectful nod to the fantastic and famous HA-160 Burson released a while back. This chip tosses purist and reference flavoring right out the window and gives you a mildly colored and warm presentation. I very much loved the HA-160, in fact it was my primary home amplifier for many years. Naturally, I'd fallen in love with this Conductor SL the very first time I'd gotten a chance to hear it at a local meet. I saw the Conductor SL sitting there, calm and cool as most everyone else passed it by. Patiently waiting for someone to make conversation, the owner and I struck up a friendship immediately. I really didn't want to move and sat in that chair for a solid 15 minutes without a word while the owner fiddled with his phone and looked at me, smiling every so often. I was hooked. This was the best amplifier I'd ever heard in this price tier. Not only that, but it also was everything I'd always wanted my HA-160 to be.
The Bass
Warm, gentle, colored and loose by comparison to the 9018's sterile approach. This guy is meant for fun and musicality, no question about it. When it comes down to it, the Conductor SL's 1793 chip has by far the most engaging and soothing low end experience I've ever had on a sub $2000 amplifier before. It just does it so right and with respect to the source material, without being overly colored the 1793 is almost sun kissed with the most gently musical coloration to the bass experience I've yet come across. This chip will make almost any headphone sound musical and fun. With regard to the gack ugly and sterile bass type of the Sennheiser HD-800 for example, the 1793 converted the bass experience into something mildly enjoyable and that is something I'd never thought possible. Audeze headphones sound so yummy through this dac option, as do most of the Denon headphones and even the Fostex TH900. All of the aforementioned have a pronounced bass experience that is amplified into a velvet like, lush and wildly expressive, highly textured and broad experience. Where the 9018 had a more precise bass that felt rock hard and solid, the 1793 bass feels lighter, airier and more enveloping with just the right amount of coloration to be considered extremely musical.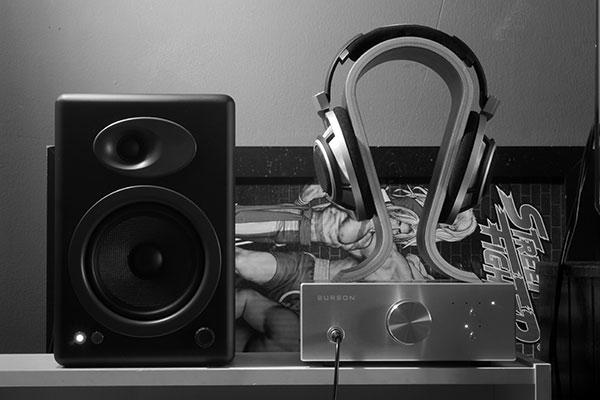 The Mids
There is definitely a mid-bloom effect here, as the 1793 sounds more forward and prominent than the 9018 by a fair degree. I find it extremely satisfying with mid-forward headphones in general and it will really help out with some of those recessed midrange headphone presentations. I consider this one the better of the two dac options when it comes to vocals, as it offers a noticeably more soft and forgiving styling to the presentation. My Lawton Audio LA-D7000 Headphones ( A highly modified Denon D-7000 ) is nothing short of stunning with the 1793 and I refuse to use any other Dac with this headphone. The two pair and combo with one another extremely well and the experience is not only fun and wildly engaging, but also clear enough to satisfy the inner audiophile. In most cases and with most headphones I currently have on hand, the 1793 mid range experience was simply unyielding in lushness and I was unable to find a single headphone that sounded bad with it. In fact, I found myself enjoying the likes of the Sennheiser HD-800 ( a headphone I am not fond of in the slightest ) a great deal. The extra few notches of coloration and forwardness really helps the recessed tendencies the HD-800 has and I could easily consider the HD-800 my primary all arounder. I feel like that statement would shake a lot of my close friends to their cores, shocking them into disbelief…
Treble
Surprisingly bright by comparison to the 9018 but not in a negative sense of the word, it has some sparkled qualities to it along with some bite. However, it is light years away from ever being harsh or painful. Smooth, well controlled and hyper-engaging are terms I'd use to describe the upper end of the 1793. When it comes to clarity, it is very apparent that the 9018 is superior and noticeably more transparent, however its flat and boring by comparison to the 1793 option. Despite the lack of clarity, I find myself not really wanting to use the 9018 with headphones that are well known for exceptional treble response, headphones like the Hifiman HE-500 or HE-6 for example. These are headphones I will always use with the 1793 regardless of that noticeably inferior clarity across the board. I'd be very careful with the likes of the stock Denon D-7000, Sennheiser HD-700/800 and similar headphones with harsh treble response. While I love my Denon D-7000 something fierce, I cannot possibly use the headphone without a hand tailored EQ setup with a dropped treble response active at all times. Without my personal EQ via my Foobar2000 setup, I refuse to use headphones like the Sennheiser HD-800, AKG K-812, stock Denon D-7000/5000 and a few other mid tiers with nasty upper ends. Thank the audio gods for Lawton Audio and Dynamat, if not for their modifications that greatly reduce the treble response of the Denon D-7000, I would be extremely unhappy as both a man and an audiophile.
Stereo Imaging
Nothing in the sub $2000 range even comes close to the all around staging properties the Burson lineup tends to have . The Conductor SL is the largest and most spacious sounding of the lot, but the standard Conductor and even the older HA-160 are no slouches. All are to be respected. When used for Dac purposes outed to an external amplifier, the soundscape is almost always noticeably ruined. I've yet to come across another headphone amp that can compare to the Conductor SL's magnificently airy presentation. It seems that the majority of audiophiles don't really care for how vast the stereo image sounds, only that it's realistic and with that comes a universe and dimension ending paradox. I just can't seem to grasp the idea of why most amplifier or even headphone companies do not invest more time into the stereo image width, height and overall depth to the presentation. Headphones like the Audeze LCD-series tend to have a very poor sound scape, something downright destroyed by the likes of the AKG K-812 and as a result the pairing of most Burson products with some of those closed in sounding Planar Magnetic headphones becomes much more enjoyable. Expect some of the best soundstage width and height out there along with excellent spatial separation between instruments. Stereo Depth is the weak link in the chain. There are a few other amplifiers that do better, all be it more expensive than the Conductor but still in the general price tier that can outperform the overall realism factor and sense of extension into the room itself in a forward sense of the word.
Click on next page for final thoughts…