How it sounds
The temptation here is to simply compare it to the bigger Momentum and say why one is better than other. I think that is a bit lazy actually since the On Ear both tonally and physically is aiming for a different market to me. Better to see this in comparison to the V-Moda M80, the Soundmagic HP series, the Marshall Montior and of course the Beats Solo. That is where it is sitting right now for me.
The On Ear itself is not really a classic v-shape sound for me, more of a bass dominant curve on the downwarde slide to a slightly recessed and squeezed mid range and smoothed off highs that dont sparkle quite enough to merit any v-shape description. It feels somewhat disjointed though on rock with a lack of coherence in the presentation. The bass dominates most things with a reasonably clear but mildly recessed midrange that struggles to breath as we go to the top end which, though smooth and easy on the ear, lacks any sparkle and thrust to distract from the bottom end for any sense of balance. Rock is not the forte, it just sounds muddled, slow, closed in and struggling to breathe due to the weight of the bottom end. That warm to neutral tonality should make it very flexibile for almost all genres but the bottom end tuning bias really restricts that flexibility when things get demanding, intricate or fast.
You are not going to get huge soundscapes, its not the fastest headpone in the world, it is rather cuppy with rock and indie and possitively loathes jazz and classical. Yet never have I felt more of a ying and yang in an headphone than the on ear when it comes to performance in modern dance genres. If rock makes this can sink without a trace then it does the exact opposite for electronica and the whole dance genre. This is where the on ear really earns it's crust.
The Ying and Yang of the On Ear
This is not a headphone for the purist, the audiophile, the balanced hunter or the treblehead – this is an out and out consumer basshead headphone and wears its colors with pride. The schziophrantic personality of the On Ear both puzzles and delights. The muddled dirge of Bad Relgions slugfest "Heroes & Mrtyrs" gives way to the pitch perfect dance hall elegance of "You're not alone" from David Guetta. The bass is both addiciting and off putting at the same time. It is a headphone for casual dance listeners who just love bass. If the HD25-I II sounded like it is behind the deck mixing then the On Ear is the audience standing right in front of the speaker lapping it all up and coming back for more. I have been there so many times many years ago and frankly this sounds exactly like that feeling.
The more I play the On Ear the more I have grown to like it. Play it to its strengths (dance, R&B, hip-hop) and it is a reasonably consistent and endearing headphone with a musical personality that is wildly colored and bass dominant but still retains a smooth enough tonality and a certain finesse to edge out the likes of the Beats by some margin. It certainly has the edge over the Marshal Monitor with or without the felt system, the driver feels far more refined in that respect. The Zinken has a more balanced presentation but the driver also sounds a little rough compared to the On Ear and of course no contest in terms of which has more bass, the On Ear over the Soundmagic HP series. I would still give the edge though to the V-Moda M-80 – slightly more compelling and balanced presentation, less cuppy and better highs.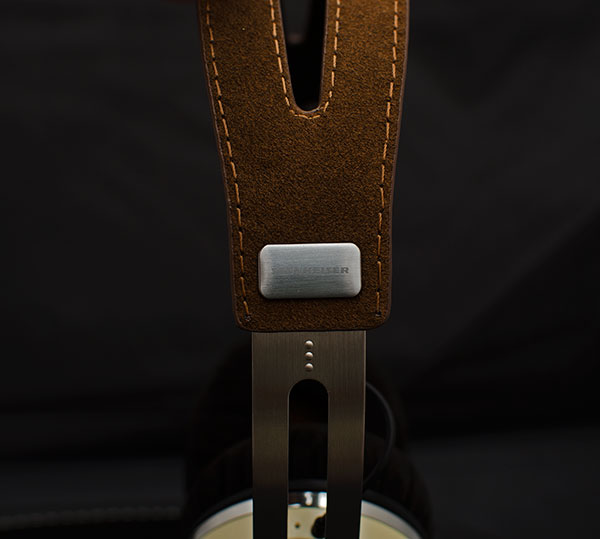 Just a quick note though 18ohms the On Ear is not the most sensitive of headphones. Plugged direct out of 7th Gen Classic iPod and volume sat in and around 75% for decent levels of volume. Direct out my BB Z10 I had it almost full whack and started experiencing slight distortion and clipping using Neutron and flac. Sounded much better amped though again too much and it doesn't have a great match. I actually found the Miniwatt N4 usb dac/amp I normally have running to an old Bada Ph-30 to be a wonderfully smooth and rich match. The Theorem 720 DAC/AMP worked pretty well also though I have spent a lot less time with that.
Final Thoughts
The On Ear is a beguiling headphone designed for the pure joy and musicality of sticking your head in front of a big speaker in a dance hall and letting it all hang out. Audiophiles take a pass and go to the opera house or something two blocks down because after an initial eyebrow frown I have actually grown to like the On Ear for what it actually is – a dance freaks joy can. There is no sense in talking technical purity, little debate on the merits of avoiding rock and indie and anything remotely layered and expansive, yet I can honestly detect underneath all that tonal coloring is a rather well constructed driver that has simply been put in one singular direction. If this sounds appealing to you then I guess you are standing in the same direction.
Technical Specs
Impedance 18 Ω
Frequency response 16–22,000 Hz
Sound pressure level (SPL) 112 dB (1 kHz/1 Vrms)
THD, total harmonic distortion < 0.5% (1 kHz, 100 dB SPL) Contact pressure approx. 3.2 N Ear coupling Supra-aural Jack plug Cable 1: 3.5 mm low profile angled plug Jack plug Cable 2: 3.5 mm straight plug Cable length Cable 1: 1.4 m iPod®/iPhone® cable with integrated smart remote and microphone Cable length Cable 2: 1.4 m cable for computers, phones, music players and any device with a headphone output Transducer principle Dynamic, closed Weight 160 g (including remote) Load rating 200 mW Links